Remote work has changed office culture forever, and it's had a major impact on how businesses around the world are run. Yet, while many employers offer work-from-home options—whether on a full-time or hybrid basis—there's still no substitute for in-person meetings.
The question is: how do you bring the team together when the office no longer exists or your team is spread across a broad geographic area? While some groups feel comfortable meeting up in informal settings like a trendy café or convention rooms at nearby hotels, these options are often noisy, distracting and even expensive.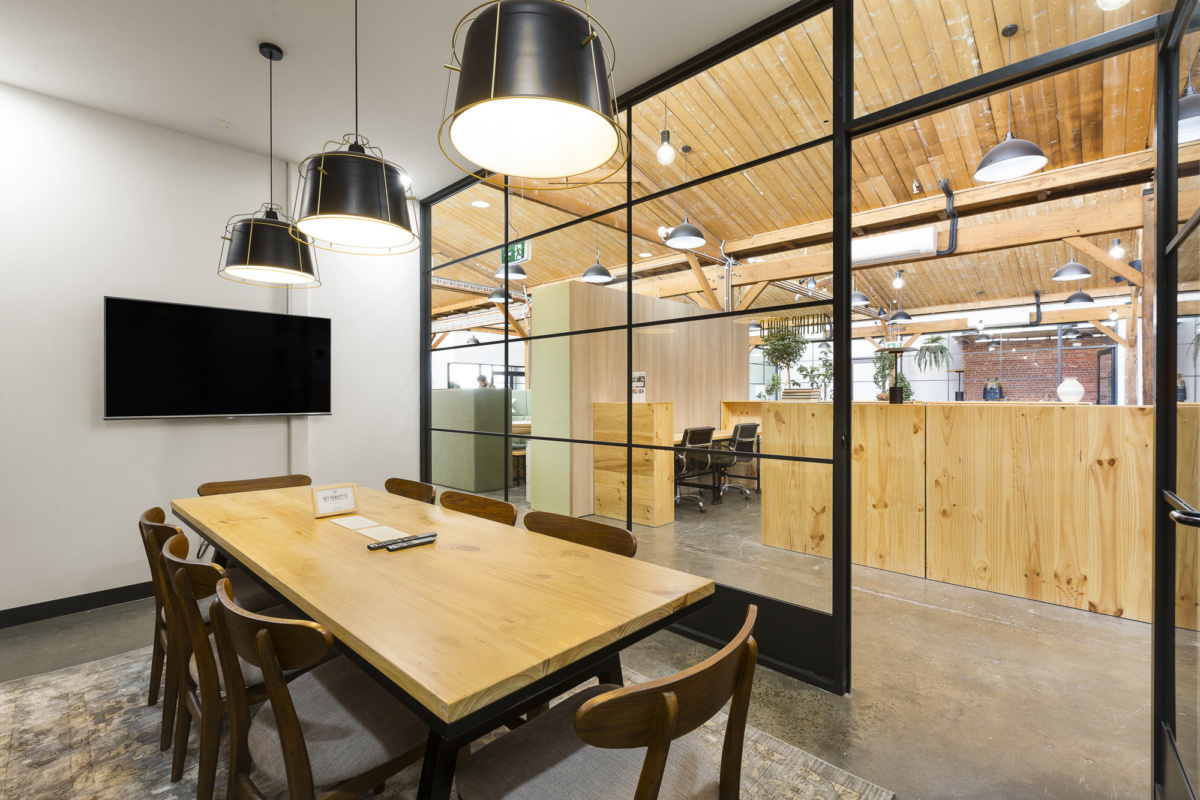 When it comes to convening with your coworkers, clients or important stakeholders, a conference room at a modern coworking space is often the ideal setting for a productive meeting. Here's a look at some of the benefits of booking a meeting room at a coworking space:
Bring the whole team together. Meeting rooms are designed to accommodate large groups, so they're often very spacious. Rather than renting private office space—which encourages your group to work less collaboratively—or meeting up in a crowded café, booking a temporary meeting room at a coworking space ensures that there's enough room for everyone to spread out, be comfortable, and collaborate together. No matter the size of your group, there's a flexible meeting room out there to accommodate you.
Scalable space, on demand. If most of your employees work remote on a regular basis, it just doesn't make sense to pay the price for office space you aren't really using. Flexible meeting rooms at a nearby coworking space allow you to rent exactly the space you need, for the length of time you need it. Whether you need space for a few hours, a few days or longer, you have access to a room that conforms to your schedule. And, if your needs change, so can your environment—just shift to a smaller or larger room, or one that contains the amenities you need.
Great for client/prospect meetings. Meeting a potential client for the first time? Temporary meeting rooms ensure you make a great first impression, and show clients you take their time seriously and work with a high level of professionalism. You can't understate how important a first impression is in the business world, no matter what product or service you offer. Meeting up with a client—whether a prospect or an existing client—in a well-appointed meeting room gives you and your team a more prestigious feel, and you'll be taken more seriously as a result.
More affordable than office space. Office space can be expensive—no matter where you are or how many square feet you need to accommodate your crew. Not only do you have to consider the cost of monthly rent, you also have to factor in other overhead costs like utilities, maintenance, office supplies and technology like Wi-Fi and printers. Renting a meeting room at a modern coworking space is a much wiser financial decision. You'll save tons of money that you can invest back into your business and book an accommodating meeting space when and where you need it.
A/V capabilities for conferencing. Most meetings rely on technology—especially audio and visual equipment—to communicate the main points of the message to all attendees. If you're planning on some in-person collaboration with your group, you won't find this equipment at most cafes or even convention rooms at hotels. When you book a meeting room at a coworking space, you get access to the latest state-of-the-art AV equipment that helps you present your points without a hitch. From projectors to TV screens, high-speed Internet to printing services, you and your guests have easy access to technology at your fingertips. This convenience extends to attendees both in-the-room and remote.
A better alternative to virtual. While working fully remote or on a hybrid schedule comes with plenty of rewards and benefits—like the ability to work in your pajamas—there's really no substitute for in-person collaboration. When you meet up with your crew in a comfortable, convenient meeting room, you set the stage for some productive brainstorming and the sharing of ideas. It's much easier to collaborate in-person rather than over the Internet. Instead of waiting on back-and-forth on Slack or extremely long e-mail threads, you and your group can seamlessly communicate and get on the same page.
Privacy. Thinking of hosting an important meeting at a local eatery, hotel or convention center? Remember that these are very public places, and sometimes you need a little bit more privacy. Flexible meeting rooms are completely private, which means you can hold discussions about even the most confidential projects with confidence. You'll have a place all to yourself, so you and your crew can talk about anything with your client or team without the fear of being overheard.
Take advantage of amenities. Today's professionals want more from their jobs—that's part of the reason why there's been such a move toward remote work and a more balanced lifestyle. When you book a flexible meeting room in a coworking space near you, take a close look at all the amenities they offer—you might be surprised at how booking just a few hours or a few days can improve the work-life balance of your team. Some coworking spaces include amazing amenities like fitness centers, gaming rooms, lounge areas, as well as basics like a fully-equipped kitchen, coffee facilities and much more. It's a great incentive to get the group together and enjoy some in-person collaboration, followed by some relaxing team-building activities.
Whether you and your crew work fully remote or follow a hybrid in-person, at-home schedule, there's no substitute for in-person collaboration at a well-appointed meeting room. It's the best way to get the crew together to brainstorm or host an important meeting with a client—you can be sure you have all the equipment, amenities and complete privacy to get down to business and enjoy all the benefits that come with meeting face-to-face.
Get a complimentary $250 Deskpass credit when you sign up for a Teams account today.