As more hybrid teams gather for meetings and in-person collaboration at Deskpass Partner Spaces, the demand is growing for larger meeting spaces. Companies are now feeling ready to bring their employees together for quarterly meetings, workshops, and training sessions.
While Deskpass primarily focuses on smaller day offices and on-demand meeting rooms ranging in size from 5-20 people, the team has also been focused on adding much larger spaces, including amphitheaters, classrooms, and event spaces to meet this increase in demand.
In this post, we highlight some of the best bigger spaces to book on Deskpass. We also highly encourage any spaces that haven't already added their larger spaces to Deskpass to do so now. If you need assistance with that process, feel free to reach out to our Workspace Partnership Manager, Madeline, at [email protected].
Serendipity Labs - Overland Park (Kansas City)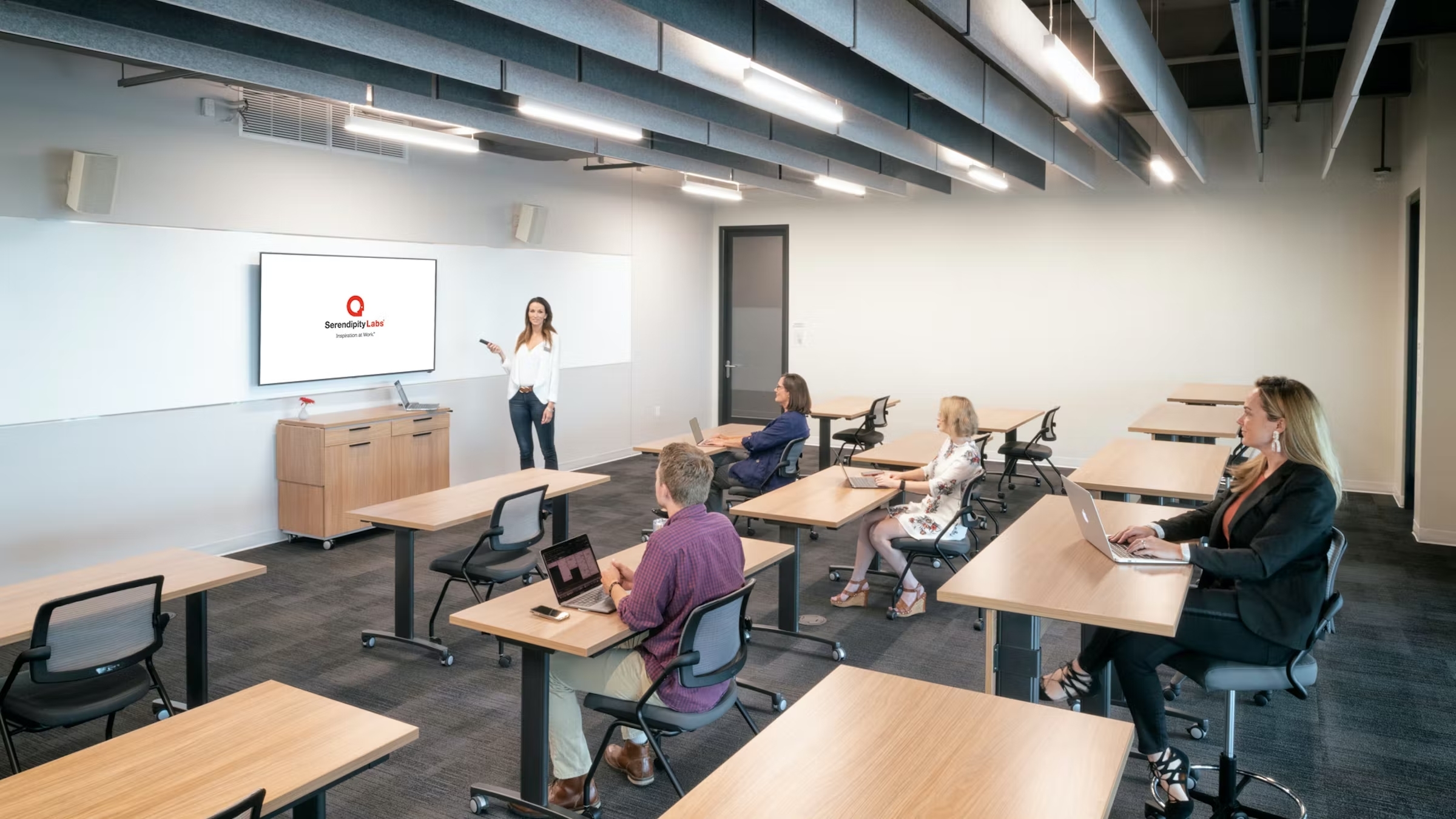 Almost all Serendipity Labs include a room called the Atlas Ideation Studio. This room can be configured in a variety of ways to either seat 20+ people or up to 60 people reception style. The layout is great for trainings or classroom style sessions. The secure rooms provide enterprise-grade WiFi and reliable network infrastructure that delivers robust performance while adhering to HIPAA, SOX, DoD and enterprise compliance standards. To learn more or book this room, you can view the room here.
Galvanize (Phoenix)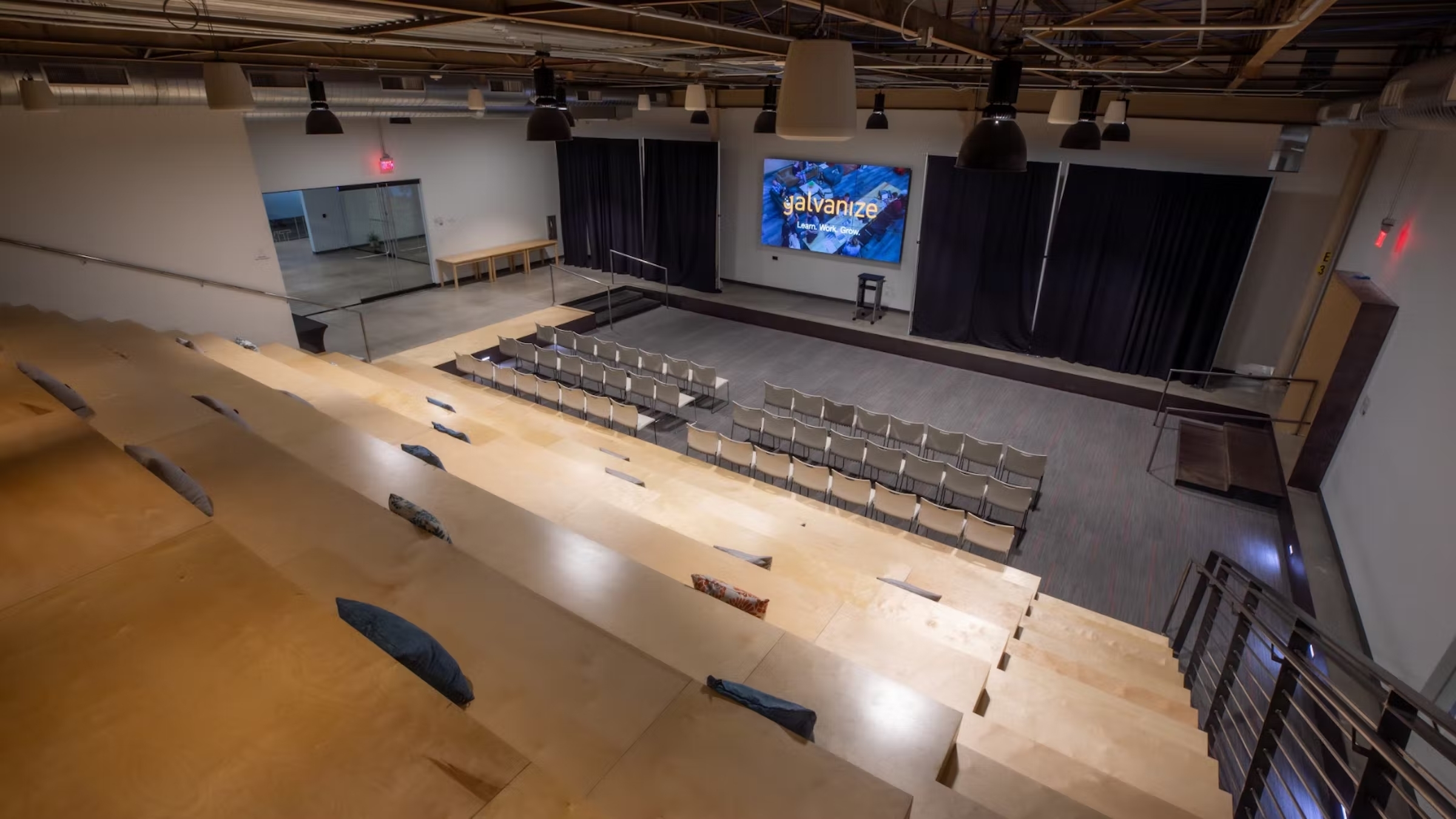 One of the largest spaces on Deskpass, the Amphitheater at Galvanize Phoenix can seat up to 200 people. The room features stadium seating, a stage, and a large TV for presentations. Perfect for all staff training or quarterly/annual meetings, this room is very versatile. Another great space at most Galvanize locations is the Combined Classrooms space that can seat up to 64 people. This space offers four large projector screens, whiteboards and four rows of seating.
Vantage Venues (Toronto)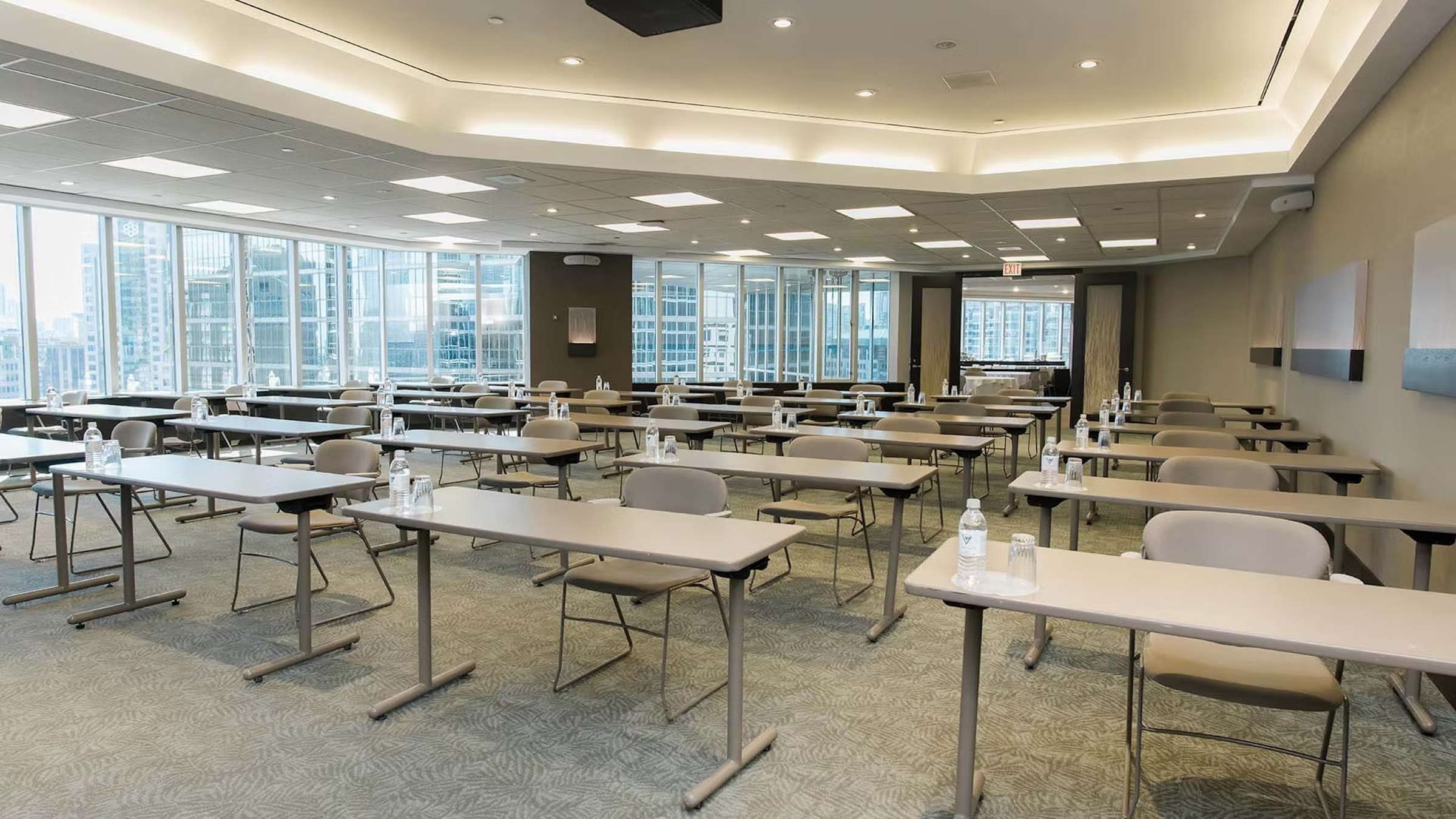 Vantage Venues offers beautiful space with city views on the 16th and 27th floors at 150 King West. Located in the heart of Toronto's Financial District, Vantage is the ideal location for meetings, seminars, conferences, investor days, receptions, and dinners. The space features many large meeting rooms, including the L3 Meeting Room, The Executive Suites, St. Andrew's Lounge, Main Dining Room, and the Conservatory One Room.
Conservatory One features space for up to 150 people, a ceiling projector, a mounted plasma screen, and a permanent sound system. Downtown city views and multiple light fixtures make this room ideal for both day meetings and evening events.
Creative Coworking @ The Colvin House (Chicago)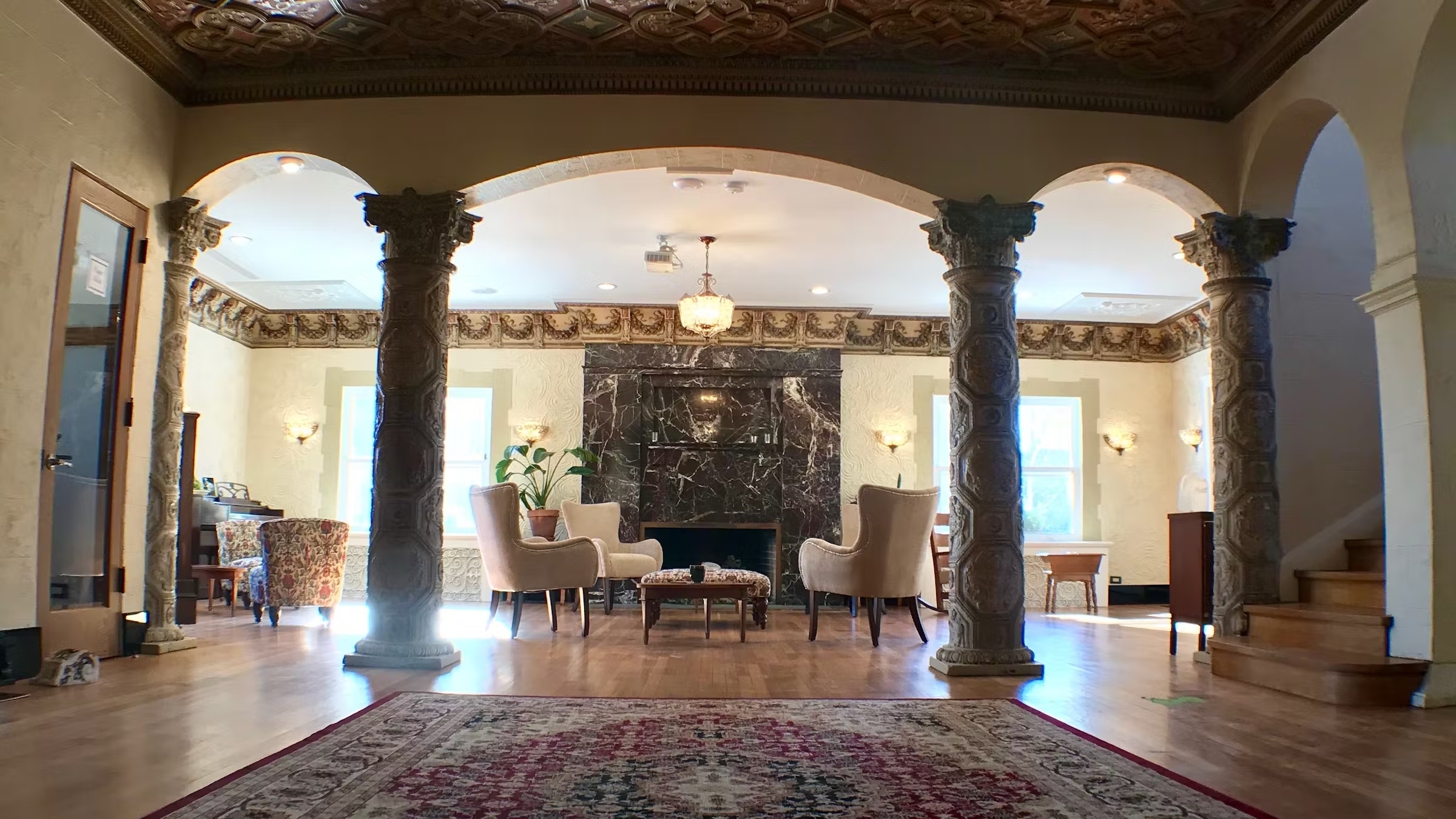 The Parlor Room at Creative Coworking is a unique space that features an open floor plan for up to 50 people with a separate conference that seats up to eight people. The room can be set up with couches, wingback chairs, or standard folding chairs for presentation-style meetings or workshops. The owners renovated the historic mansion so that it could become a shared workspace by day and event venue by night. Featuring 1920s and 30s details throughout, Creative Coworking Edgewater is an inspiring place to work.
TeamWorking by TechNexus (Chicago)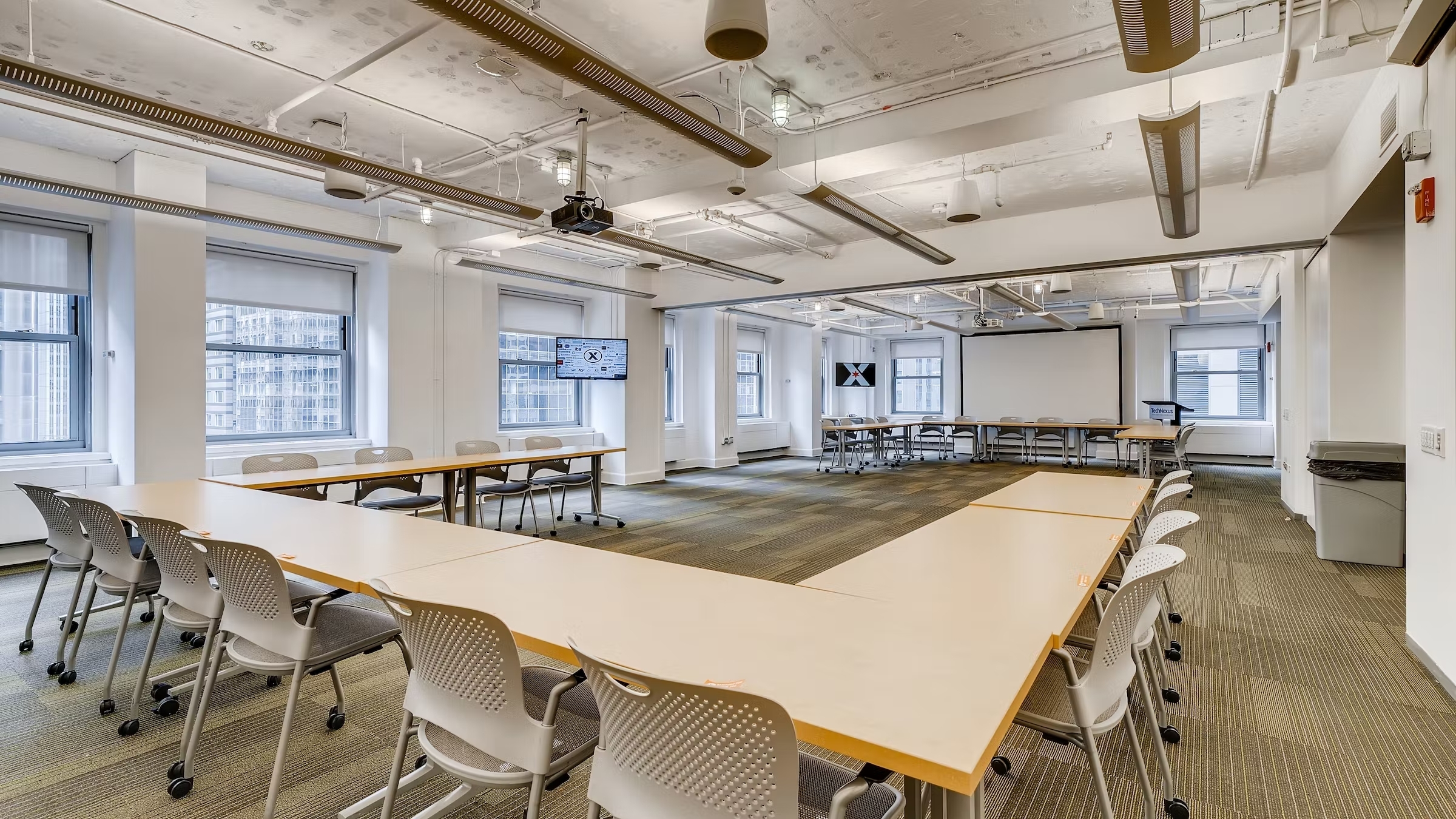 TeamWorking has been built and updated with today's team in mind – collaborative, flexible, and hybrid. TeamWorking is completely modular - not only does the furniture easily move, but so do the walls. Conference Rooms C + D is a great space for corporate events, executive meetings, team offsites, conferences, panels, and more. The space can be arranged in a variety of ways to seat up to 42 people (boardroom style, rows of tables or pods) and is equipped with a digital screen and a whiteboard.
In addition to Conference Rooms C + D, TeamWorking features a wide selection of Zoom-enabled conference rooms, executive boardrooms, and huddle rooms.
Venture X - Greenwood Village (Denver)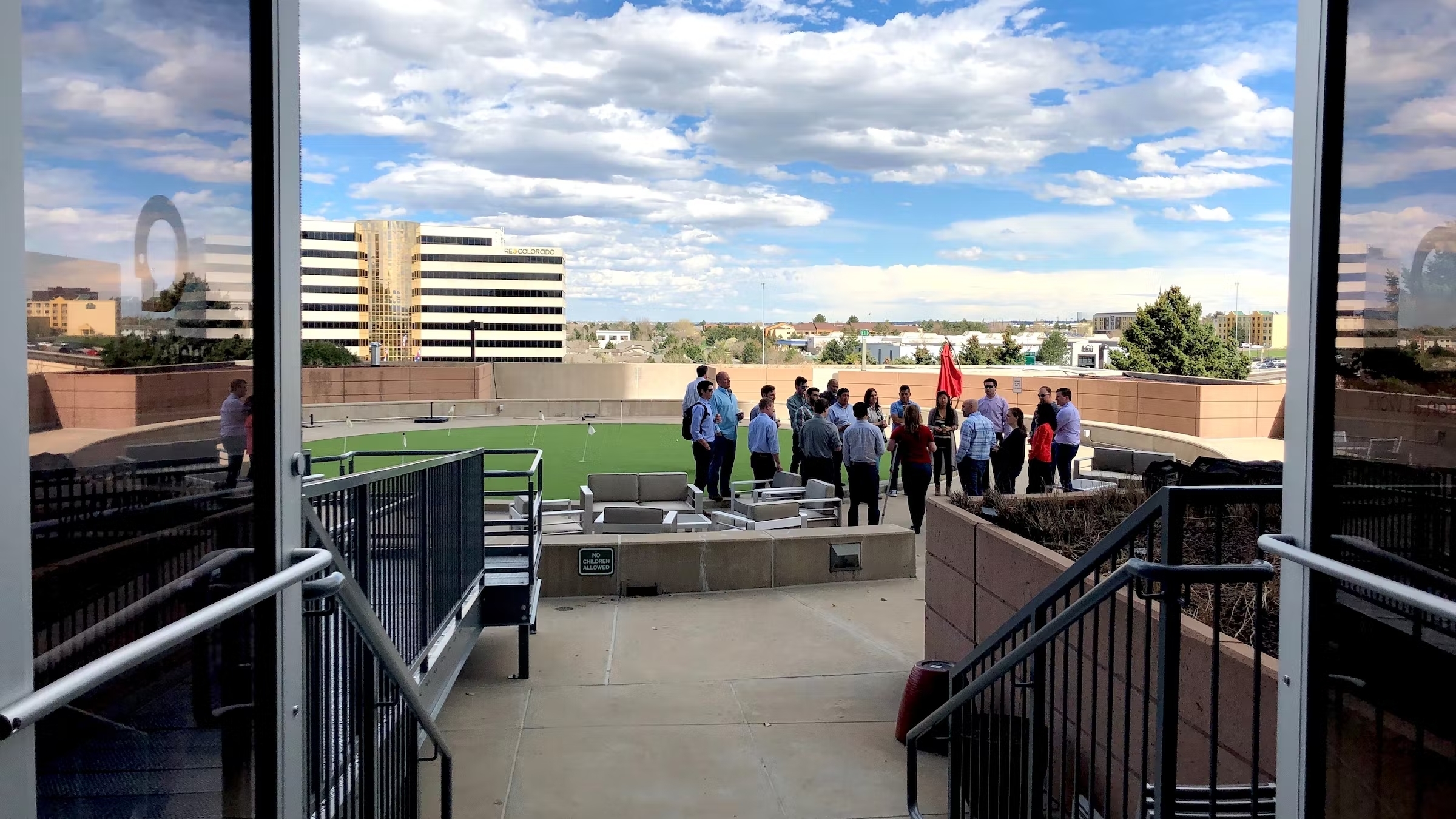 The Plaza Terrace at Venture X is a stunning outdoor space offering access to their coffee lounge, outdoor games and ample seating for groups wanting to enjoy some sunshine. This outdoor space has a capacity of 50 people and is great for more casual meetings or networking events. Venture X - Greenwood Village also offers onsite parking, an onsite fitness center, and is in close proximity to retail and dining options.
Get a complimentary $250 Deskpass credit when you sign up for a Teams account today.