As our Deskpass for Teams business grows, we are starting to hear more helpful feedback on what employees are looking for when booking a space. Our team business is growing 32% every month with the bulk of that being for hourly conference rooms.
To assist our space partners with maximizing their profiles, here are the top five requests from teams and a few ideas for how you can enhance your profile in order to see more bookings from some of our larger hybrid team clients.
1. Instant Book
From January to June 2022, 58% of Deskpass team clients booked meeting rooms less than 24 hours before the start time of the meeting. This data indicates that rooms that are available on Instant Book are very appealing in order to get instant confirmation that the room is available during the desired time frame.
Instant book allows our members to see your current availability and book around those existing meetings. This can also be helpful if they are using a meeting room at your space and want to add an hour or two onto their meeting. They can easily do this without having to wait for the space manager to confirm or deny the booking.
Integrations are possible through google calendar for many popular coworking management softwares including Nexudus, Office RND, and Yardi Kube. If you are interested in getting this setup for the meeting rooms or day offices at your space, you can view our helpful guide here or reach out to your Workspace Partnerships Manager.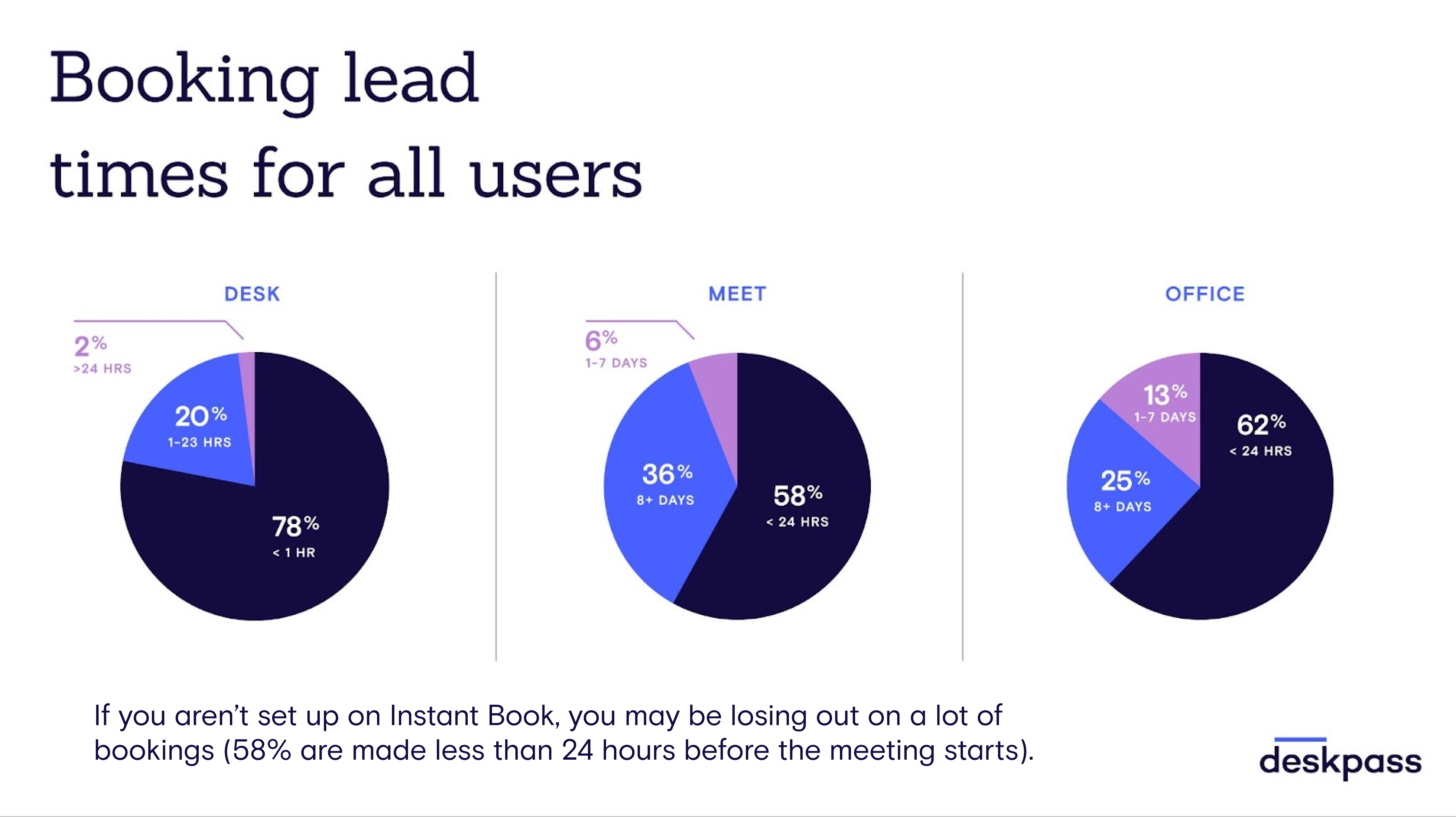 2. Day Offices and Meeting Rooms
The demand for day offices for one person to up to 10 people is growing rapidly as more teams want to have more privacy for calls or want to work with their colleagues in person but don't necessarily need all of the amenities of a conference room. Spaces often have a vacant office for a few months in between long term tenants and this can be a great opportunity to gain extra revenue on space that might otherwise sit vacant.
When adding these types of spaces to Deskpass, it is important to include pictures that represent the room accurately and detailed descriptions of everything that is included in the day office or meeting room. Meeting room features that are highly requested include conference phones, zoom capabilities, large TVs and whiteboards.
The most common size room that is booked on Deskpass is an 8 person room for 6 hours at $50/hour. However, we are starting to see an increase in demand for larger rooms that can seat up to 20-40 people for trainings and workshops.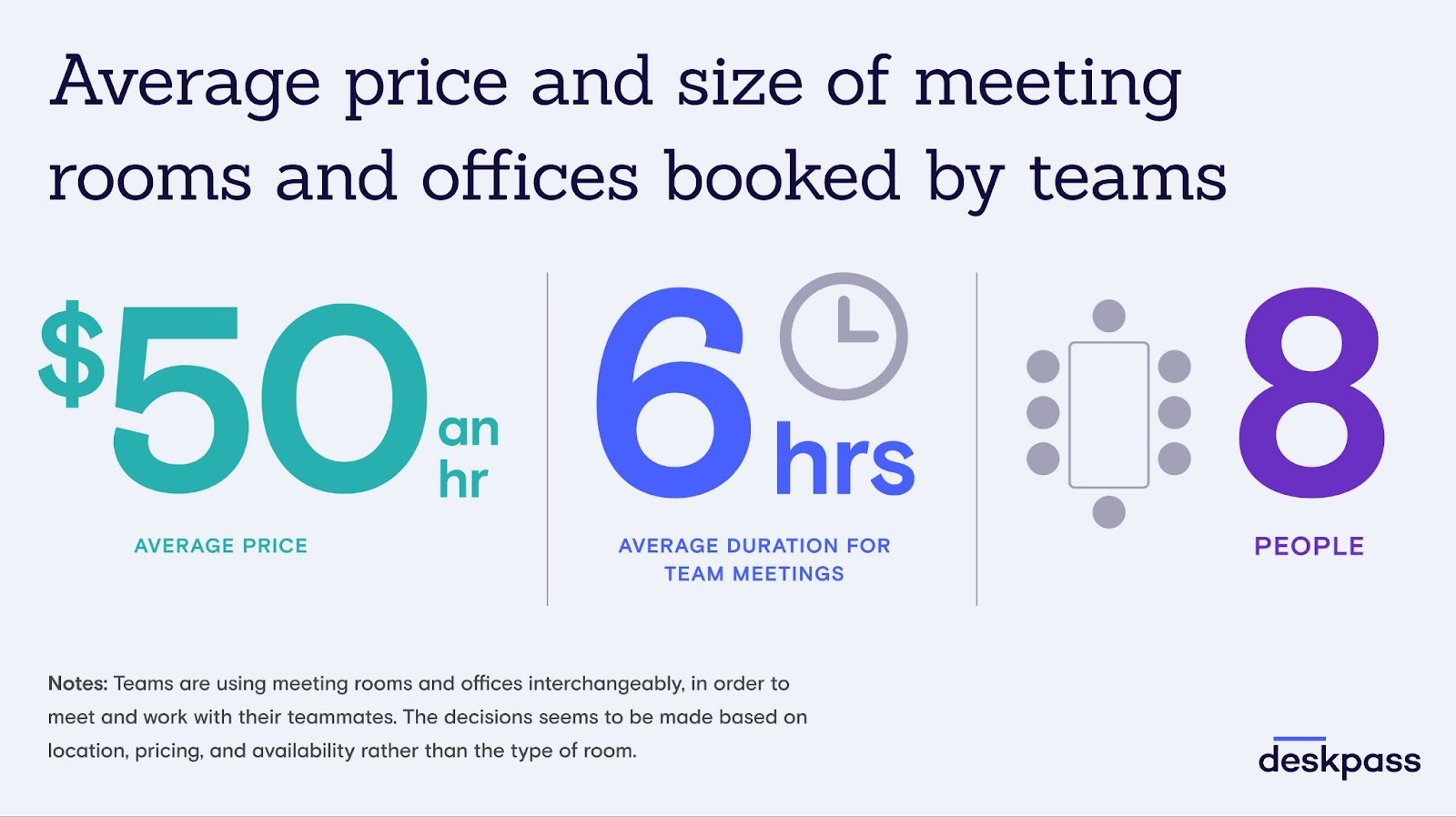 3. Phone Booths or Private Areas to Take Calls
Many of our large team clients are working from a coworking space for the first time and want to make sure they are being respectful to those around them while working in the common areas. One way that they can do this is by utilizing phone booths to take calls longer than 5 minutes.
Bookable phone booths can be especially helpful so they can ensure the phone booth is going to be available during the time of their scheduled call. One example of this can be found at YOUBE Melrose in Los Angeles. The phone booth is listed on Deskpass for $10/hour.
If you have several phone booths or private areas to work from at your space, it can be really helpful to highlight this in your space description. Deskpass also has an amenities tag "Phone Booths" that you can select in case members are searching for spaces with this filter.
4. Parking Options
Another amenities tag that you can select on your profile is "Parking Options." This means that there is some sort of parking lot or garage (paid or free) associated with your coworking space for members and guests.
Details about the parking options like costs, location and hours can be really helpful to include in the "Getting There" section of your profile so that members are prepared and know what to expect when they arrive at your space. If you don't have any parking options, it is also helpful to note if you have ample free street parking available.
5. Detailed Room Descriptions
When deciding to book a day office or meeting room on Deskpass, hybrid teams are looking for clear and thorough information about the room, what amenities are included, and the overall vibe of the specific room.
Booking on demand and before touring a space works best when the space provides detailed descriptions and 3-4 pictures of the room from different angles. Hybrid teams want to know if there is a window, a conference phone, the size of the TV, if they are allowed to use the common areas during their allotted meeting time, and specifics about all of the meeting room technology capabilities.
If you need assistance adding photos or meeting rooms to your profile, reach out to your Workspace Partnerships Manager!

Get a complimentary $250 Deskpass credit when you sign up for a Teams account today.