Being right in the middle of helping companies deliver better modern workspace strategies, I find myself reading every article, post, and piece of research I can find that mentions the word "hybrid". Sometimes this ends with really weird articles like the hybrid, donkey-like creature bred by early humans in science.org. I'm not entirely sure how hard it was to figure out how to make a hybrid donkey, but so much of what I read about the new hybrid workplace makes it seem like getting started and figuring out your company's approach is a monumental challenge.
Change Has Arrived
In an effort to get the most from my hybrid donkey reference, the day the donkey was born the world changed forever….very subtly. The world changed in a much bigger way the day COVID pushed us into two years of isolation from friends, family, and our work colleagues. Our perspective on where we can do productive work and our expectations of a modern employer were changed forever.
We're past the point where we need research, like this chart from Gallup, to tell us that the world has changed. We need to stop spending time and resources convincing companies that hybrid is here to stay and use focus instead on the simple, meaningful options we have to respond appropriately.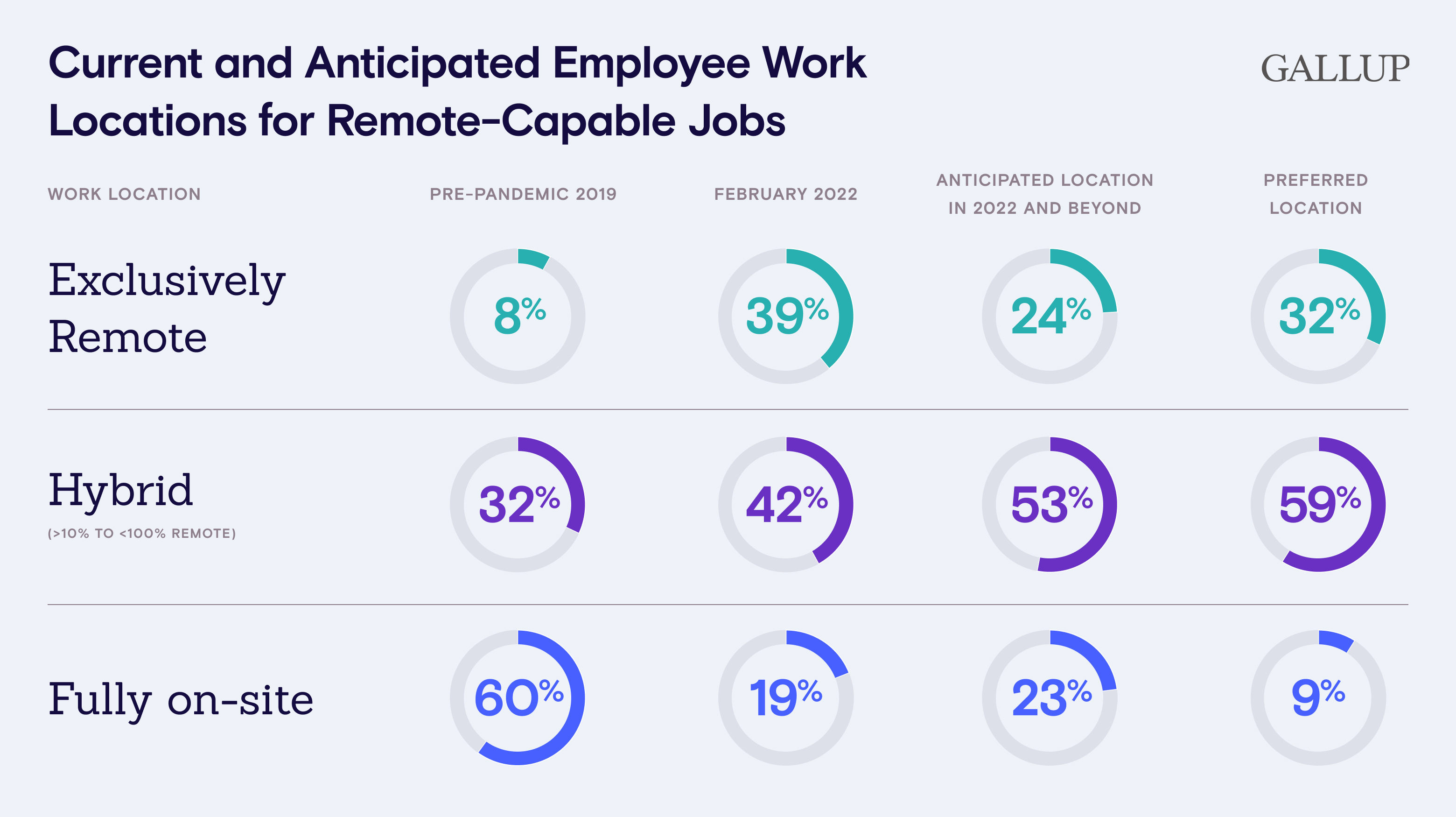 The Rise of Third Spaces
When people discuss hybrid work, they're generally referring to the combination of working from home and working in established corporate offices. They're either unaware, forget, or simply ignore that there is a massive network of "3rd spaces" they can begin using immediately, with no short- or long-term commitments to deliver a complete workspace strategy that every team member can embrace.
Some estimates put the number of coworking and flexible workspace sites globally at more than 40,000 locations by the end of 2024. In both large and small markets, employees can leverage this network on demand to find desks, private offices, meeting rooms, and more when they need alternatives to their kitchen table or long commutes to corporate office locations.
If you're stymied trying to develop a broad corporate policy or with how to redefine your entire corporate real estate strategy, consider making smaller, no risk changes now that will give your people many of the things they're asking for today, while buying you time to answer the great big questions over time. One of the simplest places to start is embracing these 3rd spaces as a core component of hybrid work.
Access
One of the things that makes using 3rd-spaces an immediate hybrid work option is the overall ease of access. Companies like Deskpass have taken all of the work out of vetting exceptional spaces, cataloging amenities, negotiating the best pricing, and building networks of spaces with every possible workspace option. Through our very simple and intuitive web application, any employee can instantly find, reserve, and check into the best space for that day's work needs.
On Demand
Gone are the days of long-term, expensive commitments in order to use the best 3rd-space options in every market. Workspaces of all types can now be reserved through a pay-as-you-go model providing rapid cost savings and ensuring your company only pays for space when it's actually needed. Your team doesn't have to make long-term decisions they can scale workspace up and down as needed with no negative implications.
Accountability
No one probably took the time to ask, "why did you spend resources making a hybrid donkey". But employers do want to know why 3rd-spaces are needed, how they're used, and be able to control the frequency and expenses involved.
Entire teams can be added to a single Deskpass account, providing complete access to the entire network for every team member, while giving managers and leadership complete control over frequency of use, spending limits, and geographic limitations. This ensures that a 3rd-space strategy has as much, or more, visibility into effectiveness and return as other corporate real estate investments.
Hybrid Work isn't rocket science. We can help you get going immediately if you reach out and ask!


Get a complimentary $250 Deskpass credit when you sign up for a Teams account today.