With summer coming to a close, we're rounding up some of the best spaces in your city with outdoor seating. From rooftops and patios to picnic tables, here are several workspaces featuring outdoor areas, all available on the Deskpass network.
Atlanta
Alkaloid Networks
Located in a converted warehouse in the Old Fourth Ward of Atlanta, Alkaloid Networks is an inspired workspace with a thriving community of entrepreneurs, companies and freelance professionals. Deskpass members who reserve for the day have access to their communal areas, such as the kitchen and their outdoor space. Bonus points for being Woman-Owned and having a Mother's Room for pumping.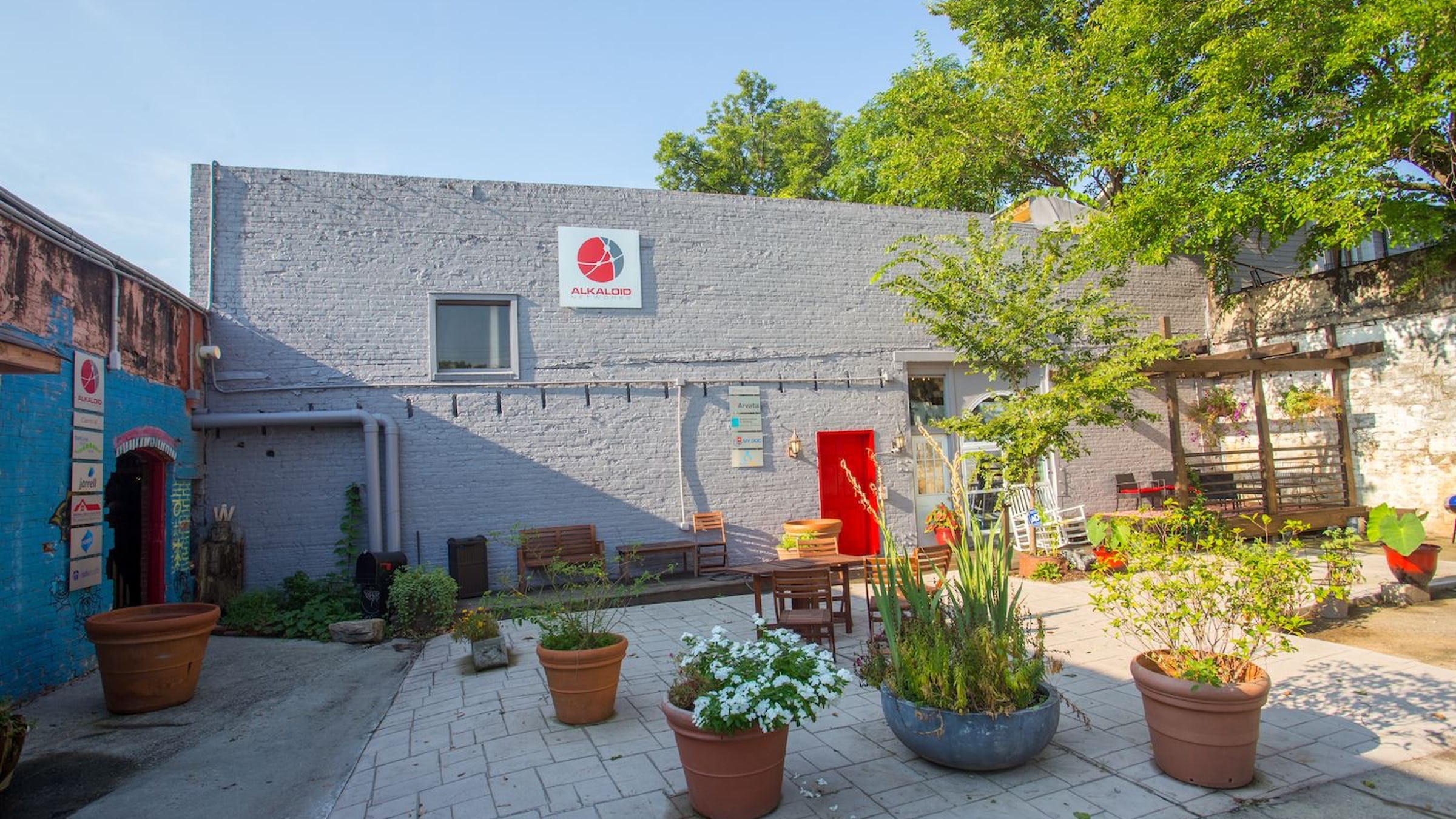 Austin
Bond Collective East Austin
Bond Collective East Austin is housed within the Foundry, an amenity-rich and eco-friendly development located in Austin's most eclectic neighborhood. Almost 30,000 square feet of comfort and sophistication make this an ideal work environment. In addition to a gorgeous outdoor area, amenities include a lactation room for new moms, phone booths, standing desks, and bike parking.
Boston
Boston Offices - Exchange Plane
Boston Offices - Exchange Place is a growing community of global executives and entrepreneurs from Spain, Dubai, Japan, Mexico, France, Boston and beyond. This is where you get work done. Their outdoor space is spacious, with varied seating including collaborative tables, two-tops and cushioned lounge chairs. Plus, the 360-degree views of Boston are tough to top.
Chicago
DeskLabs
DeskLabs offers 16,000 square feet of indoor and outdoor work, play and event space. Located in the heart of Chicago's thriving Lakeview neighborhood, there's plenty of space to move around and be your most productive self. Make sure to check out their game room on the lower level and enjoy your lunch outside on their rooftop deck. Coffee is provided, so drink up!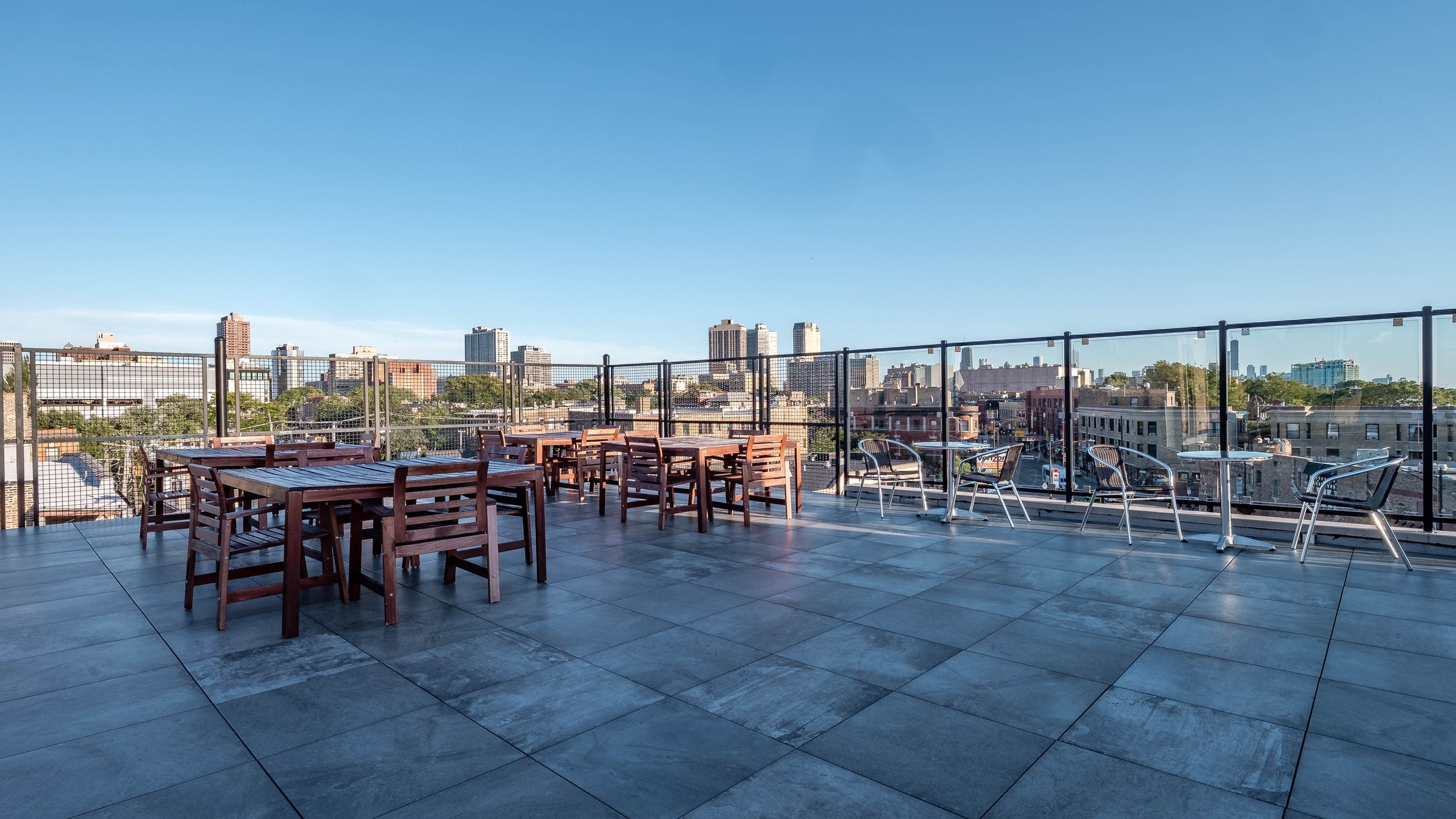 D.C.
ALX Community
ALX Community occupies the first and second floor of a recently renovated office building on the Old Town waterfront. The space (think boutique hotel) is designed with coworking and collaboration in mind, with private offices ranging in size from 1-33+ people, lots of shared and dedicated desks, high-tech conference rooms, private phone booths, and three super comfy lounges to meet with others or just hang out.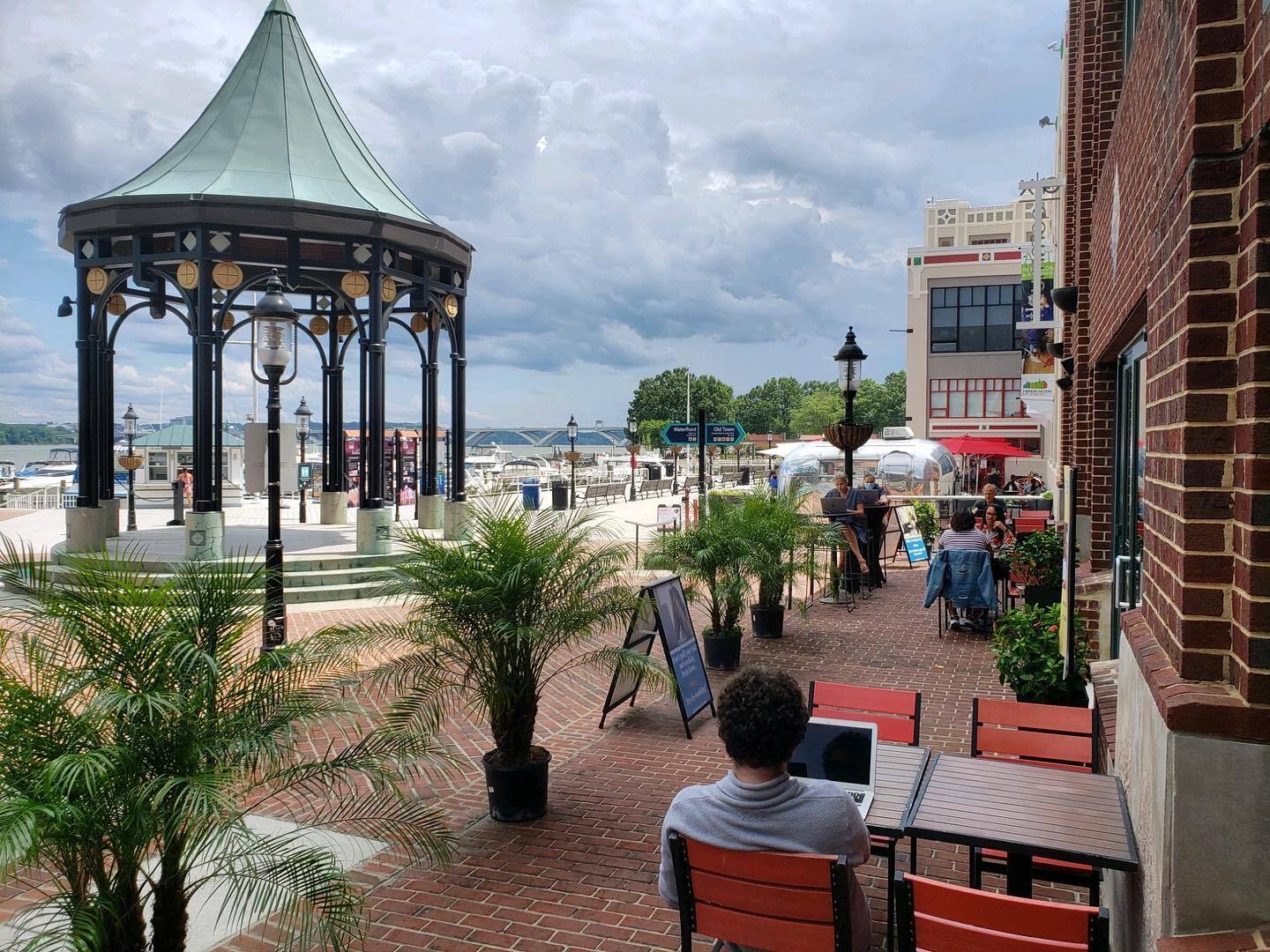 Dallas
GoodWork
GoodWork is flooded with natural light and lots of plants, housed in an industrial warehouse. Create differently each day, from focused "head down" work, to brainstorming amongst trees, or connecting over potential and a cup of coffee. On a dry day, you can also work outside in their green courtyard, or take a break in their hammock.
Denver
Galvanize Denver
Located in LoDo and surrounded by world-renowned tech companies and local startups, Galvanize Denver offers a comfortable environment to do your best work while staying safe. In an effort to encourage social distancing, there are fewer chairs in their common desk areas, increased sanitation and informative signage throughout. On a sunny day, there's no better place to be than on their outdoor terrace.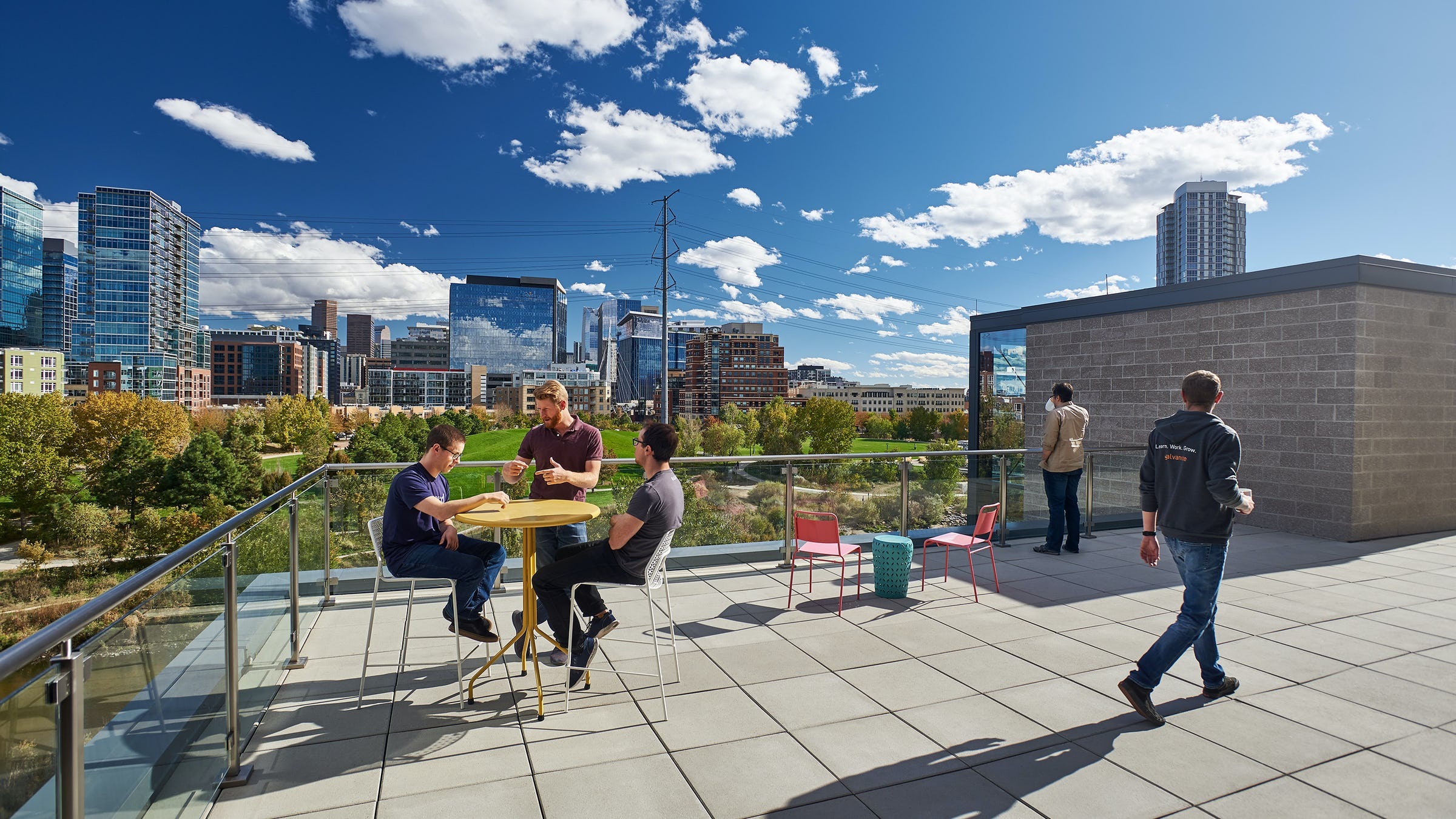 Houston
Common Desk - East End
Common Desk – East End is located in one of Houston's hottest submarkets and is just as alternative and artistic as the neighborhood itself. On any given day, you'll see a mix of startups, freelancers, remote teams, and enterprise businesses doing their best work. Common Desk's outdoor space is comfy, elegant and filled with natural light in all directions.

L.A.
1001Wilshire
1001Wilshire is a high-end workspace in the re-energized Downtown Los Angeles corridor that is luxurious in style. They offer over 5,000 square feet of open coworking space with lounge chairs, leather couches, desks, high tops, booths and an outdoor patio. As things return to normal, expect rooftop food trucks, outdoor rooftop movie nights, and art exhibitions to name a few.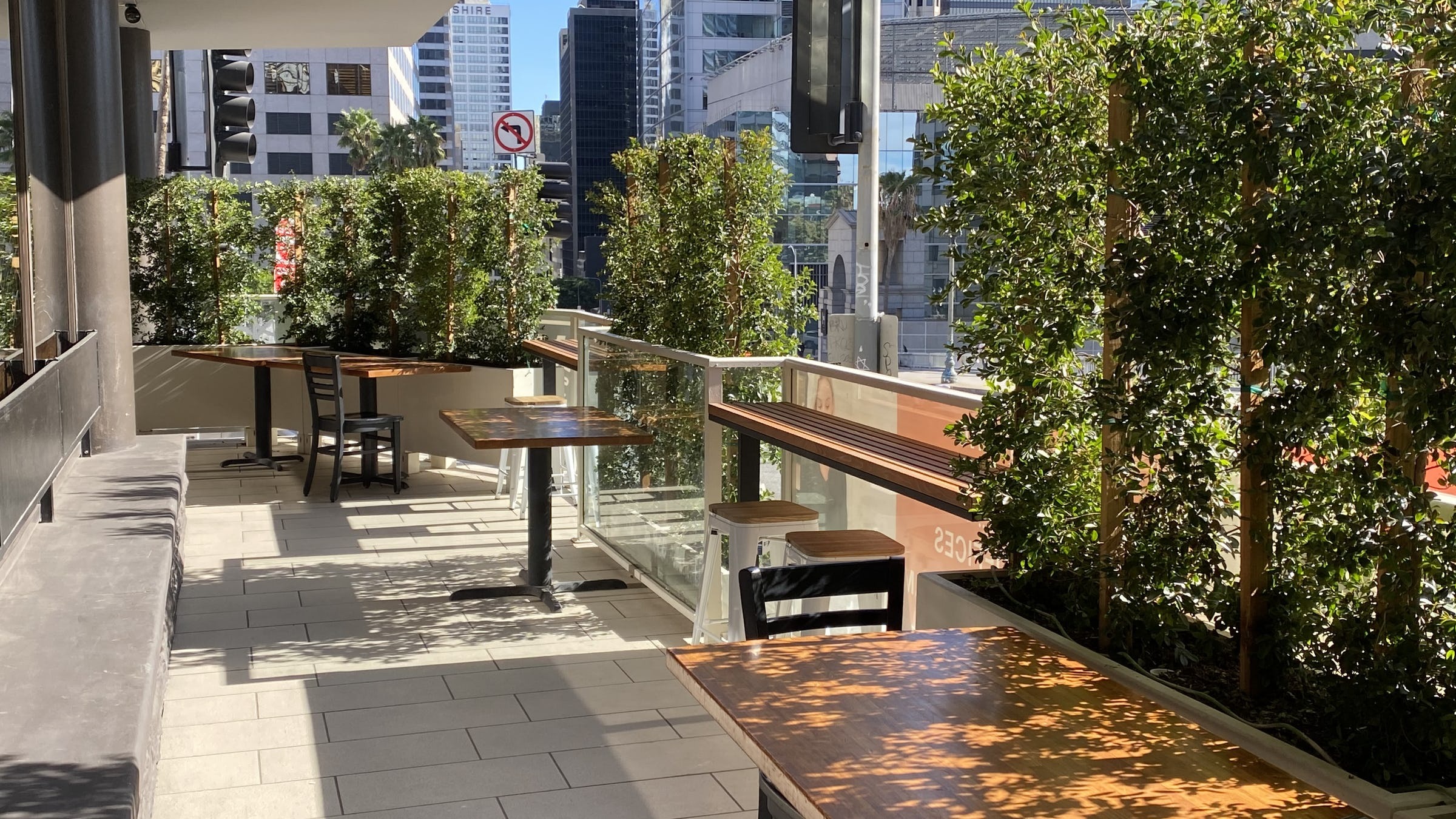 Miami/Ft. Lauderdale
Minds Cowork
Minds Cowork is a chill, comfy, modern space to better your productivity. There are several areas to work, including shared desks, comfortable couches, phone booths and cushioned nooks. Floor to ceiling windows let in tons of light and their outdoor area is the perfect spot to enjoy a coffee, snack or make a call.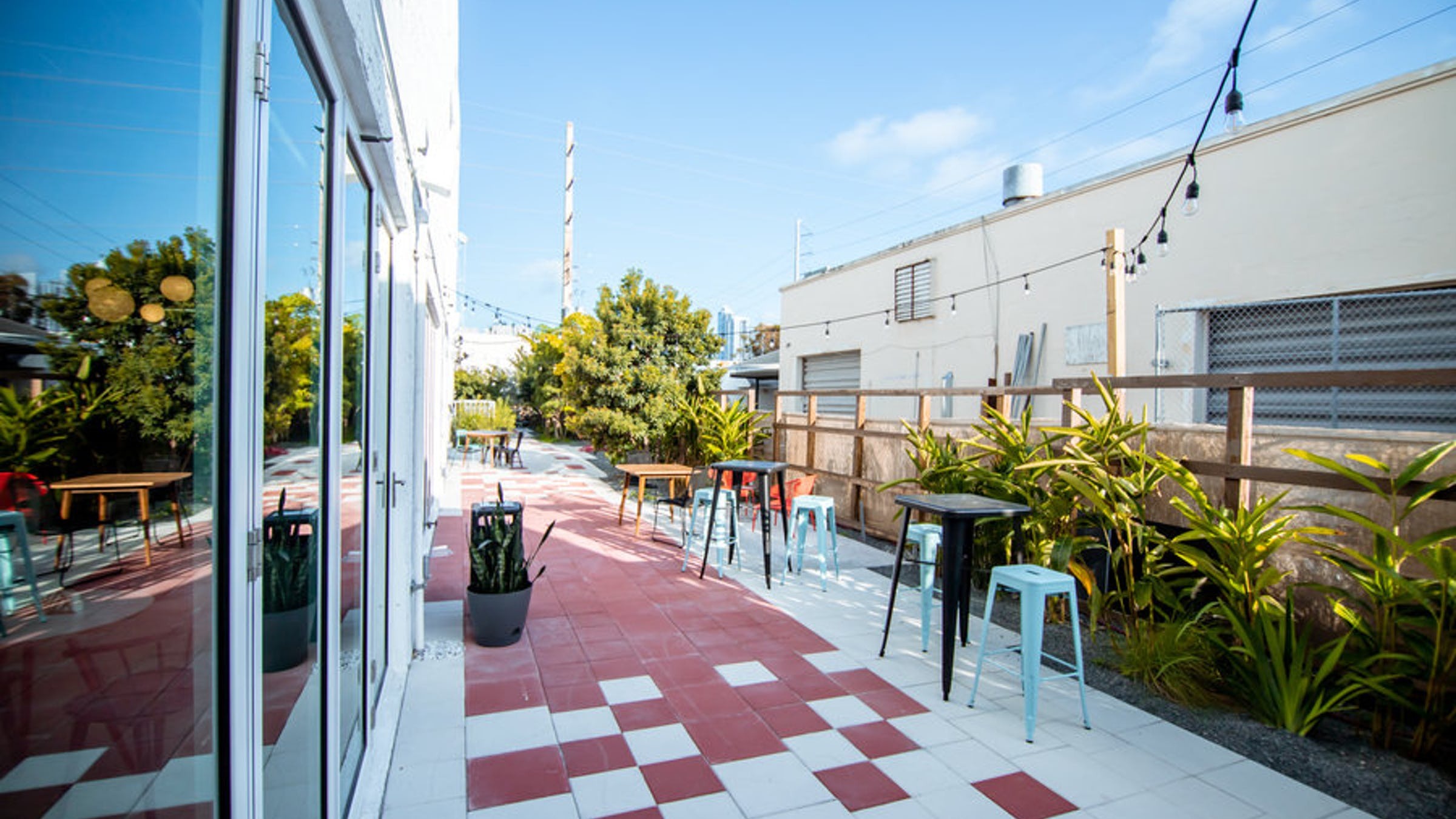 New York City
Jay Suites - Fifth Avenue
Jay Suites - Fifth Avenue is a hub for New York City entrepreneurs looking to simply work better. We offer flexible, luxury office suites, virtual office plans and on-demand conference rooms, so you can focus on your business and leave the rest to us. When you arrive, find a Community Manager who can direct you where to sit. Their outdoor area is spacious and offers great views of Fifth Avenue.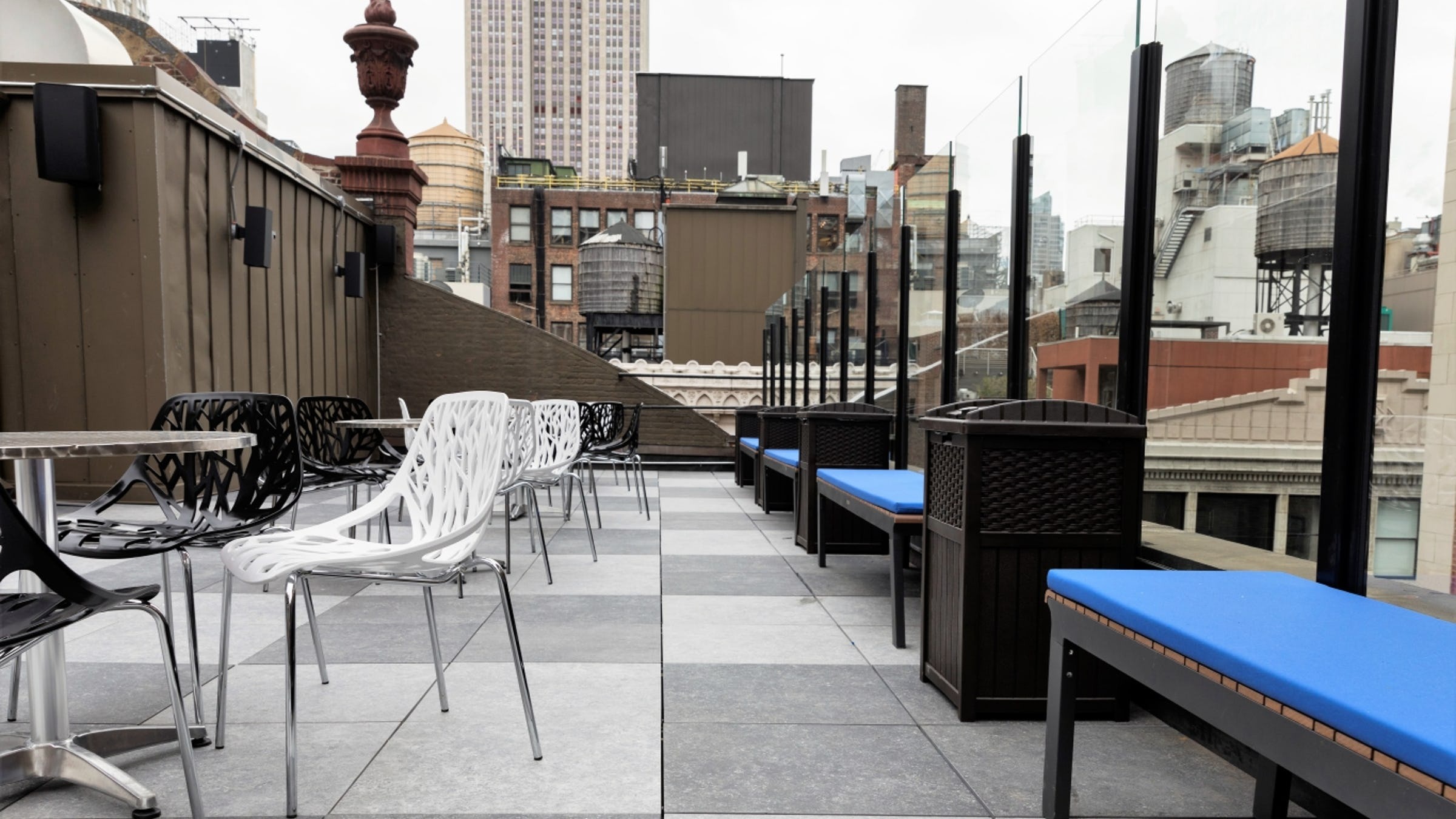 Orange County
Eureka Hub OC
Established in 2014, the Eureka Building is a 3-acre creative office, coworking and event campus in Irvine designed to offer Orange County's startups a community, accelerate innovation and support local entrepreneurship. Deskpass members have a designated area toward the back of Eureka Hub OC, as well as access to the space's shared kitchen and beautiful outdoor area.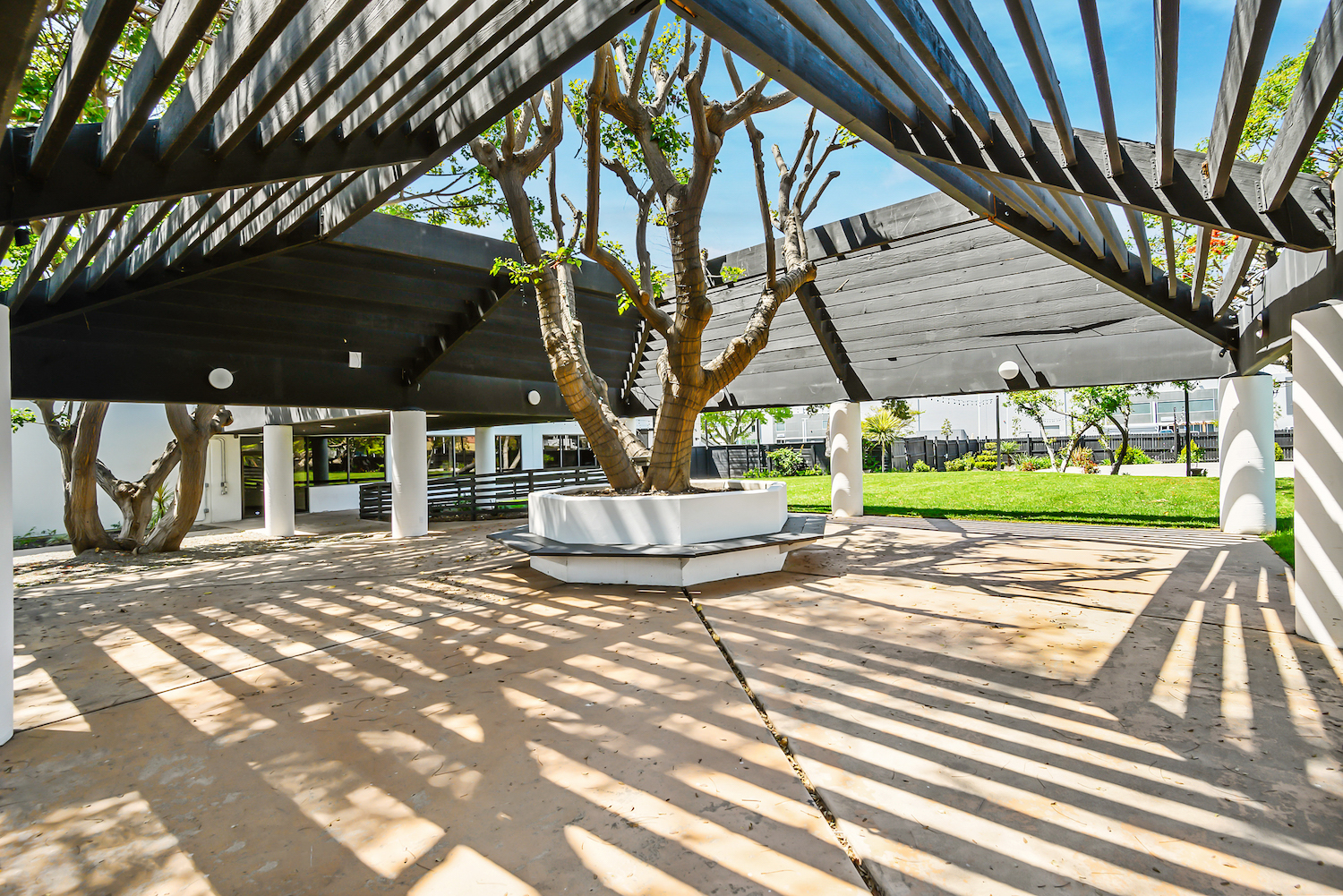 Portland
CENTRL Office - Hood River
Located an hour east of Portland in the Columbia Gorge, CENTRL Office - Hood River is the go-to destination for foodies, trekkers, historians, and adrenaline junkies. Their space is on the waterfront in the same building as Ferment Brewing overlooking the Event Site. With natural wood, views of the river and spacious offices, this is definitely a must-see space.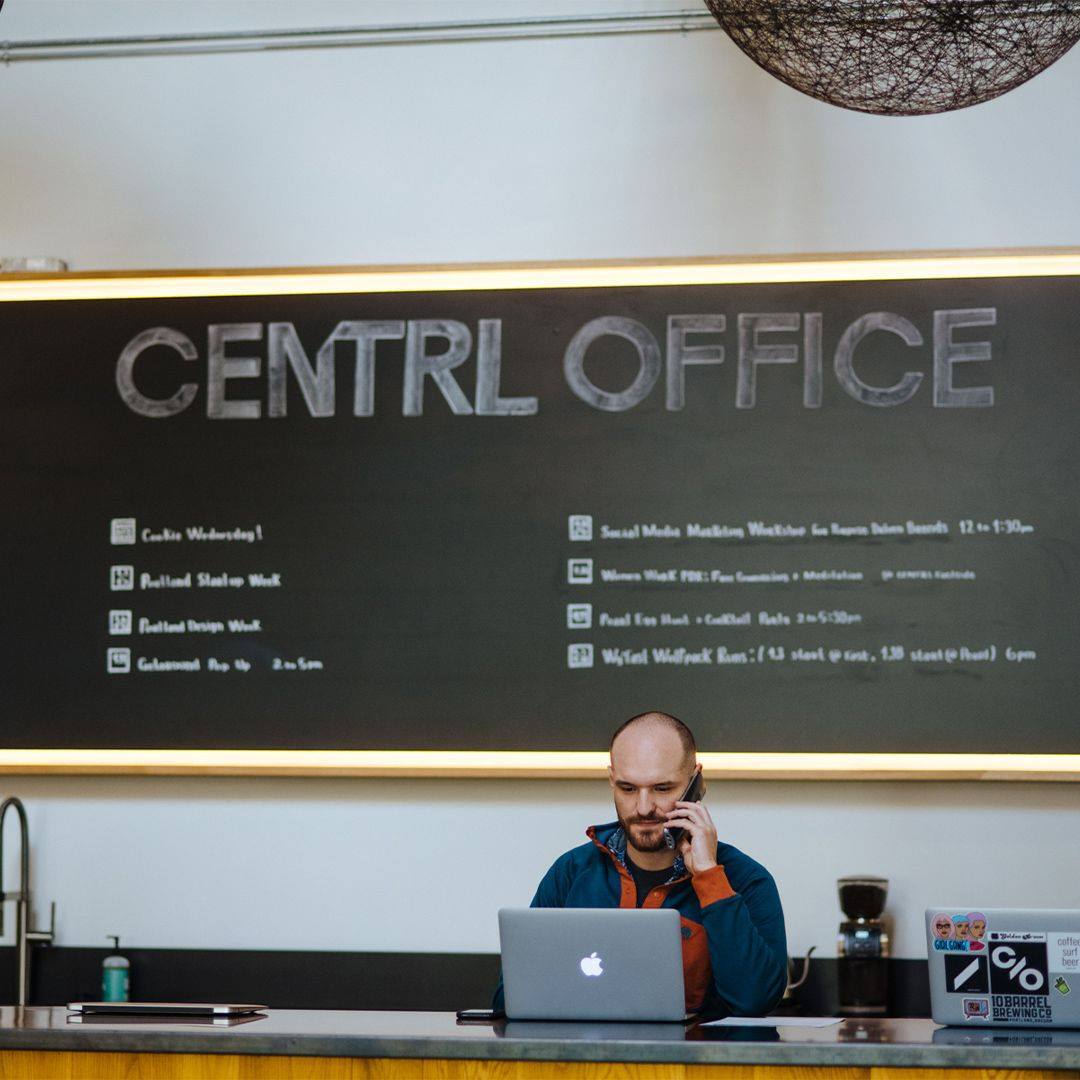 Raleigh-Durham
Loading Dock - Dock 1053
Loading Dock - Dock 1053 is a shared workspace for the creative, freelancer, entrepreneur, and remote professional. We love the industrial-chic look of this space—exposed brick walls, high-ceilings, and avant-garde, industrial lighting. Enjoy your lunch at one of the tables set up in their outdoor, communal area.
San Diego
Downtown Works
Enjoy the sunny San Diego weather from the outdoor space at Downtown Works, whether pouring yourself a coffee from their bean-to-cup coffee machine or cooling off with a craft beer by the keg. Your four-legged friends are welcome here, so feel free to bring your pet along for the day. Any questions? Ask their Community Manager or any member full-service support staff.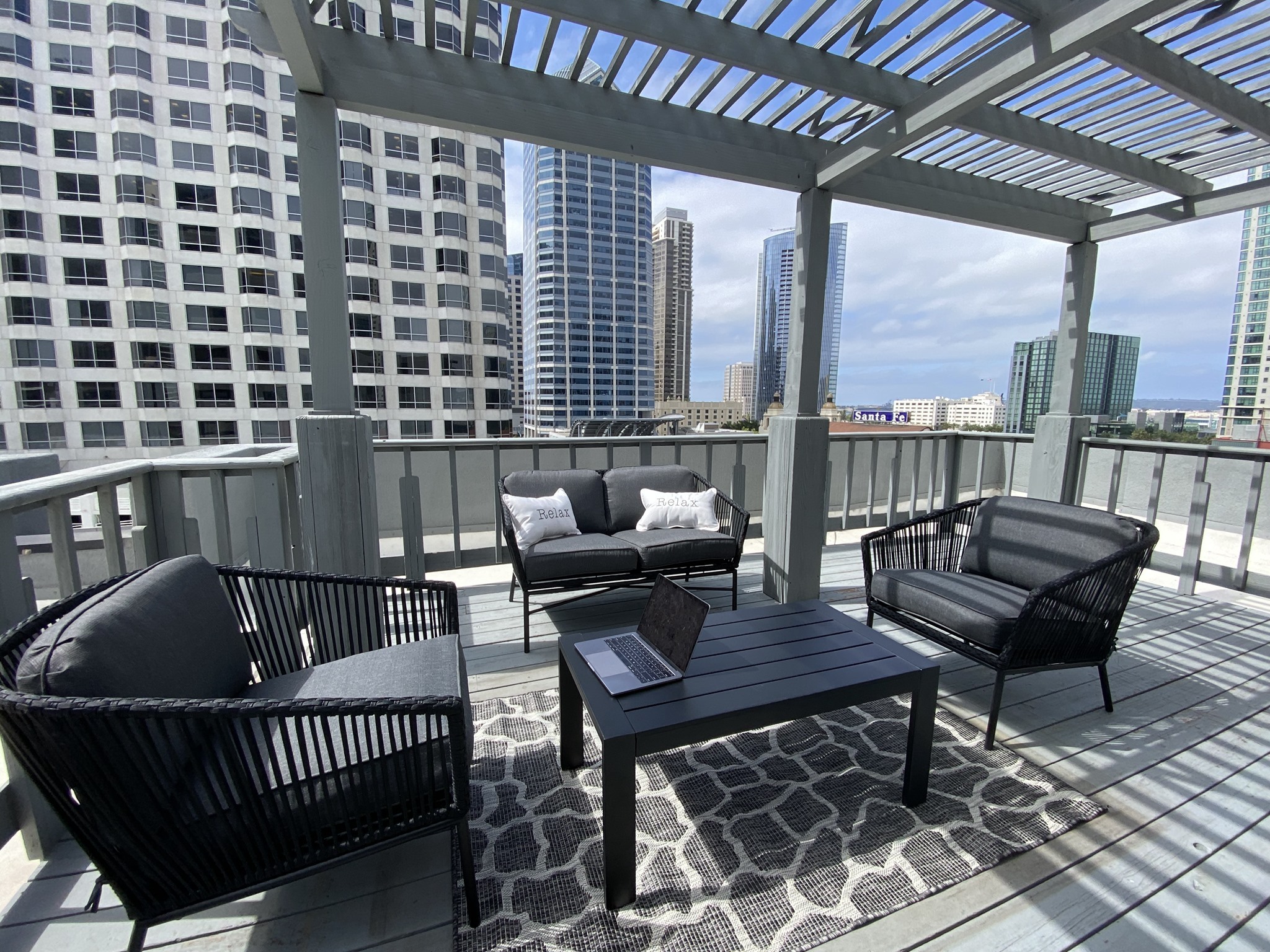 San Francisco
Workstation West Berkeley
Workstation West Berkeley is perfectly nestled in West Berkeley, just a short walk from Aquatic Park and the Fourth Street shops, including some of Berkeley's best eateries: Viks, Tomate, Iyasare, and Tacubaya. All hot seats are up for grabs—booth seating, a large wooden table with seating, couches, and bar seating—so take your pick.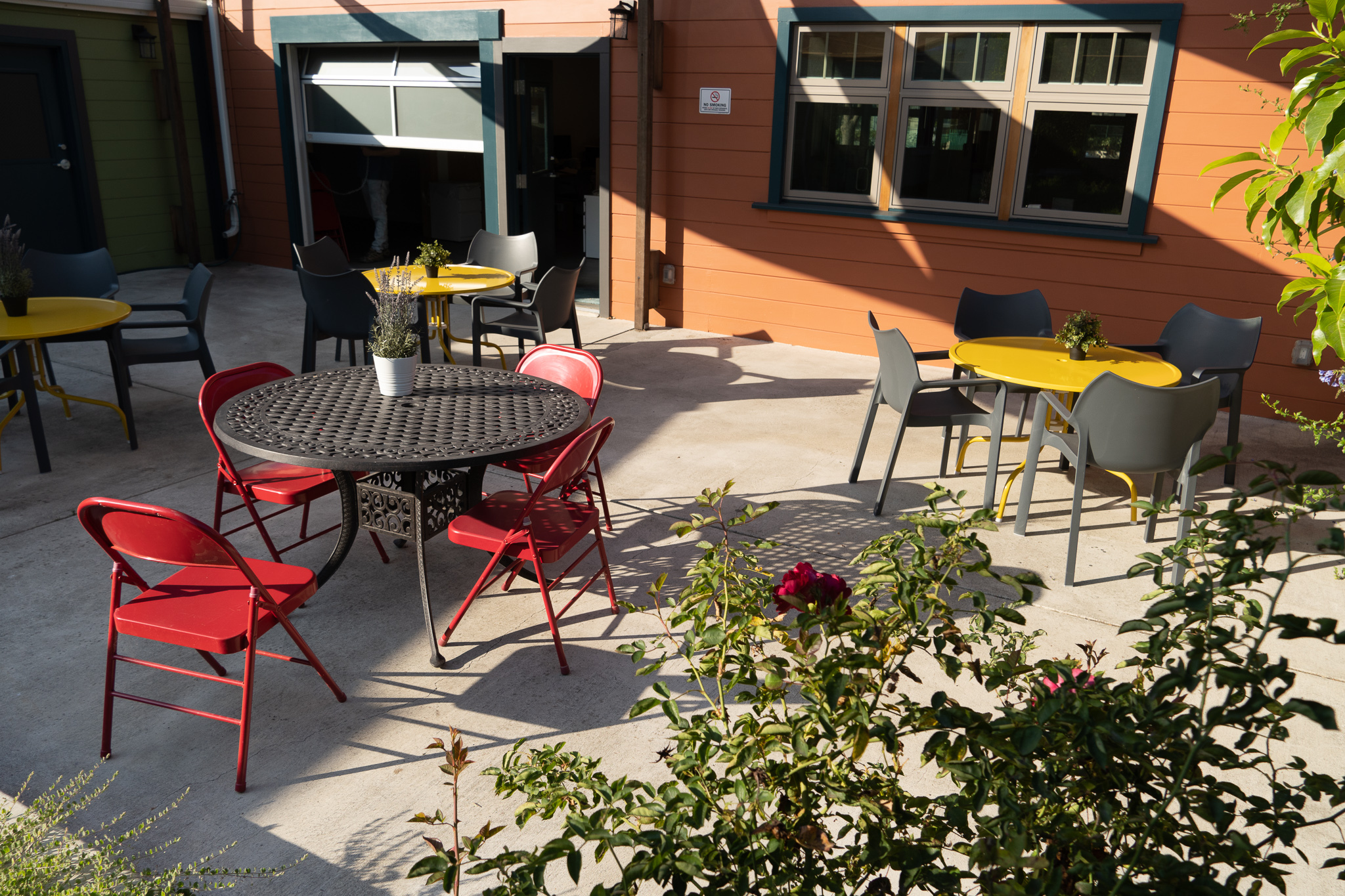 Seattle
Galvanize
Located in Pioneer Square, Galvanize Seattle's coworking space and bootcamps brings top technology companies and entrepreneurs together in the city's charming and historic original downtown area. Deskpass users are welcome to sit in any of their Open Seating areas throughout the building.
Tampa
Office Evolution - Harbour Island
Office Evolution - Harbour Island is a brand new, modern open space located directly on Tampa's downtown harbor. We love the high-ceilings, beautiful decor, and their water lounge workspace. Take a break on their private waterfront patio or have lunch at one of two restaurants in the building. Complimentary local coffee and teas are also offered.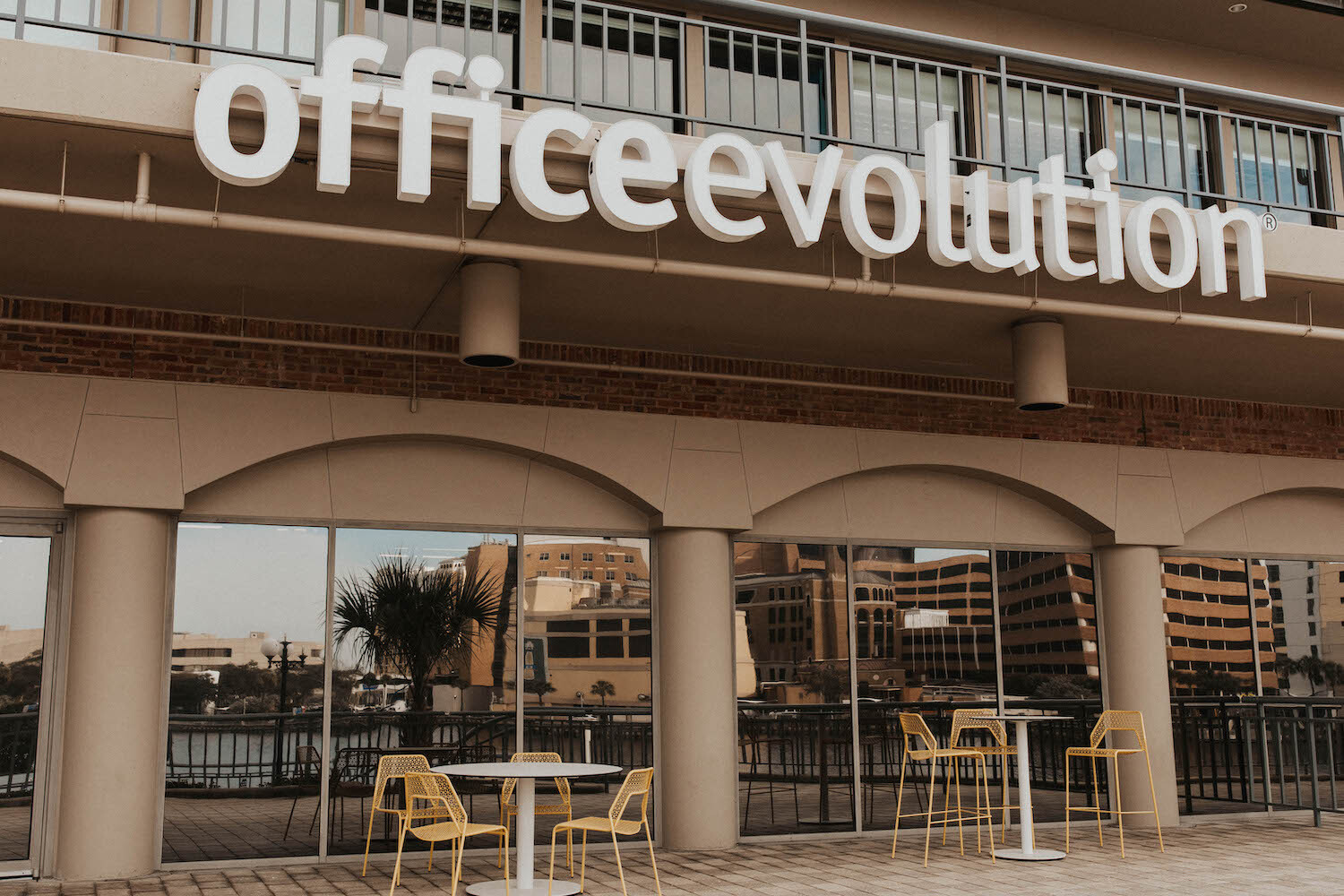 Get a complimentary $250 Deskpass credit when you sign up for a Teams account today.