As Deskpass expands to Canada, we're excited to feature a few of the most collaborative and creative coworking spaces in the Greater Toronto Area.
Workhaus (4 locations)
Workhaus is a vibrant community of individuals and companies working in a productive, collaborative environment. A popular coworking space among freelancers and Fortune 500 companies alike, Workhaus offers both shared coworking space and private offices that fit groups of up to 100 people.
Four Workhaus locations are available on Deskpass, each with a unique look and feel. If you're looking for more of a creative and collaborative space, the brick and beam construction of our Queen and Spadina space is perfect. Want to be around the Bay Street movers and shakers? Then head to Commerce Court location where the atmosphere is professional yet relaxed.
Location is all part of the experience, whether it's being directly across from Chinatown and Kensington Market at their Spadina location, beside the famous Eaton Centre at the Dundas location, or being above Toronto's underground PATH network (with direct access to Union Station) at their Commerce Court location.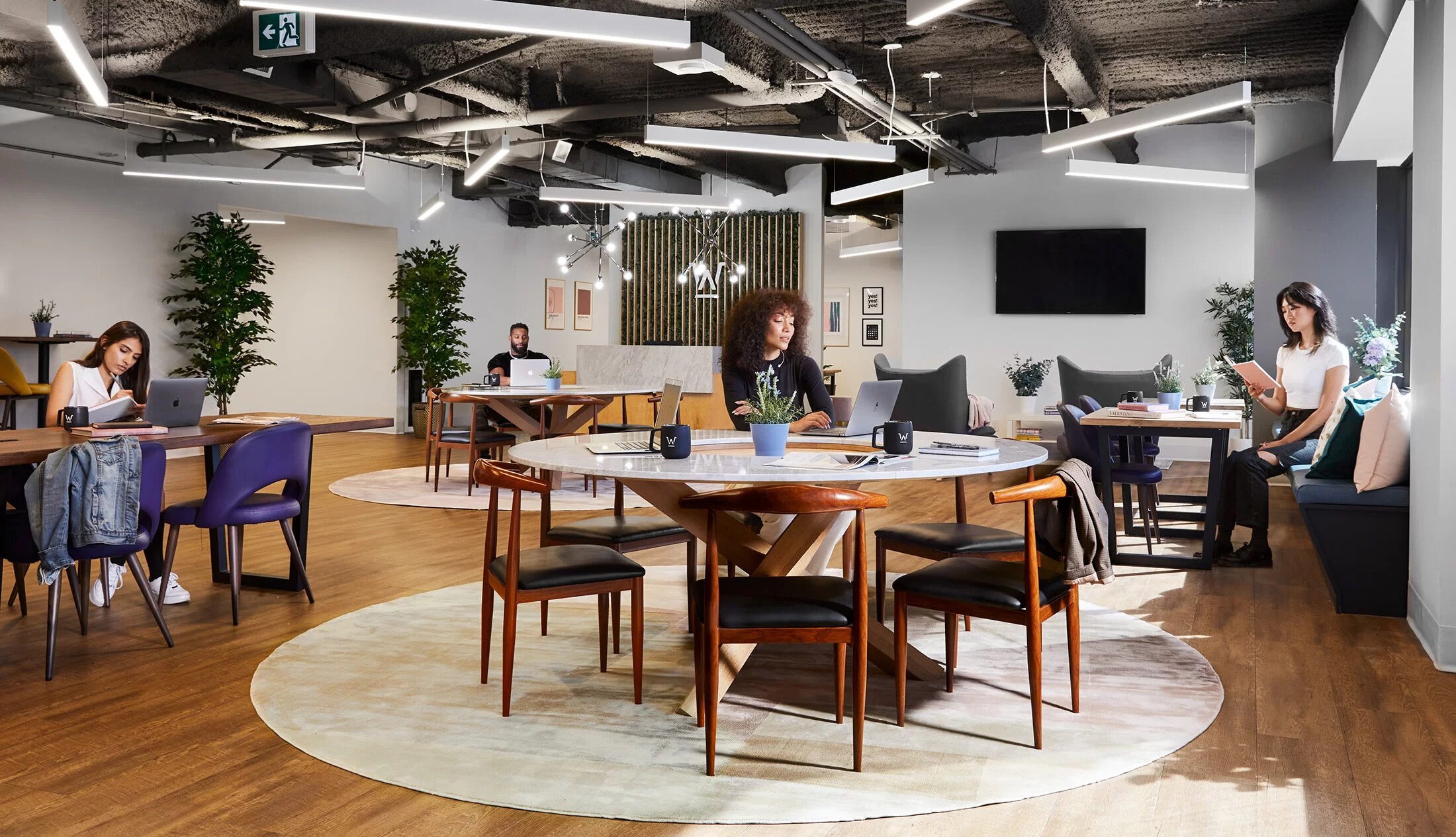 Verkspace (2 locations)
Bringing Nordic warmth and hygge (coziness) to the modern workplace, Verkspace Coworking is designed with comfort and functionality in mind, creating a professional workspace that feels like WFH.
Verkspace Coworking values hospitality above all else. Both spaces available on Deskpass are staffed with Front Desk managers who handle all the details so you can focus on doing your best work.
Perks include planned socials, craft coffee and tea, along with printing, meeting rooms and super fast wifi.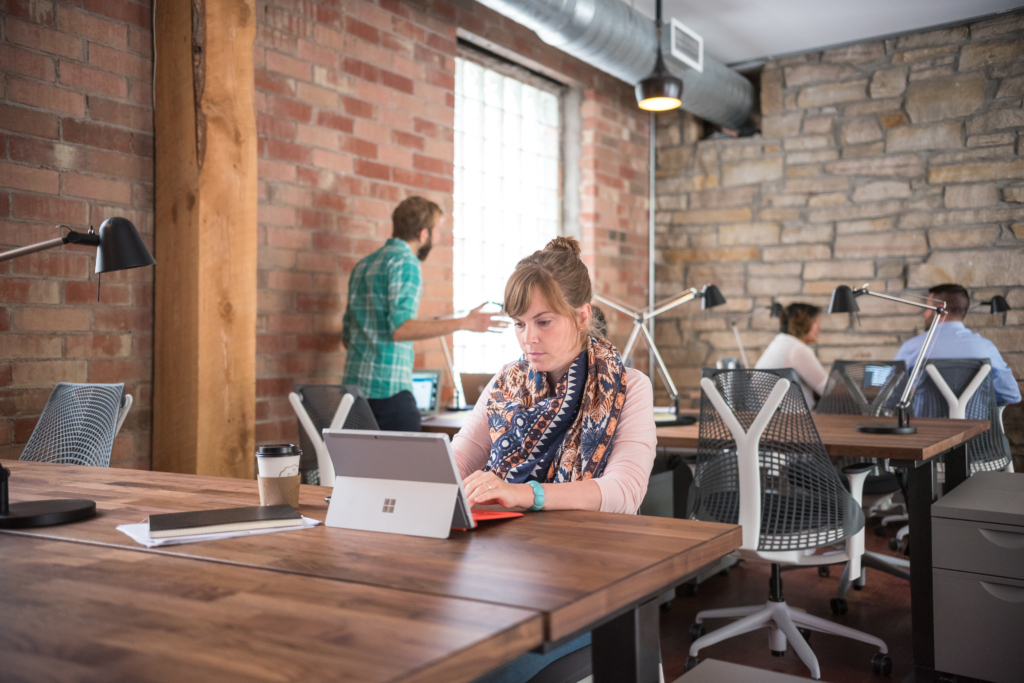 The Workaround
Parents, this one's for you! The Workaround offers a range of professional workspace, hot desks, dedicated desks and private offices with high quality childcare led by Registered Early Childhood Educators right on site.
This parent-friendly workspace supports working parents, particularly marginalized genders who would otherwise be out of the workforce or with reduced work schedules due to prohibitive childcare burdens.
At the Workaround, parents can drop into a friendly and professional workspace with affordable childcare on their schedule with no ongoing commitment. Their nursing suite and nap room for tired parents are big features.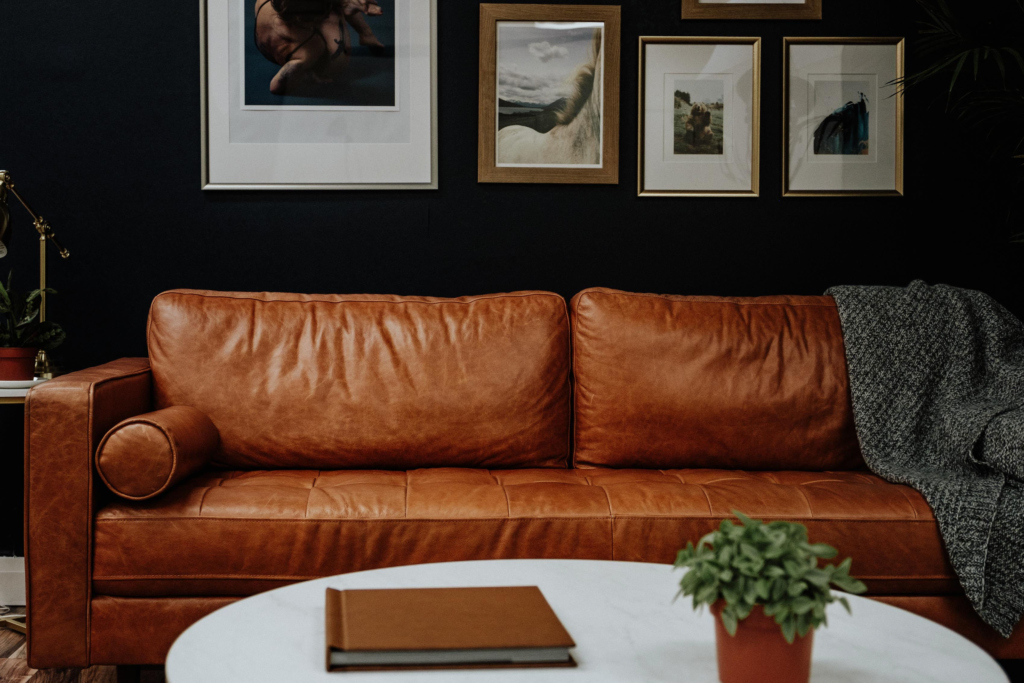 Staples Studio (3 locations)
Staples Studio is committed to helping members work, learn and grow. Through their list of curated events, speakers and networking opportunities, Staples Studio provides a safe, welcoming and inclusive work environment.
They offer flexible coworking options, private offices, fully equipped meeting rooms, a podcast booth and private phone booths. Services are tailored for remote workers, entrepreneurs, small businesses, educators and students. It's one of those spaces where everything you need is under one roof.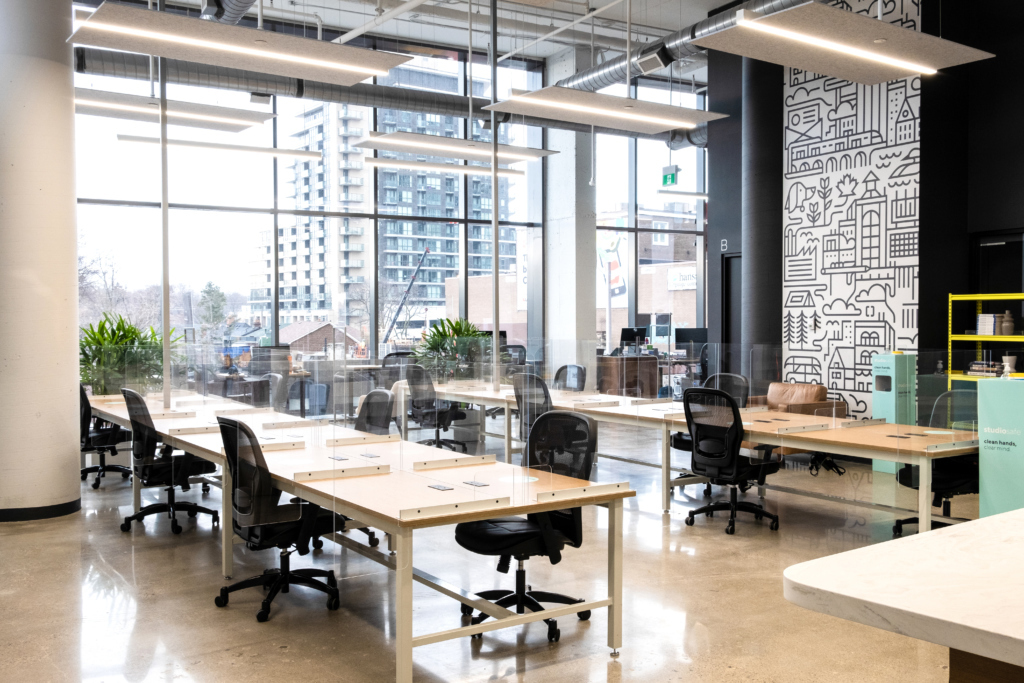 Lokaal
Lokaal is a shared coworking space located Toronto's Corso Italia / Regal Heights neighbourhood on St. Clair Avenue West. Members are entrepreneurs, freelancers, and remote-workers who want to belong to and work locally, in a collaborative environment filled with other talented minds.
With just 25 seats, Lokaal is a small community space where everyone knows your name. To top it off, the building and space have received multiple design accolades including a 'Best of Year' award from Interior Design Magazine.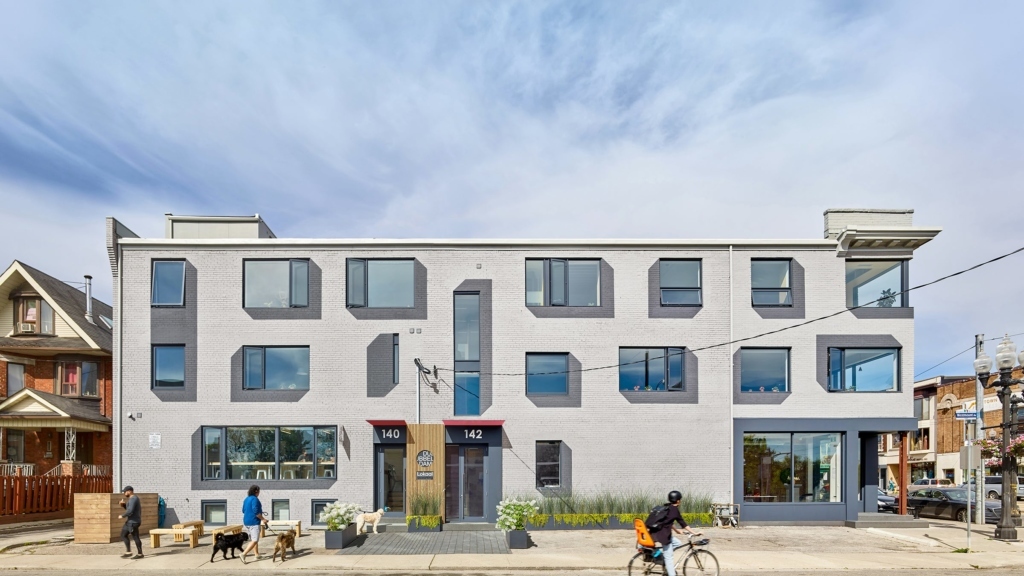 Acme Works
Acme Works is a community-oriented space in downtown Toronto where you can work privately, collaboratively and socially.
The secret sauce that makes Acme Works unique among coworking spaces in Toronto is the the friendly, relaxed vibe of the space and that of its members and staff. They offer members the utmost flexibility, so you can work wherever and whenever you need to, 24 hours a day.
Their rooftop patio is a beautiful spot to work, have lunch, take a call or catch some sun. Acme is a dog friendly workspace, so bring your furry friend along the next time you reserve their workspace.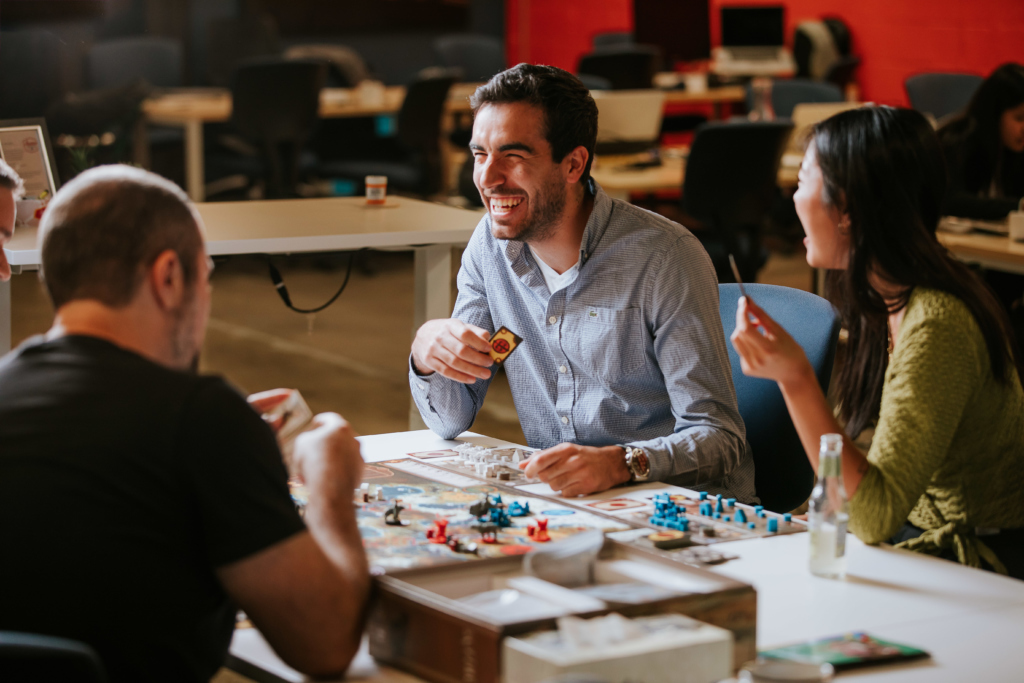 The Rostie Group
Established in 1994, the Rostie Group aims to provide businesses and startups with the option of smaller, more manageable space. Today they are considered one of the most respected providers of serviced office space in the Greater Toronto Area.
The Rostie Group offers meeting and training rooms, private offices, team spaces, dedicated desks and virtual services. Their staff focuses on what is most important to their members: customer satisfaction, cutting edge technology and flexibility.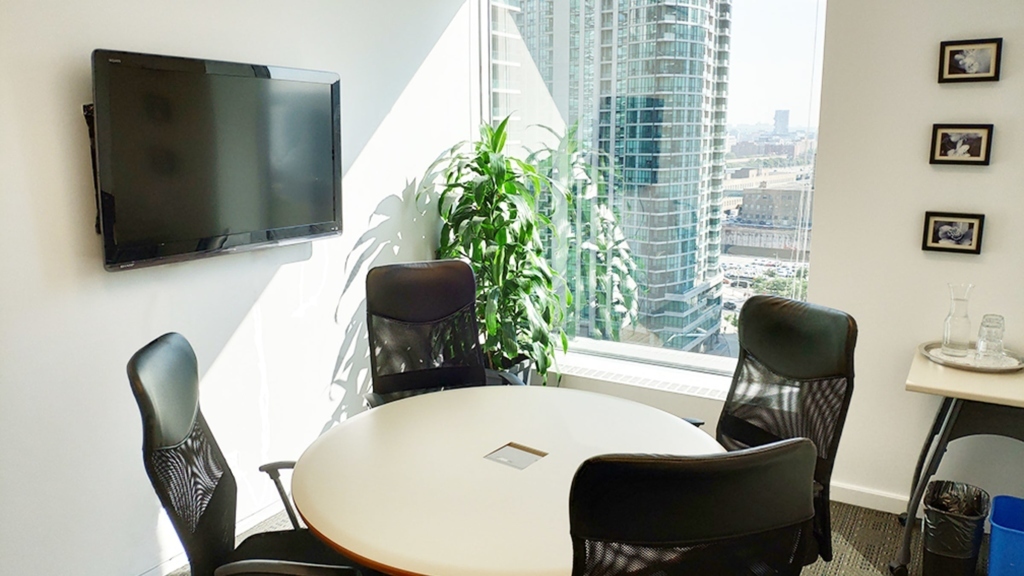 The Village Hive (3 locations)
The Village Hive is a community of entrepreneurs, small business, freelancers and remote workers, all under the same roof. In addition to shared coworking, drop-in meeting space and private offices, there's a podcast room with media equipment. Two of their locations offer outdoor space (North York and Markham), and free coffee and tea.
Another great perk of working from The Village Hive is access to their bi-monthly workshops in business and wellness. These are hosted by local entrepreneurs on Zoom at the moment, and in-person once it's safe to do so.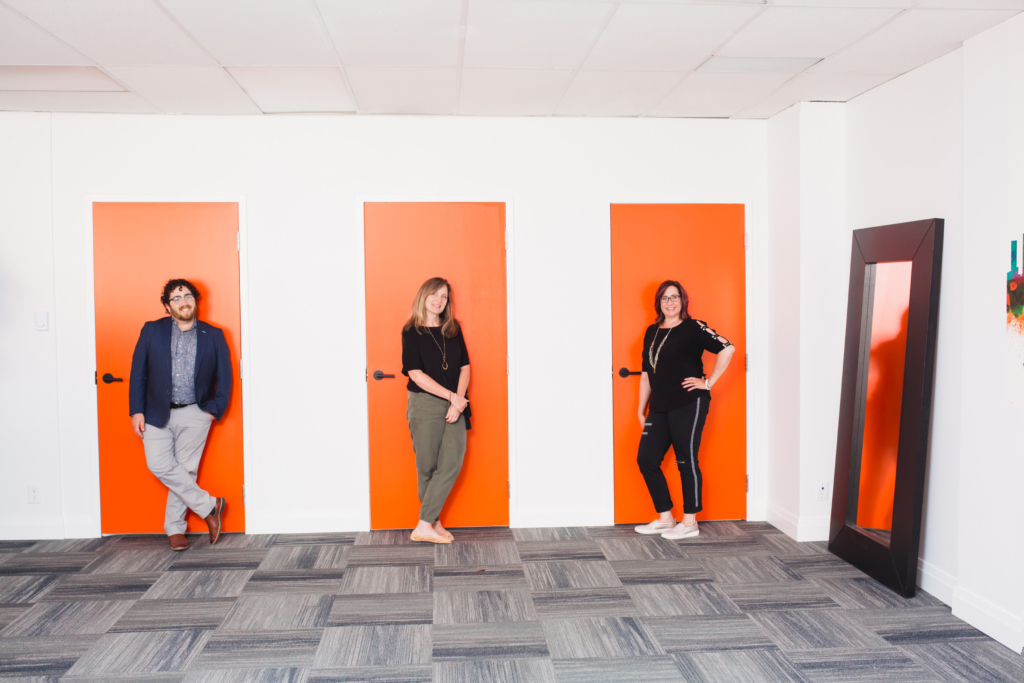 Huddle Sharespace
Huddle Sharespace is owned by five partners who are all family, as well as entrepreneurs in their own right. They are passionate about the entrepreneurial journey and helping support others as they get started. Huddle is their contribution to the small business, start-up and freelance community of Scarborough.
We'd describe Huddle as a modern space in an unexpected area of the city. When you walk through the doors, it feels like King West, with lots of windows, high ceilings and modern furnishings. Their offices have either windows or skylights, a glass garage door that opens to the outside, a patio, tons of plants and moss art on the walls.
Deskpass members have access to hot desks, two private offices, the outdoor patio, phone booth and boardrooms.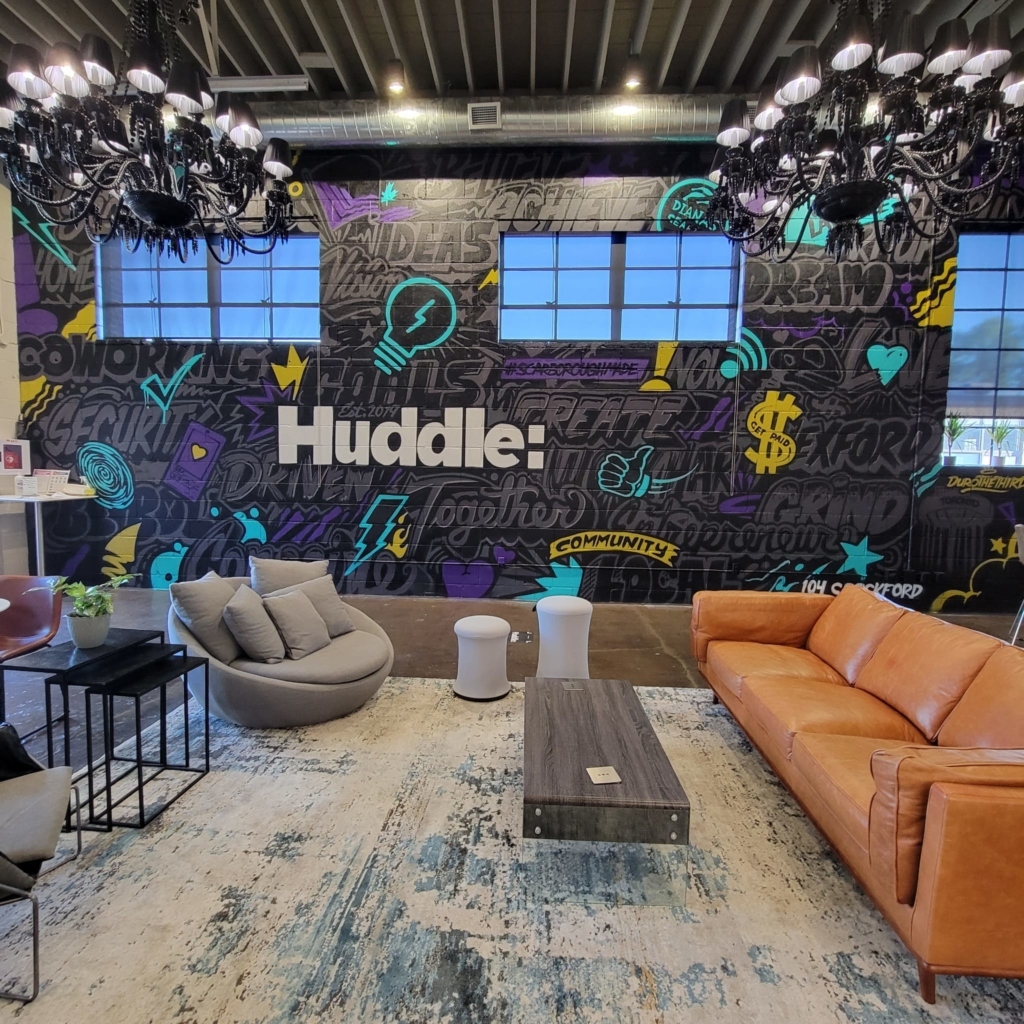 Thinktank Workspace
Thinktank Workspace Inc. is the first Canadian-owned, female-led coworking space in the Don Mills community. Serving members since July 2017, Thinktank is a fully renovated space with gorgeous interiors, modern furniture and up to date technology solutions.
They've paid attention to all the details, starting with location, floor plan and esthetics. Thinktank is situated minutes away from major highways (DVP and 401), and ample parking is available to members and visitors. As for the airy, professional and modern vibe, it's all thanks to their sister company, Upside Development.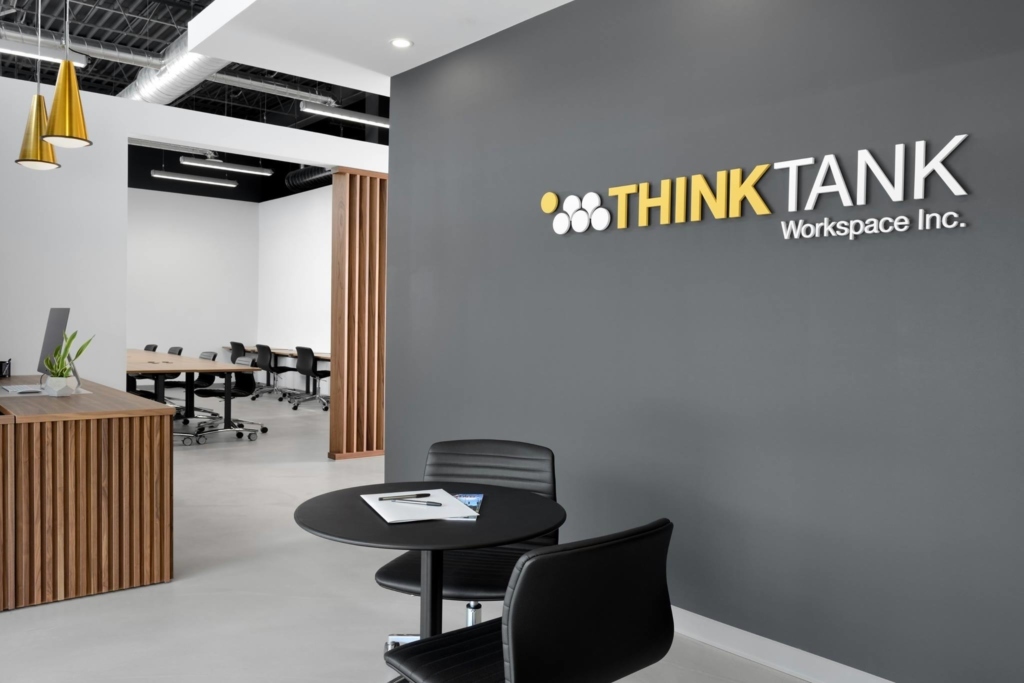 ACE Coworking (Oakville)
ACE Coworking is a premium shared workspace and community for entrepreneurs and professionals. They offer hot desks, dedicated desks, meeting rooms, private offices, as well as virtual offices.
Their community is made up of a diverse group of growth-minded entrepreneurs, freelancers, consultants, small businesses, remote workers, and startups. Located in downtown Oakville just steps from the lake, ACE combines professional amenities with a stylish urban vibe. It's a great place for business owners to connect, grow, and get to work.
As for amenities, you're in for a real treat. In addition to a rooftop patio where you can take work breaks or chat with other coworkers, ACE has an active events calendar ranging from social to educational to cultural.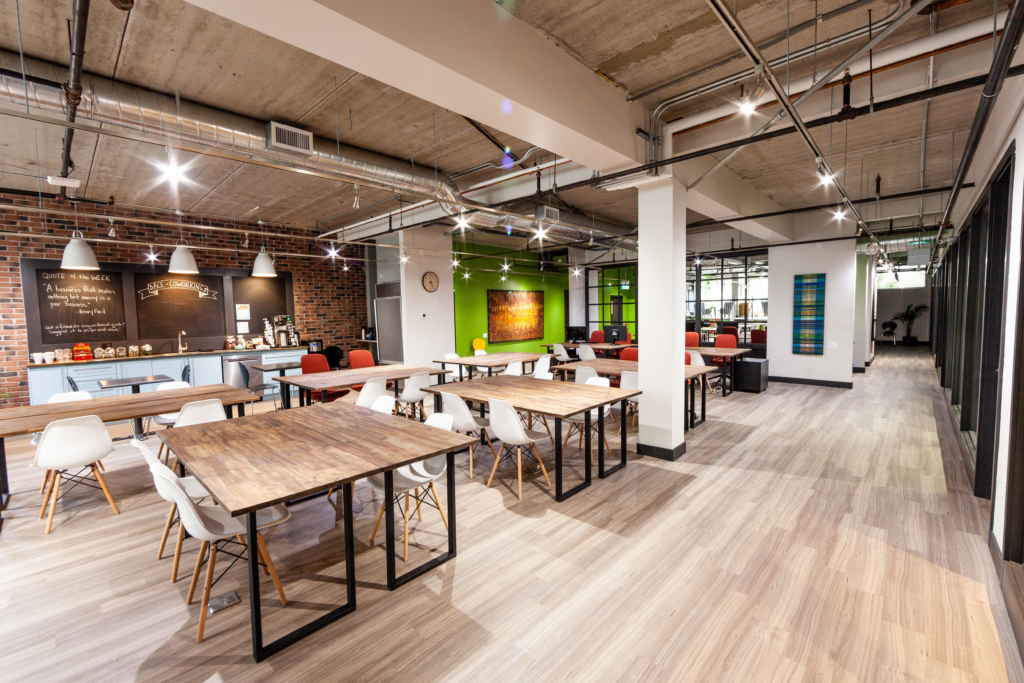 Vantage Venues (Event & Meeting Rooms only)
Vantage Venues offers beautiful space with stunning city views, occupying the 16th and 27th floors at 150 King West. Located in the heart of Toronto's Financial District, Vantage it's in an ideal location for meetings, seminars, conferences, investor days, AGM's, receptions and dinners.
This is a purpose-built venue, providing exceptional service, technology and cuisine. All of their services are seamlessly integrated, so you won't have to worry about a thing. The beautiful views, natural light and double height windows, makes for an inspiring (if not impressive) setting to work.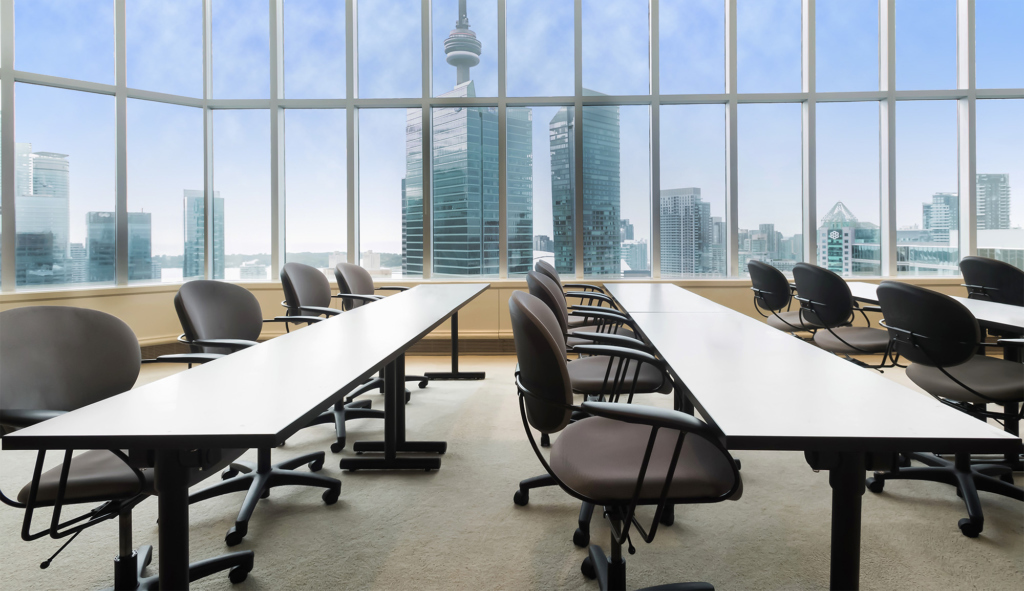 Get a complimentary $250 Deskpass credit when you sign up for a Teams account today.