What started as a beachfront resort back in 1905 has transformed into LA's hippest hood. Not to be confused with the Italian city of the same name—although, you can actually find imported gondolas straight from Venice here—this neighborhood is the ultimate place to soak up the sun, whether beach bumming the day away or people-watching along Abbot Kinney Boulevard. Here are our favorite ways to experience this effortlessly cool pocket of LA.
Coworking is as much about the co as it is about the working. To inspire you with what's possible with Deskpass, we've rounded up our favorite Venice hotspots.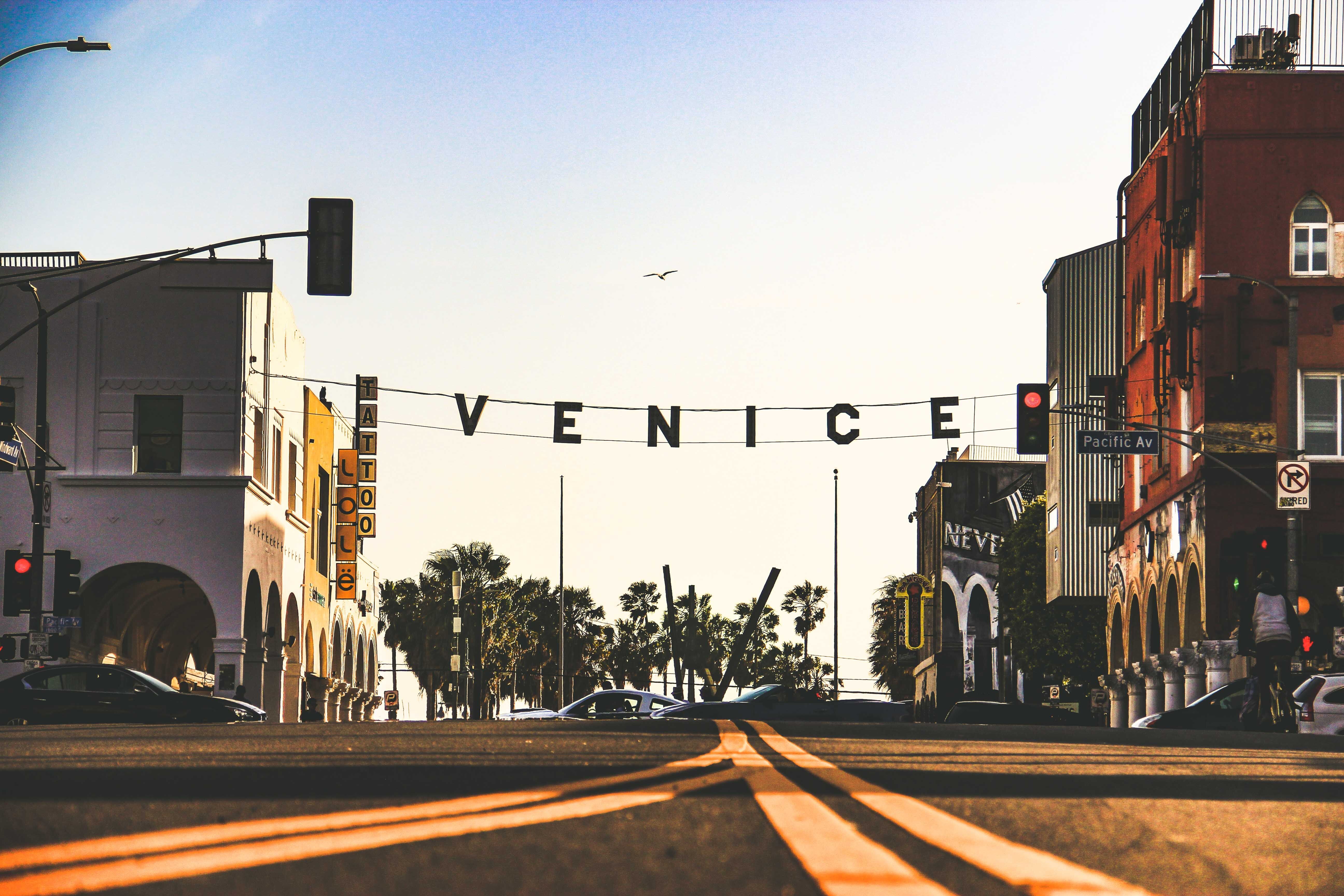 Get your coffee fix
Boasting white walls and an old-school vibe, Menotti's Coffee Stop is especially popular among freelancers and digital nomads. Menotti's has a great location, with prime views of the Venice Beach boardwalk (and all the people-watching that comes with it—more on that later). All drinks are made by the team's latte-art award-winning baristas, so you'll definitely want to snap a photo for Instagram.
There's also Intelligentsia, a high-end bar chain set inside an industrial setting. The space is lofty and feels larger than it is—although it is fairly big already. Traditional barriers you see in other coffee shops are removed, making for a more communal feel. Laptops typically line the white counter-top tables, while more social drinkers sti on the stair seating. The white walls are decked out with decor, most notably a mounted vintage bike.
Technically more a restaurant than a straight-up coffee shop, Great White still deserves a spot on our list. Serving up New American classics like burgers and sandwiches, it's got that SoCal vibe we all know and love. It's close to the beach, too, and as their website says, "sandy feet are always encouraged." Consider timing your visit with lunch so you can try out their food menu as well.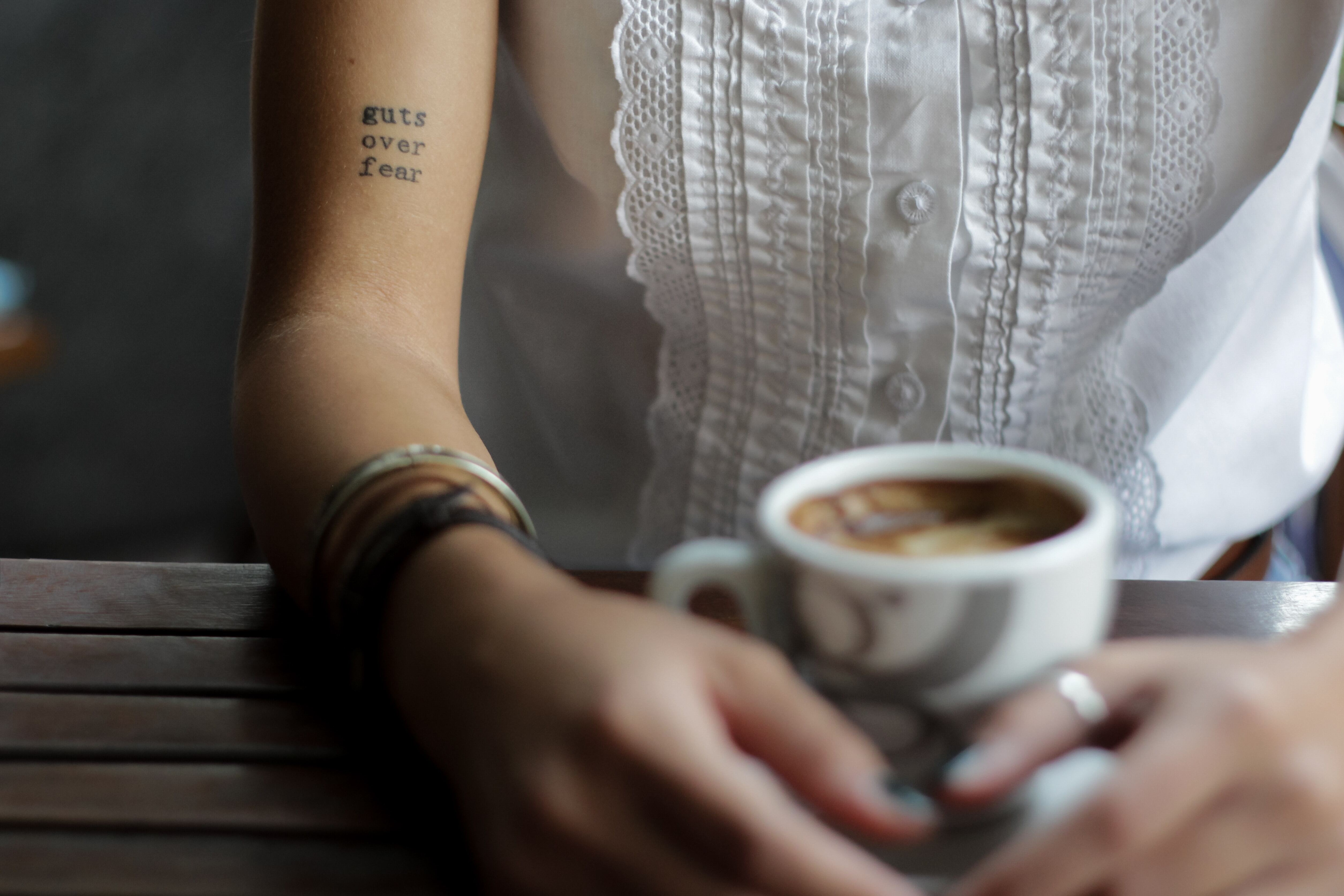 Grab a bite
Boho-chic all the way, lunch at Rose Cafe is worth the wait; and yes, you might need to wait a little. Serving rustic Californian cuisine, the lofty space features two patios, a bar and a bakery. The decor is so on point—we especially love the dozen or so hanging plants near the bar. Speaking of which, there is a 40-foot cocktail bar and it's stunning. Art from Venice-based C.R. Stecyk III adorns the walls, adding lots of life and color to the space.
When it comes to vegan food, Cafe Gratitude is a must-try. Set in a bright and large space, the cafe offers indoor and outdoor patio seating. The team strives to source the freshest and most high-quality (and nutrient dense) ingredients and the results are melt-in-your mouth fantastic. There's also the option to juice cleanse here, which has been shown to boost metabolism, balance digestion and support toxic removal from the liver and kidneys.
While on the pricier side, The Tasting Kitchen is well-worth the splurge. Known for their creative Mediterranean plates and inventive cocktails never fails to impress. We suggest ordering a few dishes and sharing them family-style; this way, you can sample a little bit of everything. Everything about The Tasting Kitchen is effortlessly hip, from thee hip-hop or house music playing to a pair of olive trees in thee glass-walled dining room.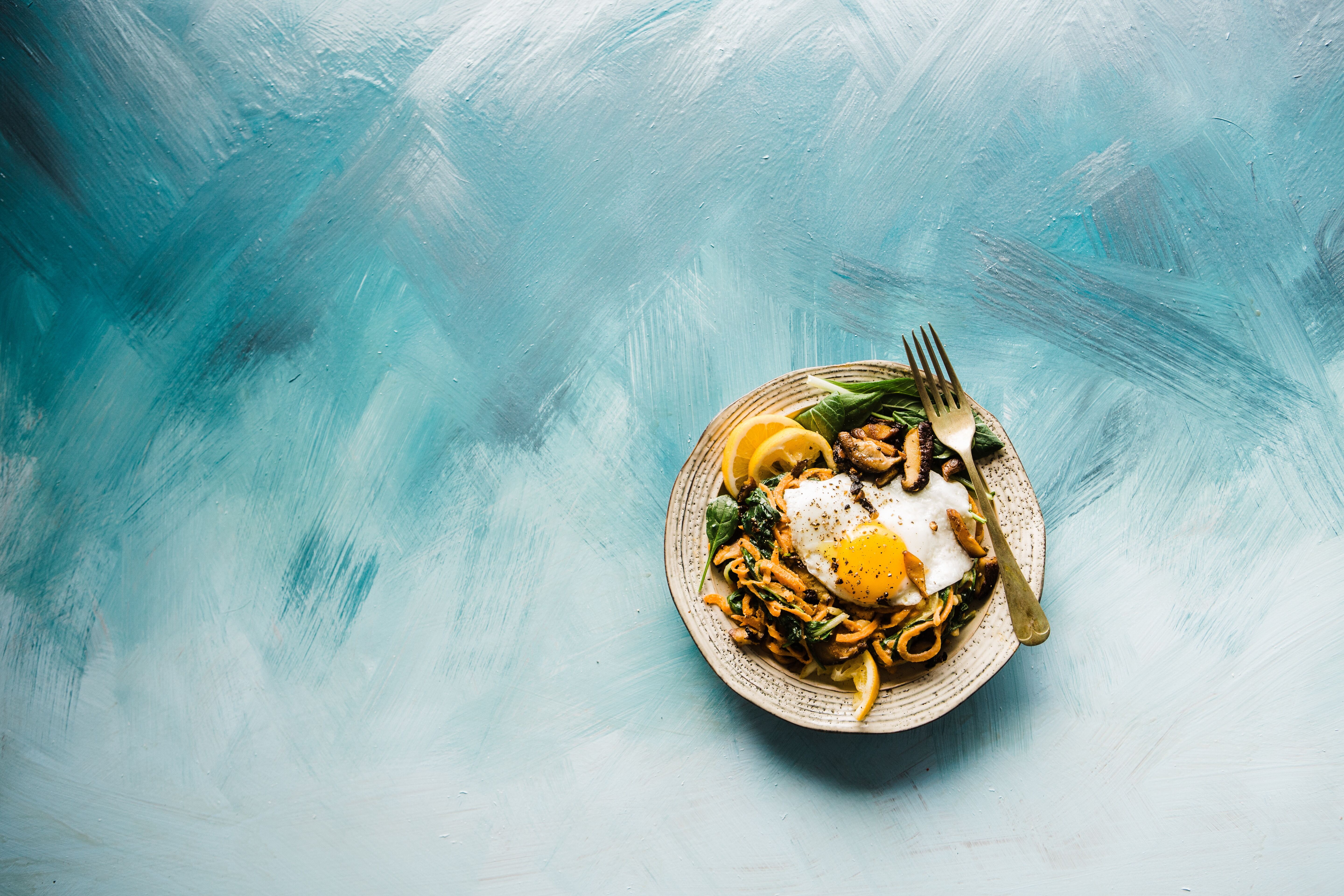 Soak up the sun
High Rooftop Lounge Is part of Hotel Erwin and it's currently the only rooftop bar in Venice. Open year-round and offering some pretty sick skyline views, High Lounge books local DJs to spin tracks while you sip craft cocktails and watch the sun go down. Nights here can get crowded (there's occasionally a cover charge on weekends as well) but if you come in the late afternoon or early evening, it's got a much more laid-back vibe.
While not a rooftop per se, The Venice Whaler, is a fun place to wind down after a day of coworking. Plus, there are ocean views and that's really all that matters, right? The local hotspot opened back in 1944 and it's been serving up American fare and no frills drinks ever since. There's a bit of everything on the menu, but we're partial to their fish tacos and margaritas.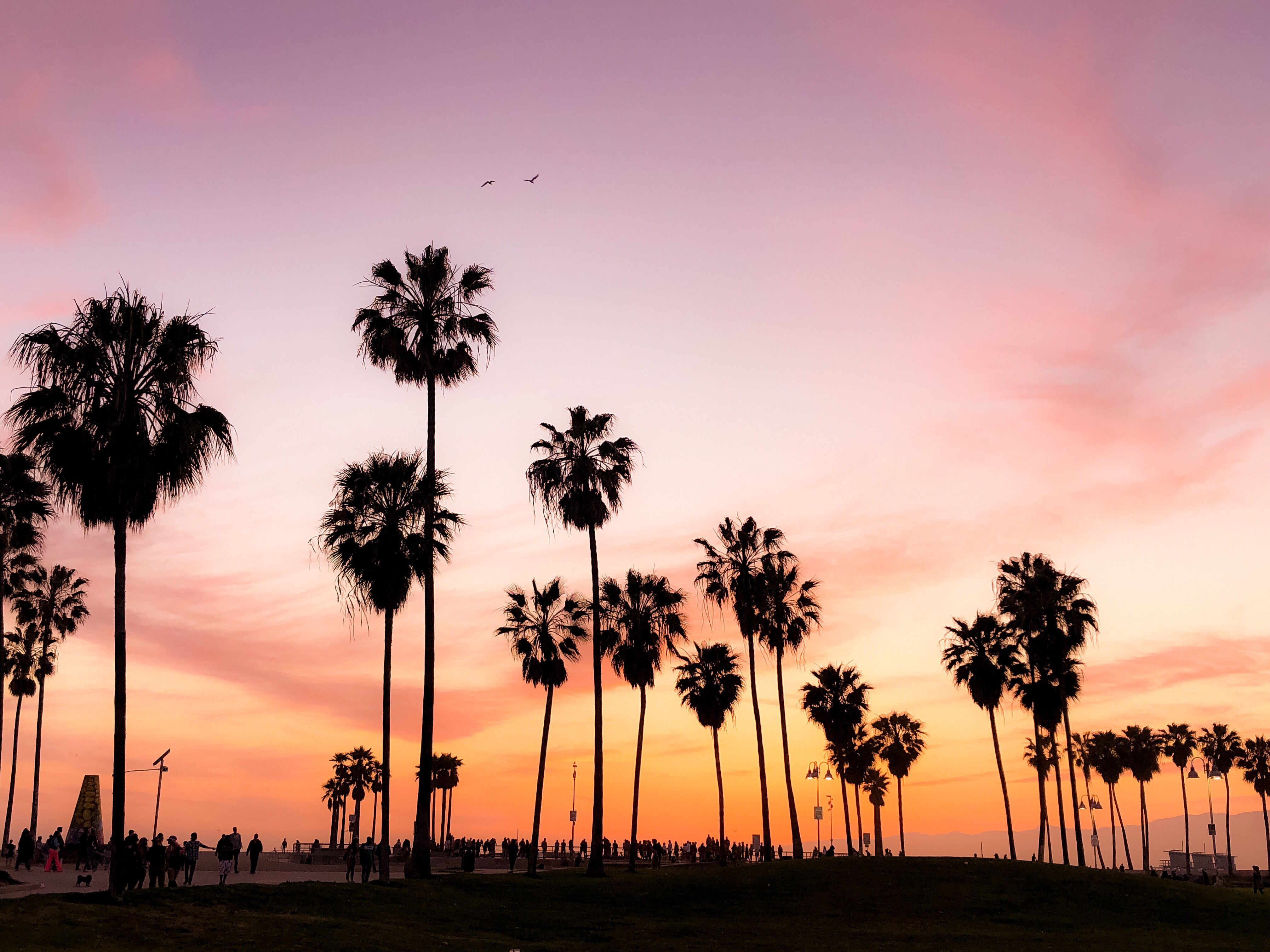 Art hop
The L.A. Louver is an art gallery showcasing both American and European contemporary art. Founded in 1975, the Louver has been a constant in Venice, even as so many other aspects were changing. Like many galleries in LA and beyond, exhibitions rotate seasonally. If you're living and working in Venice, plan to pop in here every few months for some serious art inspo.
Graffiti in Venice is everywhere, so keep your eyes peeled at every turn. That said, the Venice Public Art Walls is where you'll find the most iconic murals. The walls are centrally located on the Venice Beach boardwalk between the skate park and basketball courts, making them hard to miss. A mix of street art, murals and modern graffiti are on display for all to see.
The Mosaic Tile House is one very special 1940s home. It's covered inside and out with tole and splintered-glass mosaics of every color. Some visitors have described it as a coral reef, because it's so vibrant, and the mosaics are reflective in the light. We'd describe it as one of those "see it to believe" it kind of places; and on that note, admission is currently set at $20 for adults.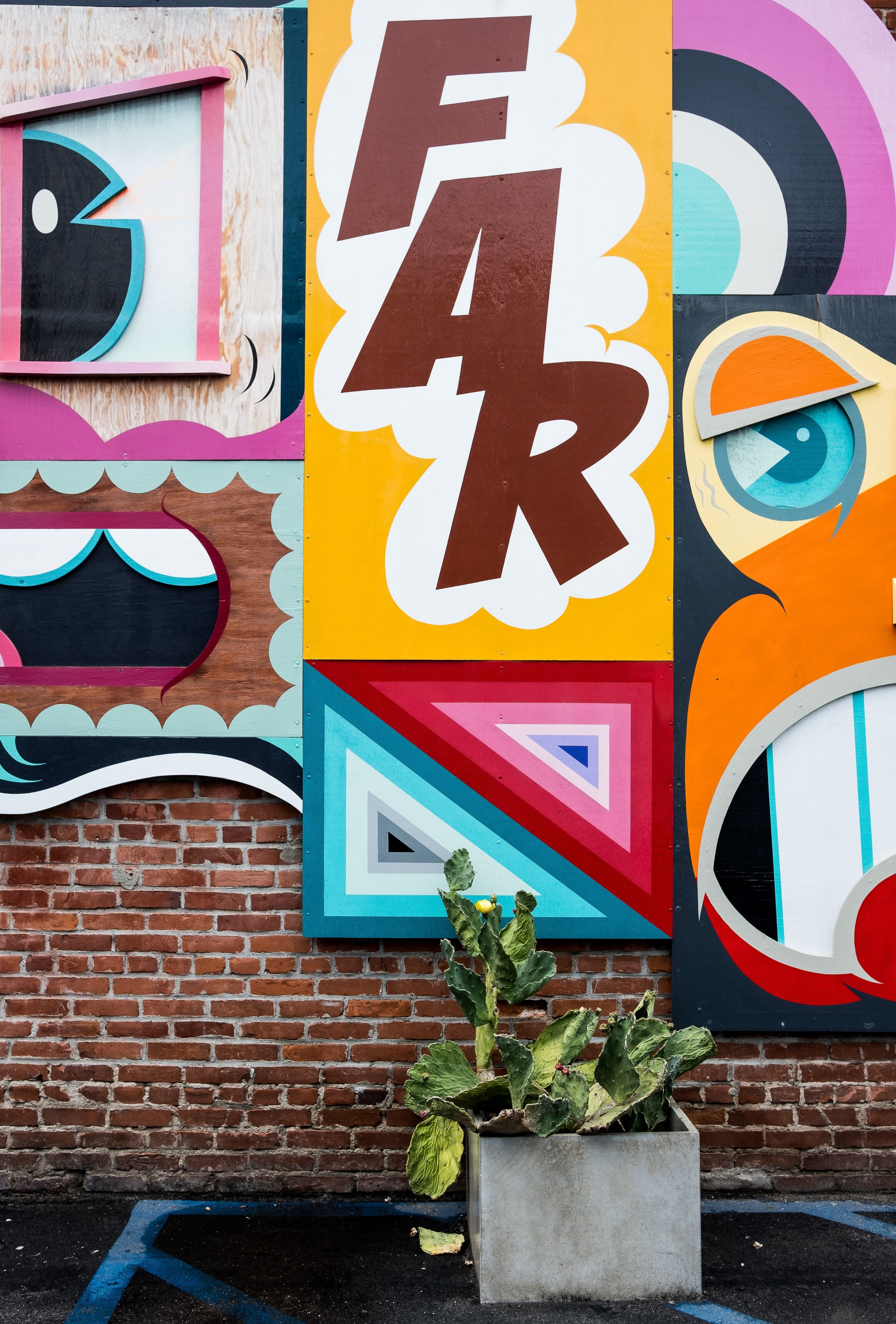 Get cultured
If you haven't seen The Venice Sign in person, we're guessing you'll at least recognize the backdrop from your Instagram feed. The sign spans across Windward Avenue at Pacific and is actually a replica of the original one from 1905. The sign was restored and recreated in 2007 and remains a defining symbol of Venice.
You might not be in Venice, Italy but the Venice of California is pretty rad all on its own. As we noted earlier, there are actual Italian gondolas here, as well as man made canals located off 25th street in Venice Beach. The canals stretch pretty far, so if you're needing a break from the chaos of Venice Beach, stroll along the canals, instead.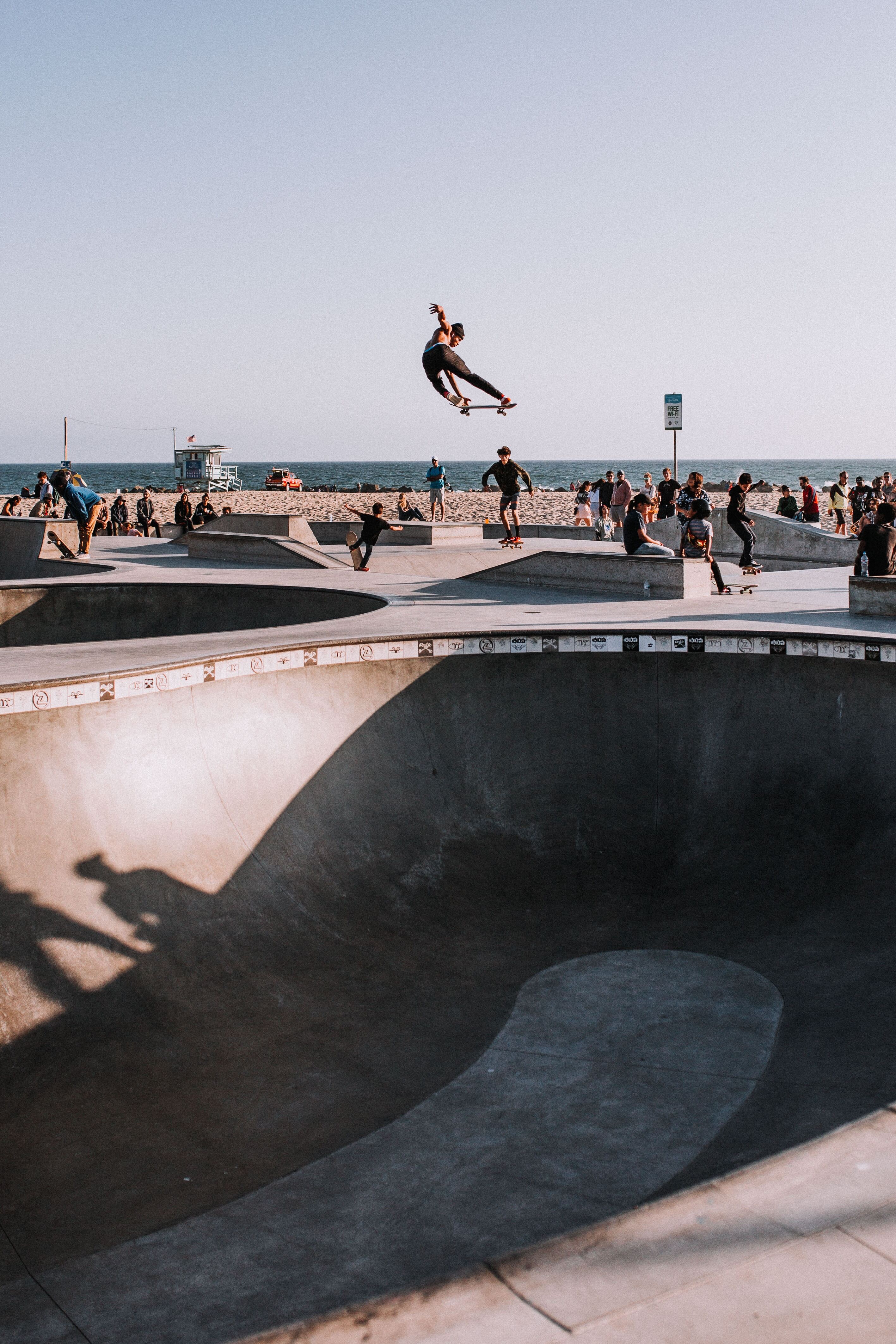 People watch
There's no better place to people-watch than Venice Beach. The boardwalk is the definition of sensory overload, from the lively street performers and rollerbladers to public art murals and a treasure-trove of shops. Craving a workout? Choose between Venice's skatepark or the famous Muscle Beach outdoor gym.
On weekends, check out the unofficial (but amazing) Drum Circle as they perform with drums, shakers, congas and percussion. The action takes place on Brooks Avenue and Ocean Front Walk and we'd suggest coming on the earlier side for a good view. Don't worry though, they play well into the night.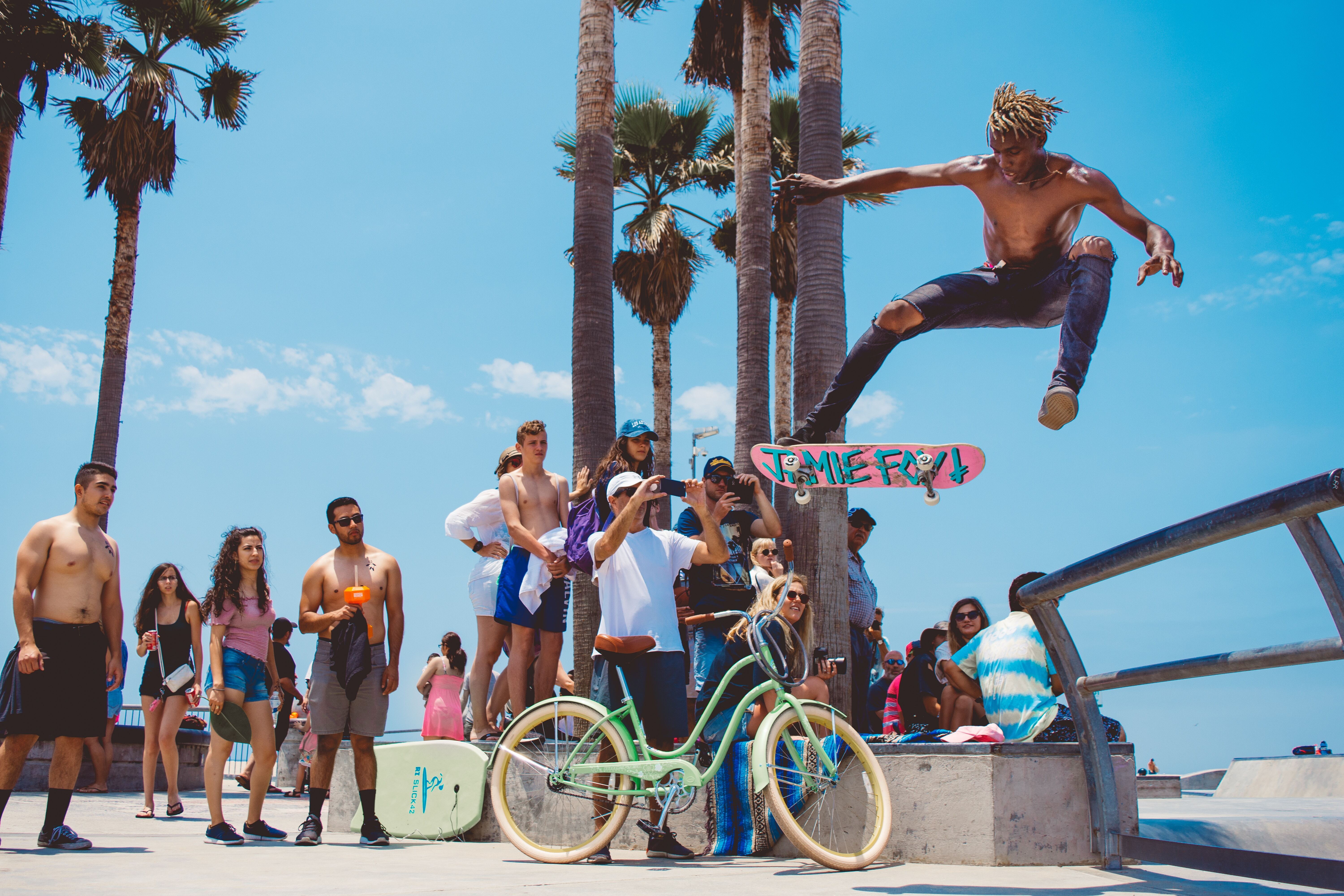 Read up
Need a break from your computer screen? We feel you. Pop into Mystic Journey Bookstore. In true Venice fashion, this bookstore focuses on spiritual titles and also sells cards, incense and natural health products. Visitors can shop for crystals at their online store or come in for an intuitive psychic reading, book signing event or workshop. We bet it's unlike any bookstore you've seen before and for that reason, well worth a look-see.
On the other end of the spectrum is Small World Books. This general bookstore sells all the classics as well as newer, award-winning reads. It's located right on the Venice boardwalk, so an easy pitstop on your way back to your coworking space. Plus, we're all about supporting independent business.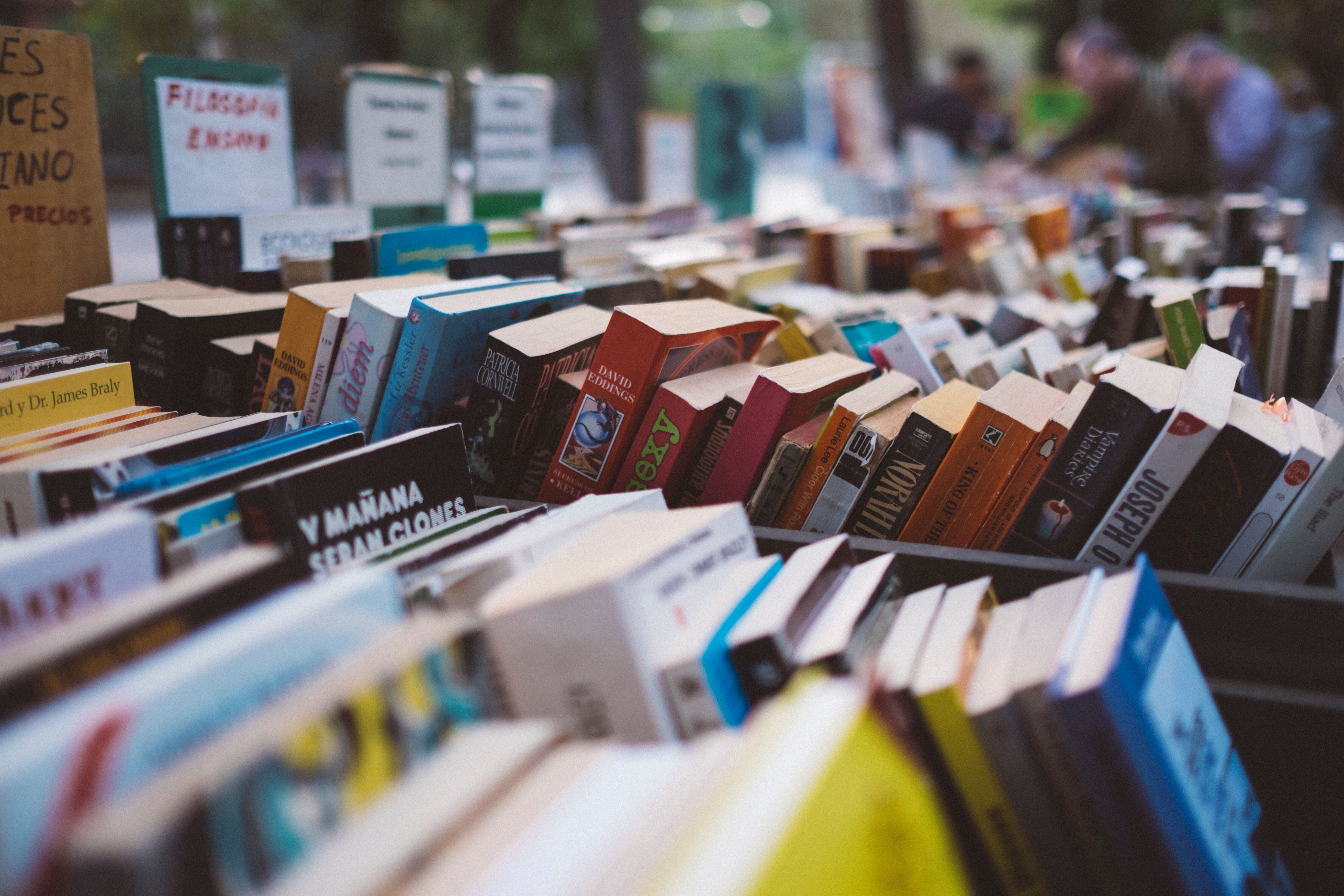 Entertain me
We can't think of a bar more 'quintessential Venice' than The Brig. Situated in the heart of all the action on Abbot Kinney Road, The Brig boasts a mid-century vibe plus live music, food trucks and billiards. It's been around for more than 60 years and has really rolled with the tide. DJs spin tracks every night, transforming the dive bar into a happening hotspot.
For something equally entertaining, pull up a stool at Venice Ale House. The gastropub offers boardwalk-side seating perfect for people-watching, especially alongside a craft beer and some good-ole American eats. There are 30 craft beers on tap along with fine California wines and flavorful cocktails. Sunset is prime time at Venice Ale House, but well worth the wait.
Townhouse and The Del Monte Speakeasy is one you'll want to get dressed up for…Venice style, of course. The dimly lit space feels reminiscent of something out of a 1920s movie. In fact, the bar was established in 1915 by an Italian immigrant and today, it stands as the oldest bar in Venice (and one of the oldest in Los Angeles). The Del Monte, which is in the live entertainment basement of Townhouse, was truly a speakeasy during Prohibition and catered to quite a nefarious crowd.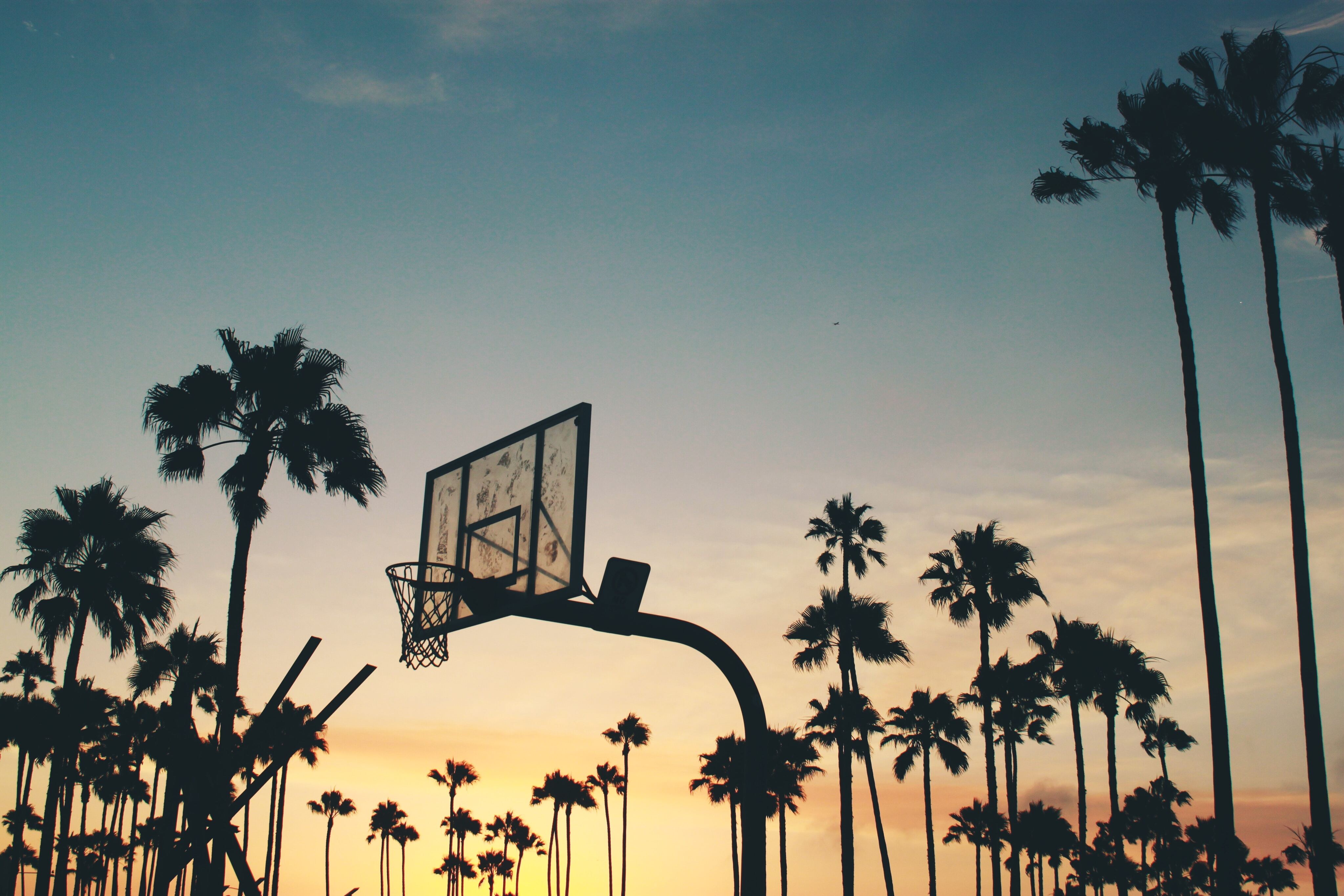 Wine o'clock
Cocktails are great and all, but sometimes you really need a good wine to wind down with, amirite? Venice Beach Wines offers an extensive list of wines by the glass and bottle, as well as small plates of farm-to-table fare: cheeses, charcuterie, panini's and more. Happy Hour is a good time to stop by for a glass of wine and some light bites. Try their Mini Grilled Cheese Panini, no questions asked. You'll thank us later.
Zinqué isn't just a wine bar; it's also a French-influenced coffeehouse and bistro. Their wine list features classic cocktails like a Moscow Mule, Aperol Spritz and a Spicy Margarita as well as bubbles and your pick of white, rose and red wines. Got a sweet tooth? Try their Tahitian vanilla ice cream or their warm brownie (or both).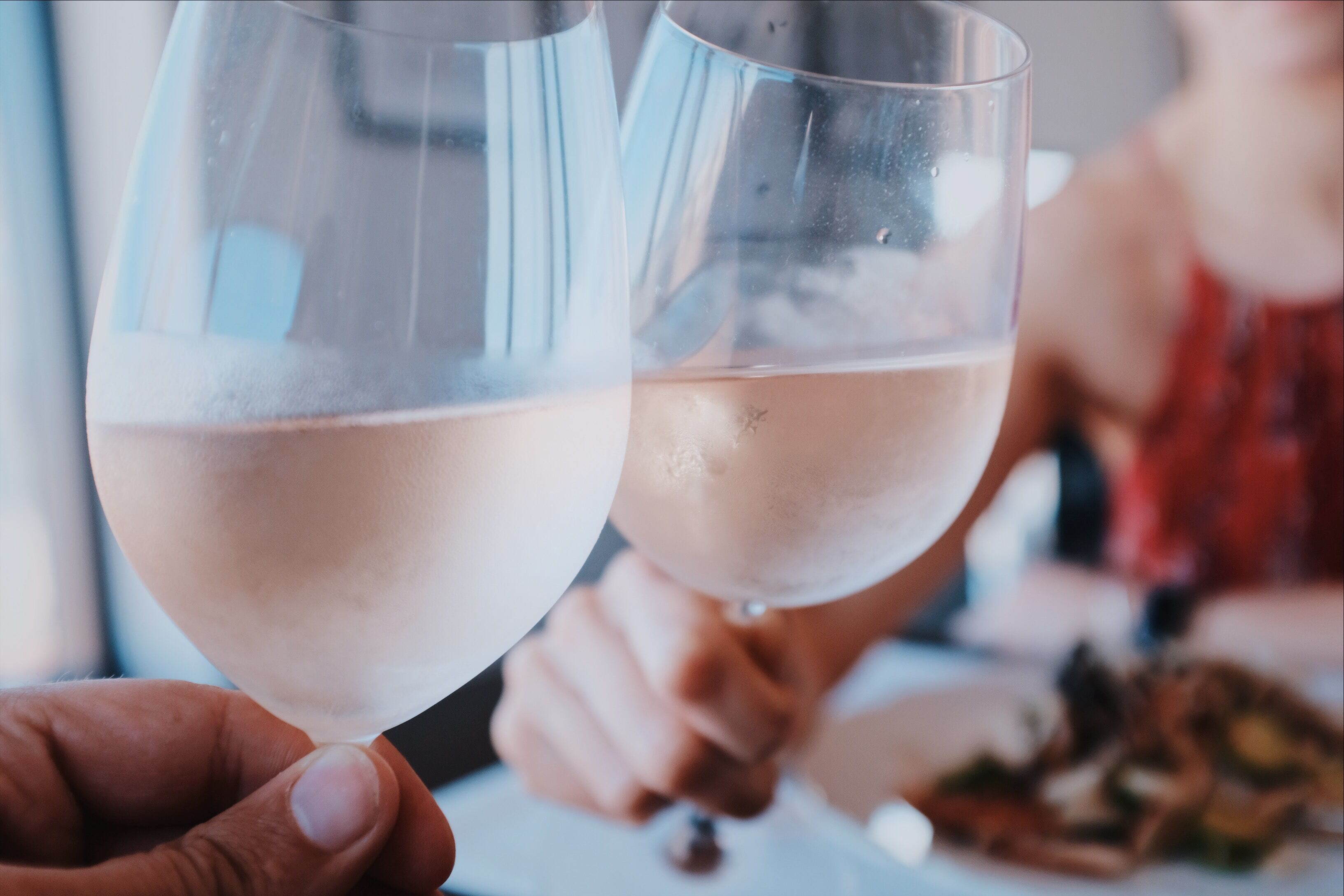 Bottomless brunch
With a name like Sunny Spot what else can you expect from this colorful bookshop. The location is tough to beat: the intersection of Abbot Kinney and Marina Del Rey. Come brunch time, Sunny Spot pulls out all the stops. They have a bottomless option—choose among mimosas, Bloody Marys or the Sunny Rum Punch. We're addicted to their Dulce de Leche French Toast and their Pulled Pork Burrito is a close second.
Gjelina also does pretty sweet brunch and we're not just talking about the flavor here. The menu is super extensive, with a mix of egg dishes, salads, veggie plates and pizzas to choose from. It really comes down to what you're in the mood for and if you can't decide, order a few plates to share. As for the decor, it's rustic chic and totally compliments their New American menu.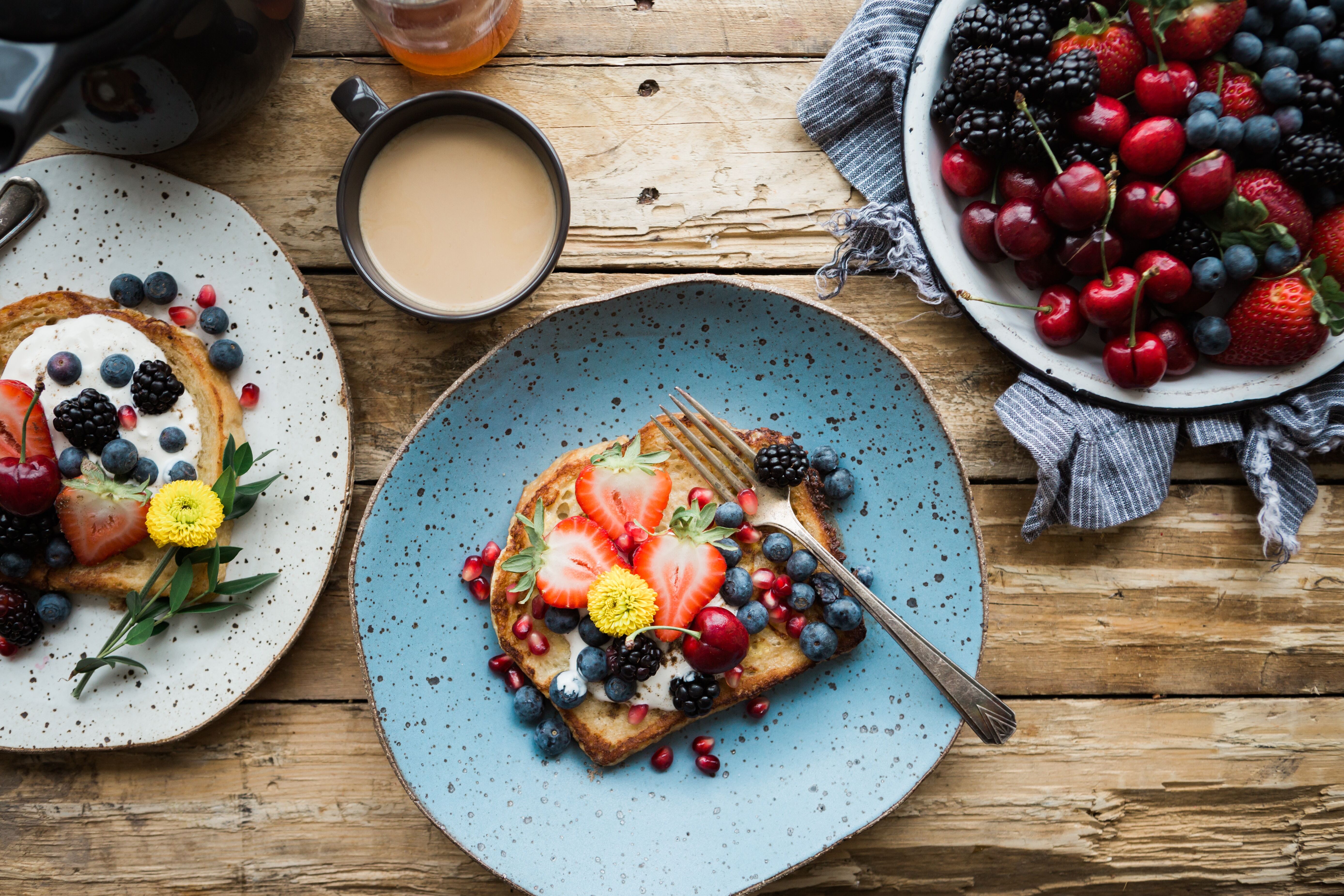 Where to work
Podshare Venice
PodShare Venice is a work/live location, which means it structures similarly to a hostel. There's a beautiful backyard (and yes, WIFI works there) with picnic tables, benches and green grass. There's also a conference room equipped with a flat screen TV, two white boards, a water cooler and a 10-foot table. Coffee and tea are complimentary.
Get a complimentary $250 Deskpass credit when you sign up for a Teams account today.