New York City has some of the most unique and beautiful meeting rooms on the Deskpass network. With so many team clients utilizing these rooms every day for brainstorming sessions, quarterly meetings, and trainings, we thought it might be helpful to highlight five of our favorite rooms. Many of them feature interesting design elements, special amenities or just an overall distinctive aesthetic.
The Howard Room at The Malin
This room is so much more than a high end meeting room for up to 10 people.
"Despite being a place for brainstorming, meeting rooms are often blank spaces that lack inspiration," says Jordan Gallagher, Director of Operations at The Malin. "Like the rest of our workspace, we wanted the design of The Howard Room to energize our members and guests and inspire the work. It features bespoke furnishings, like a conference table with natural stone and a solid oak credenza, and a monitor wall unit that doubles as a mirrored decorative shelf when not in use. For functionality, the table has built-in power and the room is tech-powered with video conferencing and screen sharing capabilities."
The Howard Room is often a destination for hybrid teams to come together for all-day sessions. It's been noted as a convenient space to congregate since the Soho location is in close proximity to a number of subway lines. It's also quite popular for client presentations with the video conferencing technology in frequent use.
"A unique perk to our meeting rooms is that guests are given access to member amenities during their time at The Malin," says Gallagher "We most often have people take advantage of our executive assistant services, catering coordination, and complimentary coffee and sparkling water."
If you are interested in booking this room on Deskpass, you can view and book here.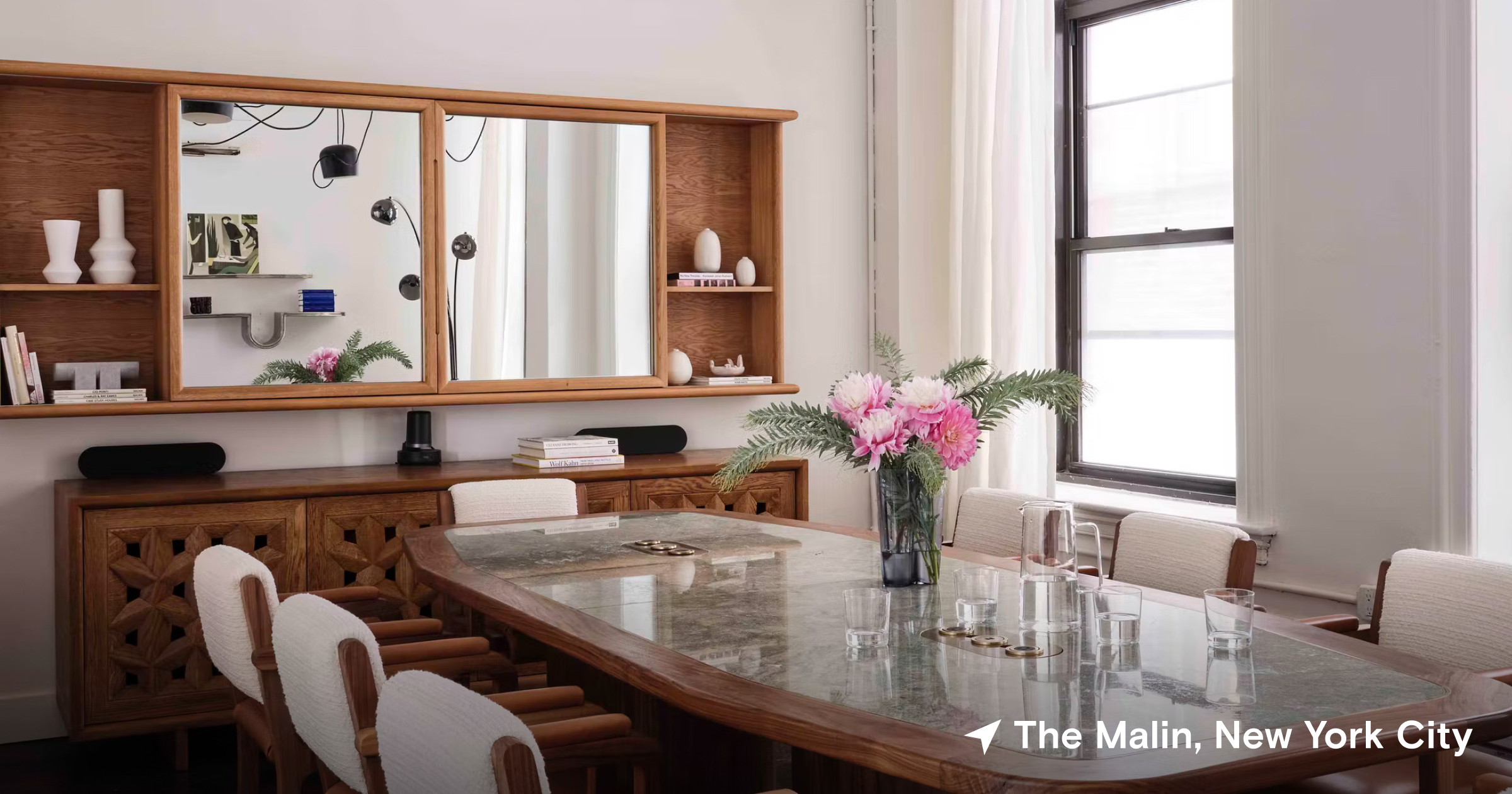 Indoor/Outdoor Meeting Room at Jay Suites Grand Central
This is a beautiful indoor/outdoor option in the heart of Grand Central. This Meeting Room at Jay Suites has a 25 person capacity and includes a closed Roof Pergola. There is a U-Shaped marble glass outdoor conference table, light gray contract grade outdoor chairs with cushions, access to the shared rooftop lounge space with greenery, and 65" Peerless 4K Outdoor Smart LED TV for your presentations and/or corporate branding with mirroring capabilities.
A unique amenity of this space is the Mobile Magnetic Steel Presentation Whiteboard and Easel. If you are interested in booking this meeting room on Deskpass, the room also includes a link to the 3-D tour of the beautiful space.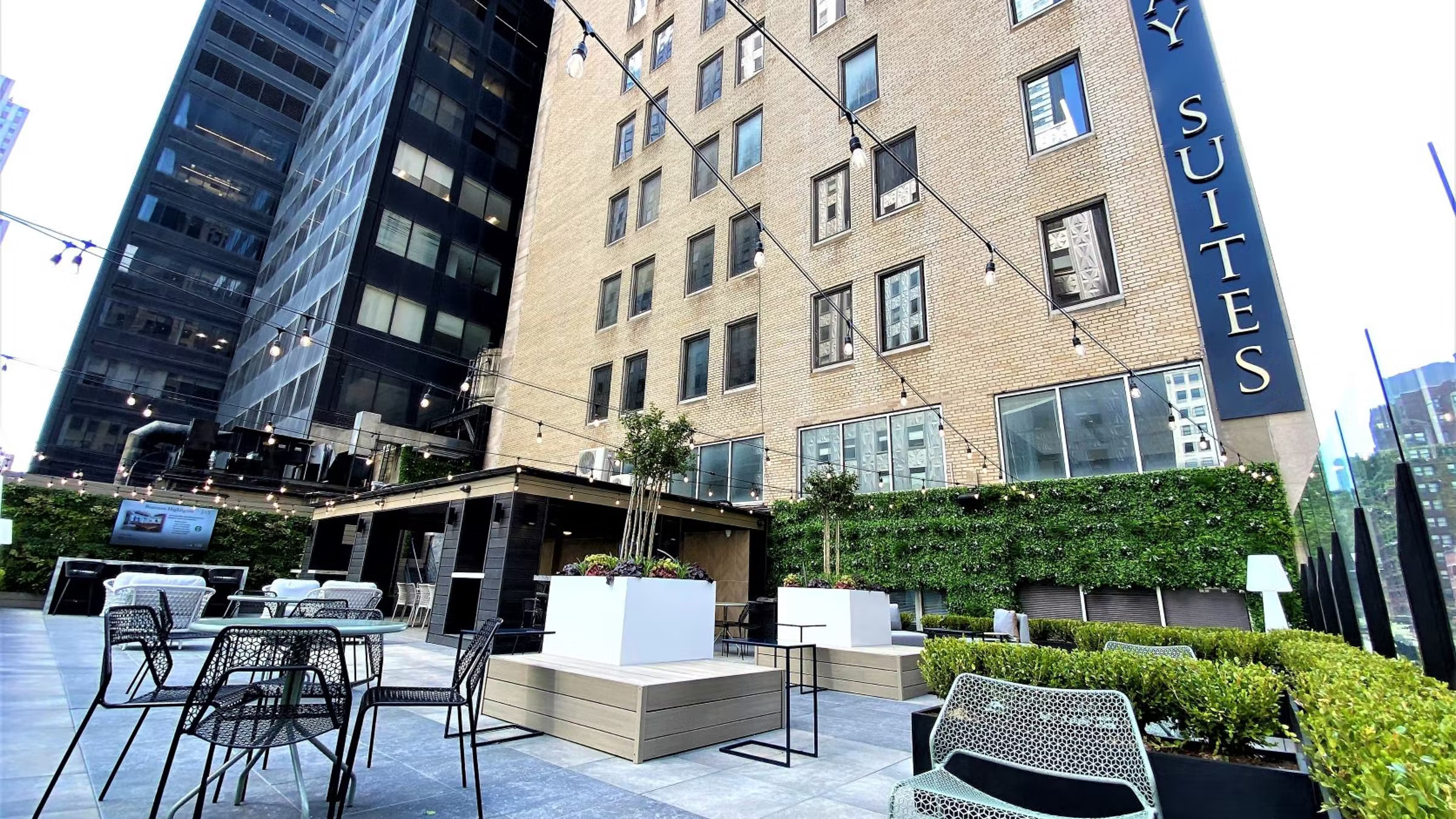 Assembly at Nomadworks
This beautiful large meeting room overlooks Broadway with lots of windows and natural light. Perfect for presentations, conference calls and board meetings, the Assembly meeting room features multiple round tables and a couch for seating up to 15 people.
Additional amenities include wifi, coffee and tea, TV or large monitor display, HDMI cable connection to display, Thunderbolt cable connection to display, whiteboard and wheelchair access. This room is available for Instant Book and Nomadworks also allows Deskpass members to book this room on Saturday if you book by the Friday before at 12pm.
Surrounded by major transportation hubs like Union Square and Penn Station, and located a few blocks away from Madison Square Park and other retail shops, eateries, and historic landmarks, Nomadworks is easily accessible and the perfect meeting point in Manhattan.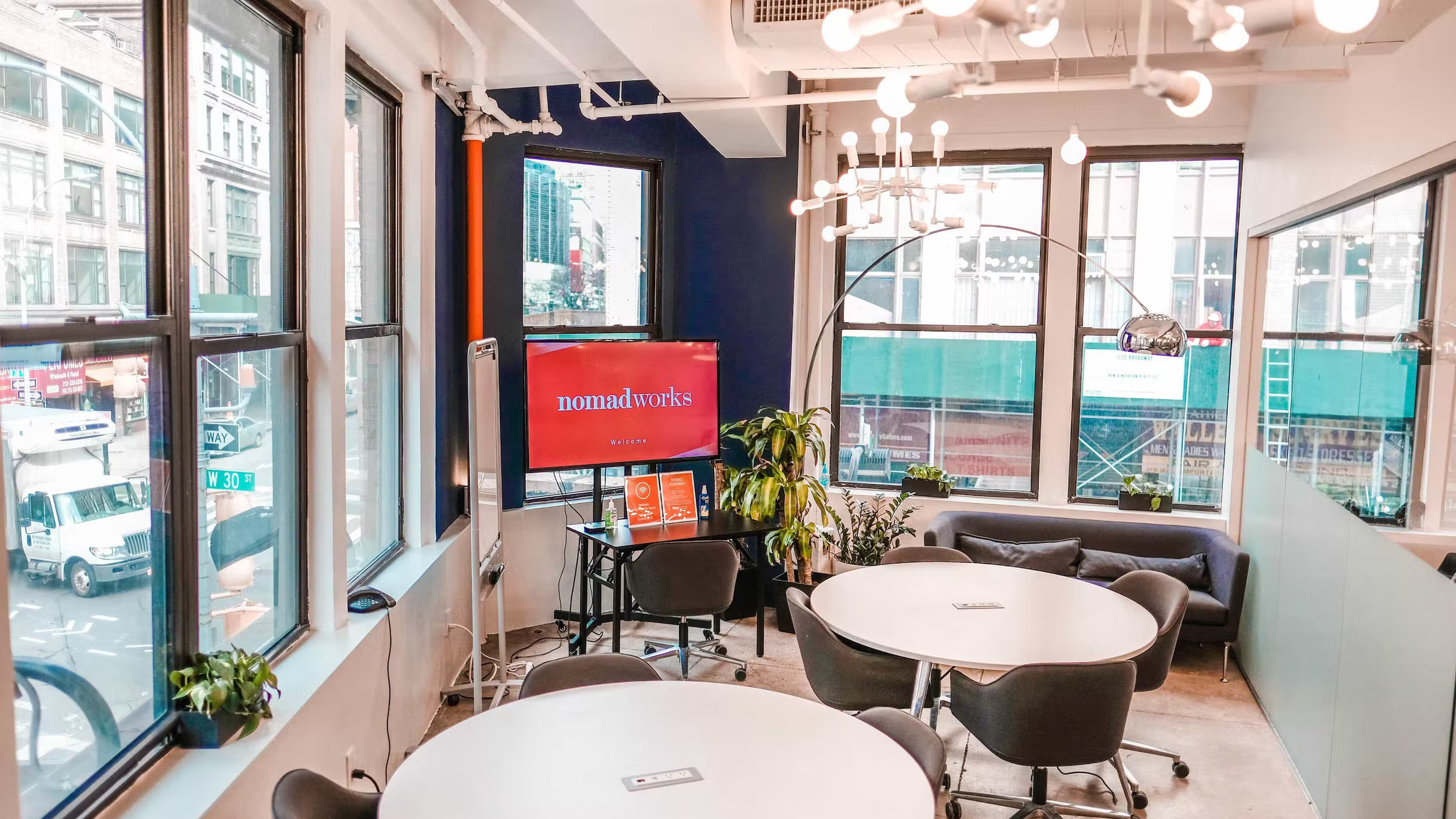 SoHo East Meeting Room at The Farm SoHo East
The Farm SoHo carefully transported reclaimed wood from a century-old barn in the farmlands of Southern Missouri to create a unique space in the heart of NYC. The space lets you surround yourself with nature while you work, especially with design features in the meeting rooms.
The SoHo East Meeting Room for up to 10 people features bricks and ladders on one wall, a wooden table, full privacy for client meetings, and is perfect for confidential discussions. Centrally located in Nolita, Deskpass members can book this room by the hour or for a discounted day rate.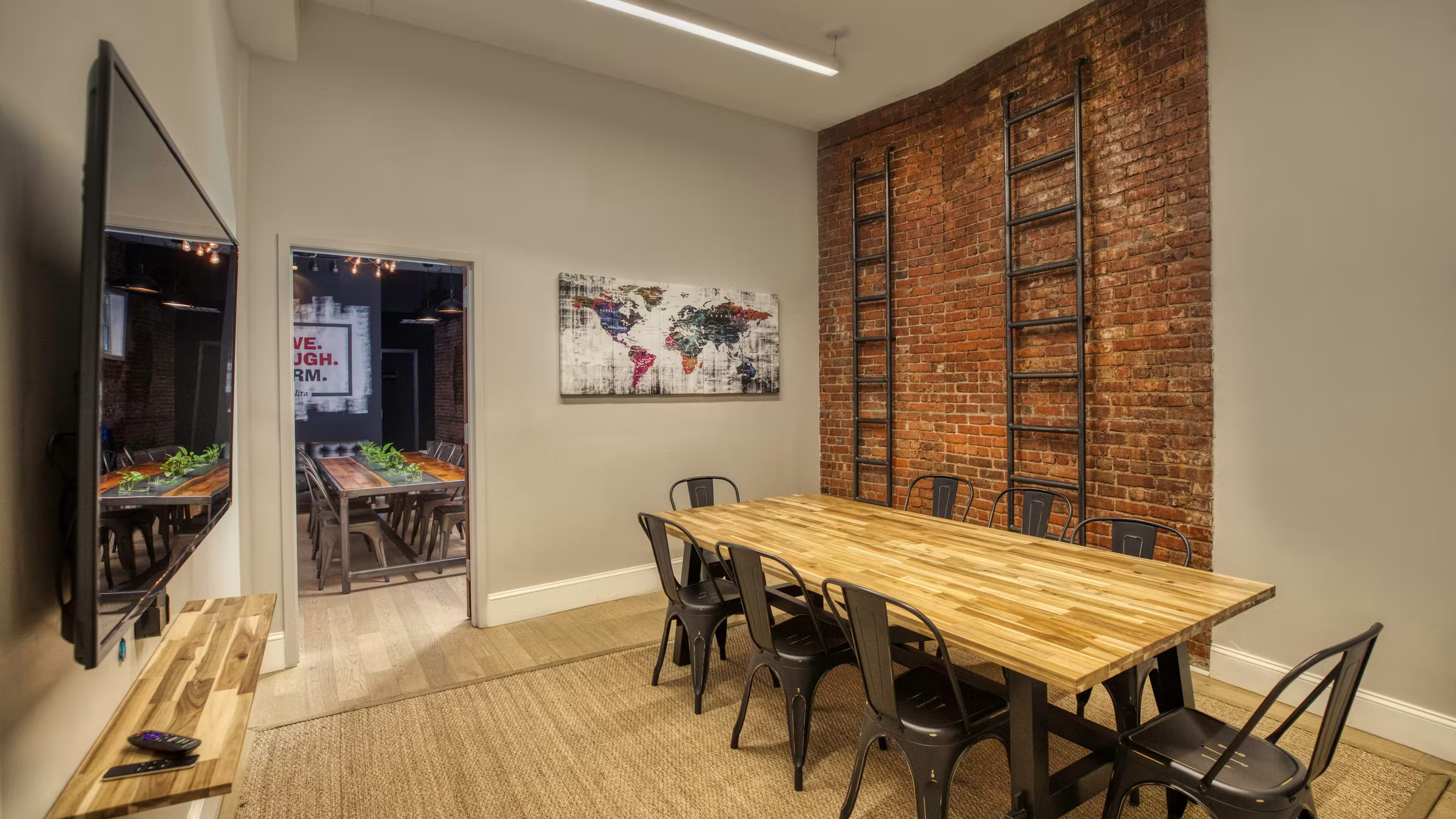 Conference Room 1 at The New Work Project
The New Work Project is a design-led, hospitality driven workspace for the creative industries, located in the former Vice building on N 10th St in Williamsburg. The space has also been featured extensively online and in the written design press around the world, including Elle Decor, AD, Design Milk and Wallpaper, who recently featured it as one of the world's best designed workspaces.
Conference Room 1 at The New Work Project is perfect for team meetings, small corporate off-sites, product demonstrations, group discussions, brainstorming sessions, and presentations. This room can seat up to 6 people and is acoustically insulated, individually temperature controlled, and furnished with custom conference room tables and mid-century inspired chairs.
Conveniently located in Williamsburg, The New Work Project is an 8-minute walk from both the Bedford L and Nassau G subway stops, well served by taxis, buses, and Citi Bikes, and surrounded by shops, bars, restaurants, and hotels.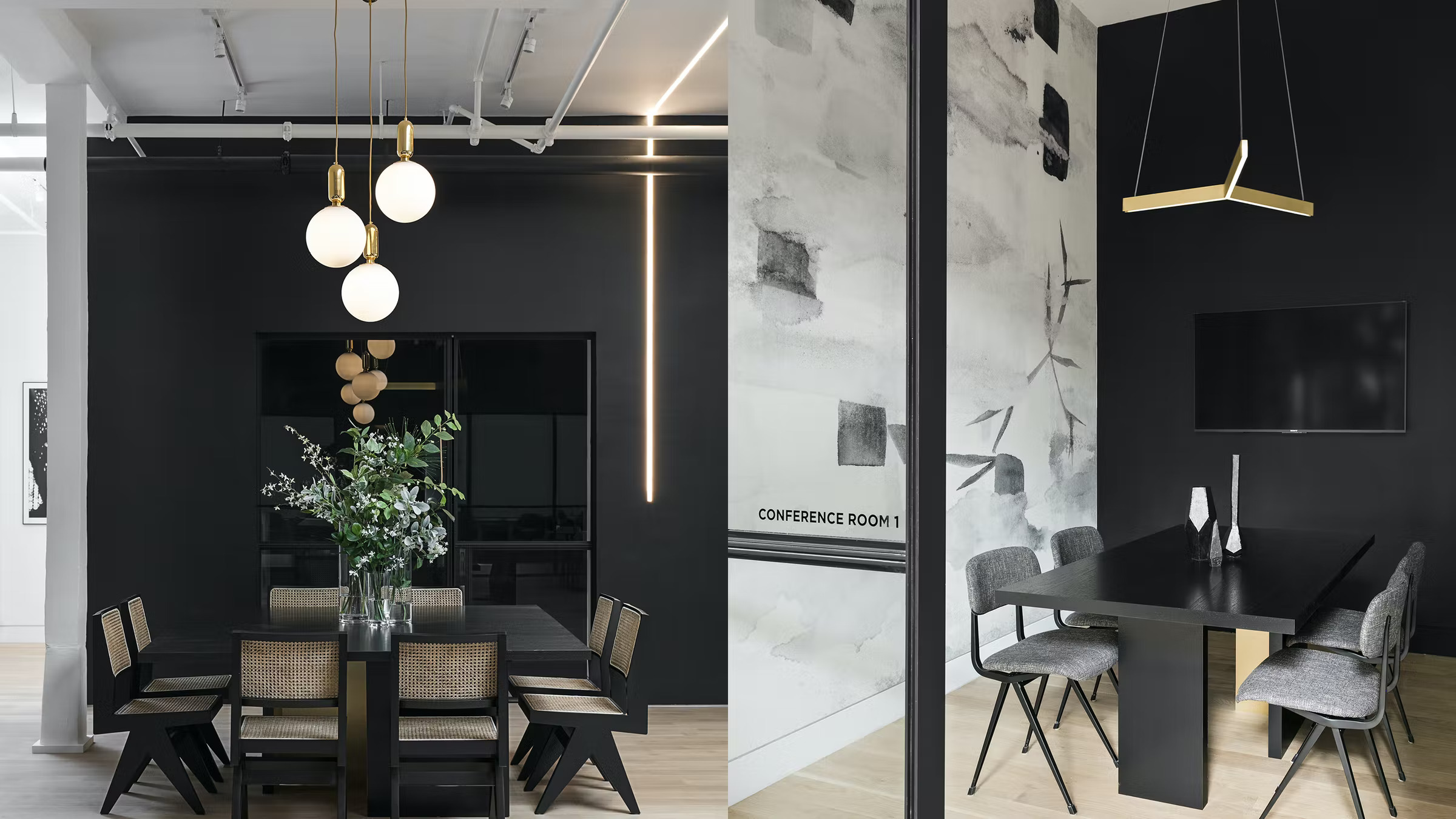 Get a complimentary $250 Deskpass credit when you sign up for a Teams account today.