There's no shortage of flexible coworking space throughout Ottawa. Finding a flex desk for the day with the right amenities, in the perfect location, has never been easier. Deskpass gives you access to your temporary desk for the day where you can focus on the task at hand.
Whether you're looking for coworking space with beautiful views of the waterside in Westboro, or you want to step out of the hustle and bustle of Ottawa's urban core with a quiet space in the historic Sparks Street neighbourhood, the app gives you instant access to flexible workspaces that inspire. Download, browse and book today, and start exploring the many coworking spaces in Ottawa.
TCC Canada (5 locations)
TCC Canada offers executive suites, coworking, virtual office solutions and shared office space at 5 locations in Ottawa. They're a community of like-minded entrepreneurs, small businesses, and enterprise companies in a network designed for collaboration and success. With private desks, soft seating, huddle areas to boost output, and TCC's trademark team tables for collaborative discussions, there's a spot for everyone.
The Collaboration Centre is TCC Canada's newest space and we're already in love. Fun fact—it used to be the Shopify HQ…there's even a slide! Fully equipped with executive boardrooms, team rooms, and single offices (all soundproof) and multiple interconnected floors. This space also includes a 7th floor common outdoor terrace and a beautiful café area specifically designed to emulate the feeling of being outdoors, even during the winter months.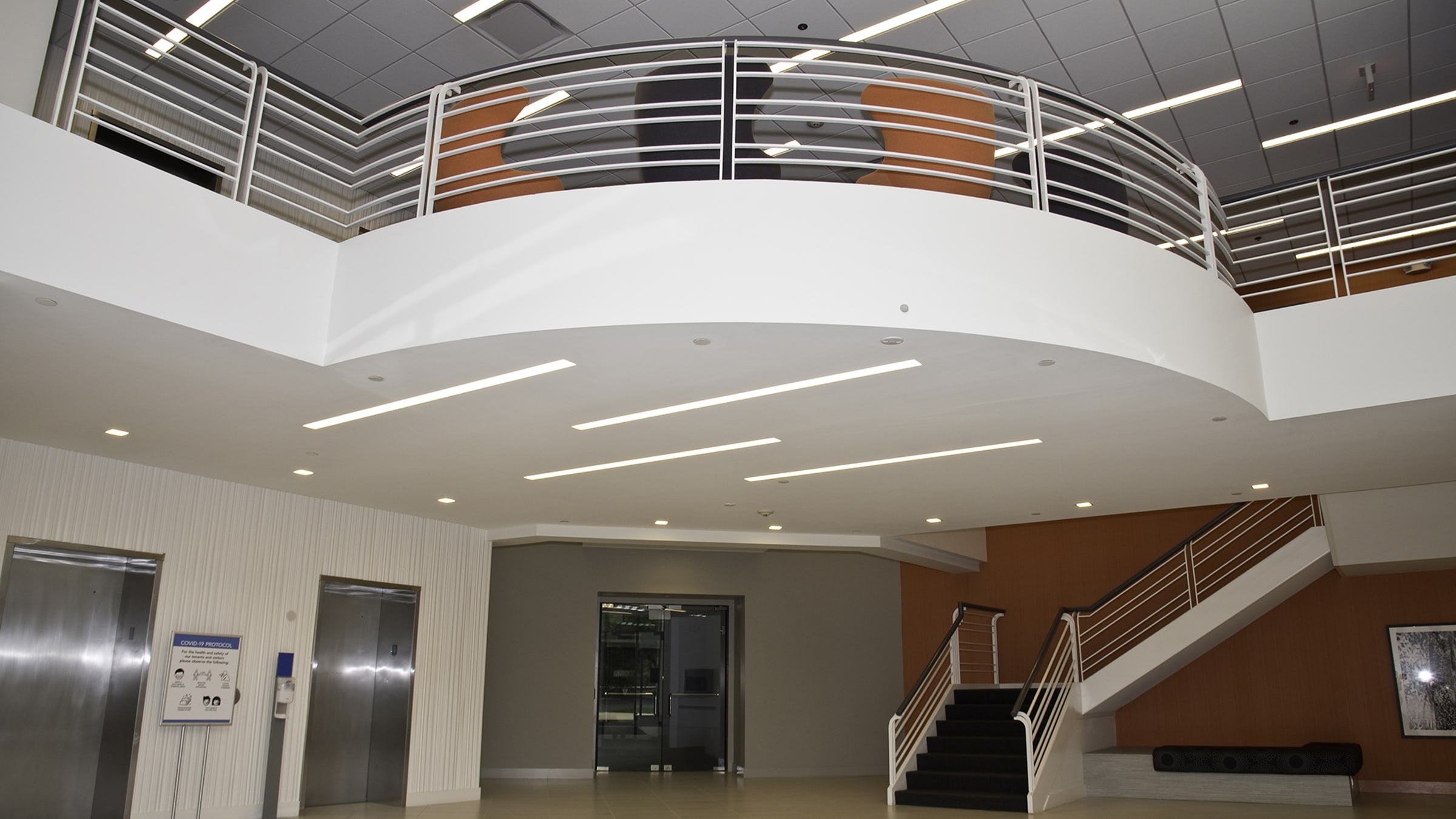 Staples Studio
Staples Studio has you covered with spacious, flexible coworking options and fully equipped state-of-the-art meeting room and podcast booths. The amenities are pretty extensive and include in-store discounts on products and services, as well as premium service from their café partners. Choose from 40 open hot desks or reserve their private meeting room by the hour or day.
Catalyst Kanata
Catalyst Kanata is Kanata North's newest coworking space. They offer private offices and meeting rooms for professionals located in Kanata. Situated on the 3rd floor, their quiet and private space makes a great location for client meetings, team discussions, and business conferences. Catalyst Kanata is a fully renovated space with gorgeous interiors, modern furniture and up to date technology.
In addition to the standard amenities you can expect from any space on the Deskpass network, Catalyst Kanata also features keyless access, free parking, electric car charging and on-site showers.
Sterling Spaces
Sterling Spaces' coworking and virtual office solutions are ideal for the entrepreneur in the start-up stages. Their premium offices and conference rooms support larger teams and multiple lines of business. This space caters to everyone, from startups and established entrepreneurs to investors and self-employed professionals. Amenities include free parking, coffee and tea sourced from local businesses, virtual mail services and more.
Their open workspace is bright with natural light and offers a variety of seating options including sit-stand desks. There are plenty of power outlets and strong wifi throughout the space. If you need a little more quiet space, we suggest reserving either their meeting room or their two-person private office.
Collab Space (2 locations)
Collab Space has two locations available to Deskpass teams and individuals. Their Nepean location is situated in a revamped industrial warehouse offering a hip and urban space with lofty ceilings and a retro modern décor, while their Kanata location offers a quiet and private office space excellent for meetings and interviews.
At Collab, community is an important component to growing any business. They offer one-on-one mentorships for members, and host networking events where people can connect with other like-minded local professionals. Every third Thursday, they host a networking event at Nepean that brings the local business community together.
Both Collab Space locations have free parking on-site and a communal kitchenette. Their Nepean space has lounges, an outdoor patio and an on-site restaurant. Coffee and snack vending machines are also available. There is no assigned seating in the communal areas, so it's first come, first serve. Three meeting rooms are available to reserve by the hour or the day.
Collabüro
Collabüro is a coworking and events space located on Preston St in Ottawa (right under the Little Italia arch) that strives to provide its members with a safe, fresh, modern and comfortable workspace so that they can focus their energy and time on being productive, making a difference and excelling at what they do. Collabüro offers 24/7 access to two floors that have been fully renovated with high-end finishes and equipped with the best that the industry has to offer in terms of furniture (ergonomic design) and tech.
The location is centrally convenient in the city and a few mins from the highway, bus stop, and train station. They offer 24/7 access for members and space renters, as well as WiFi 6 technology for the best internet speeds possible, ergonomic furniture, free hot/cold drinks, mailing service, electric stand-up tables, wireless phone chargers, lockers, showers and so much more.
Meeting rooms are equipped with TV/projectors, sound systems, wide-angle plug-and-play cameras for video-conferencing, conference phones with wireless microphones, whiteboards and flipcharts.
Get a complimentary $250 Deskpass credit when you sign up for a Teams account today.