Deskpass is officially available internationally! Sydney is our first city to tackle, and we couldn't be more excited to share some of Sydney's best coworking spaces, all of which are now available on the Deskpass network.
The Executive Centre (five locations)
The Executive Centre creates a business-friendly atmosphere where you can thrive with their support and advanced infrastructure. All five Executive Centres are located in landmark buildings in the Sydney CBD.
Choose among five premier spaces: 1 Bligh, Aurora Place, Australia Square (designed by world-renowned architect Harry Seilder), Governor Phillip Tower (designed by architects Denton Corker Marshall) and Three International Towers
Each centre offering shared office space combines cutting-edge design, technology, and sustainability, with robust and reliable technology infrastructure. Several of their locations feature their own café, with a number of restaurants, food courts and fitness centres in close proximity.
The Executive Centre caters to ambitious professionals and industry leaders looking for more than just office space but also a place for their organizations to thrive.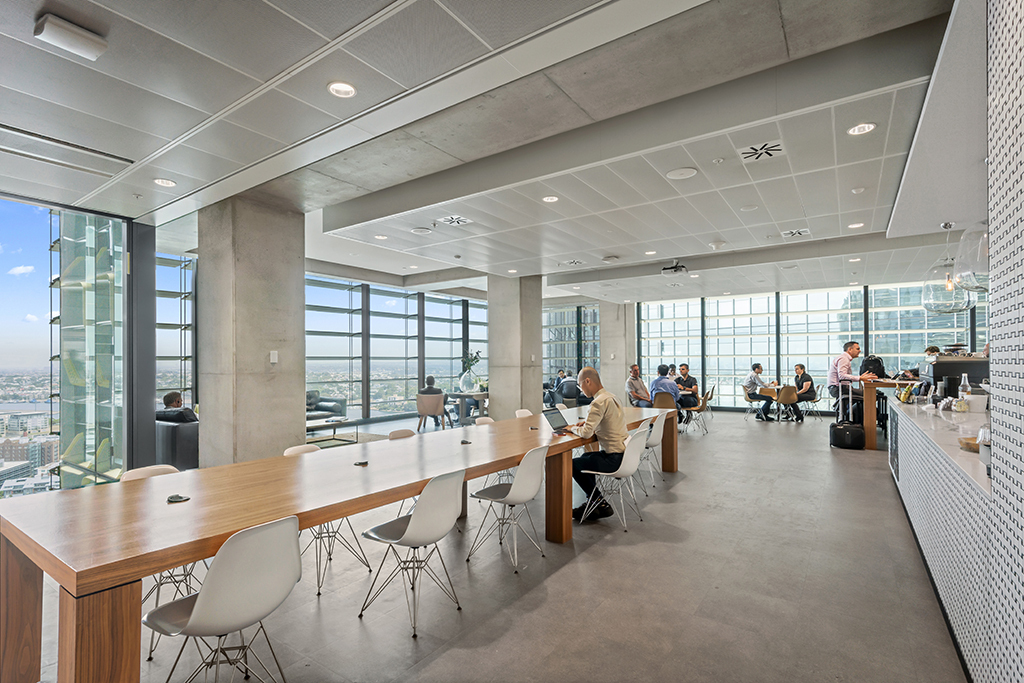 Hub Customs House
Located in one of Sydney's most iconic and historic buildings, Hub Customs House is a coworking space that provides flexible desks and office space, serviced meeting spaces, and first-class hospitality to help your business connect and thrive.
Hub Customs House is home to some of Sydney's best businesses and brands, creating an inspiring business environment and community moments from Sydney's iconic Circular Quay.
When visiting Hub, you can also use Hub's fitness studio, in-house café, and fully-equipped media studio, or upgrade to premium serviced private offices to wow your team or guests.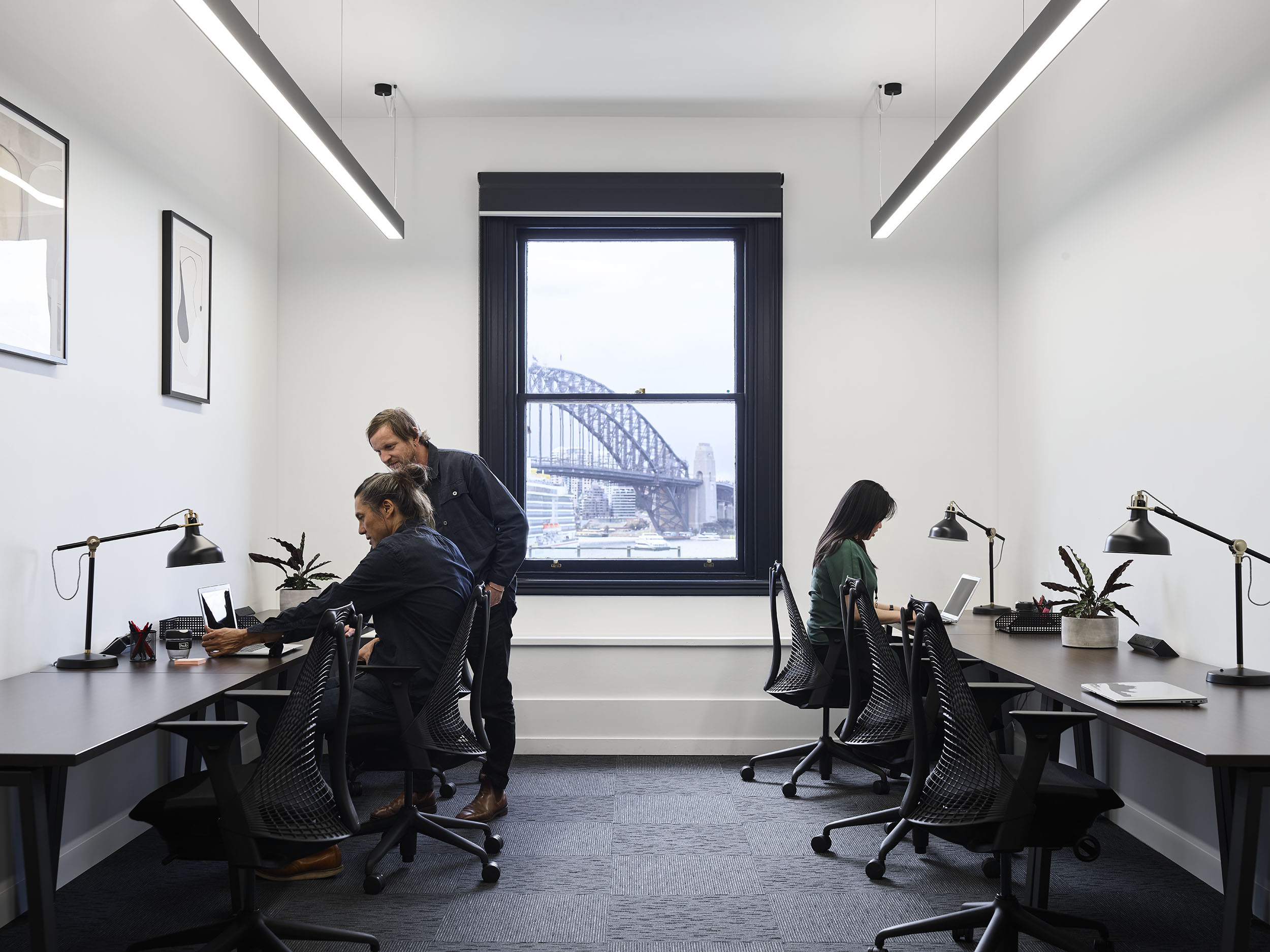 Hub Hyde Park
Hub Hyde Park is positioned across 5 beautifully-designed floors in the heart of Darlinghurst, bringing together a thriving community of Sydney's best businesses and entrepreneurs in one of the city's leading flexible coworking and office spaces.
Connected by Oxford and Liverpool Streets, Hub Hyde Park is among Sydney's coworking spaces that are designed to help businesses have an amazing workday, offering access to a diverse range of premium meeting spaces, first-class hospitality and service, and Hub's tailored range of community and professional development events.
Whether you're looking for shared office spaces for a productive day of work, somewhere central to connect with clients, or a beautiful range of meeting spaces to host your next meeting or pitch, Hub Hyde Park offers everything you need in one ideal location.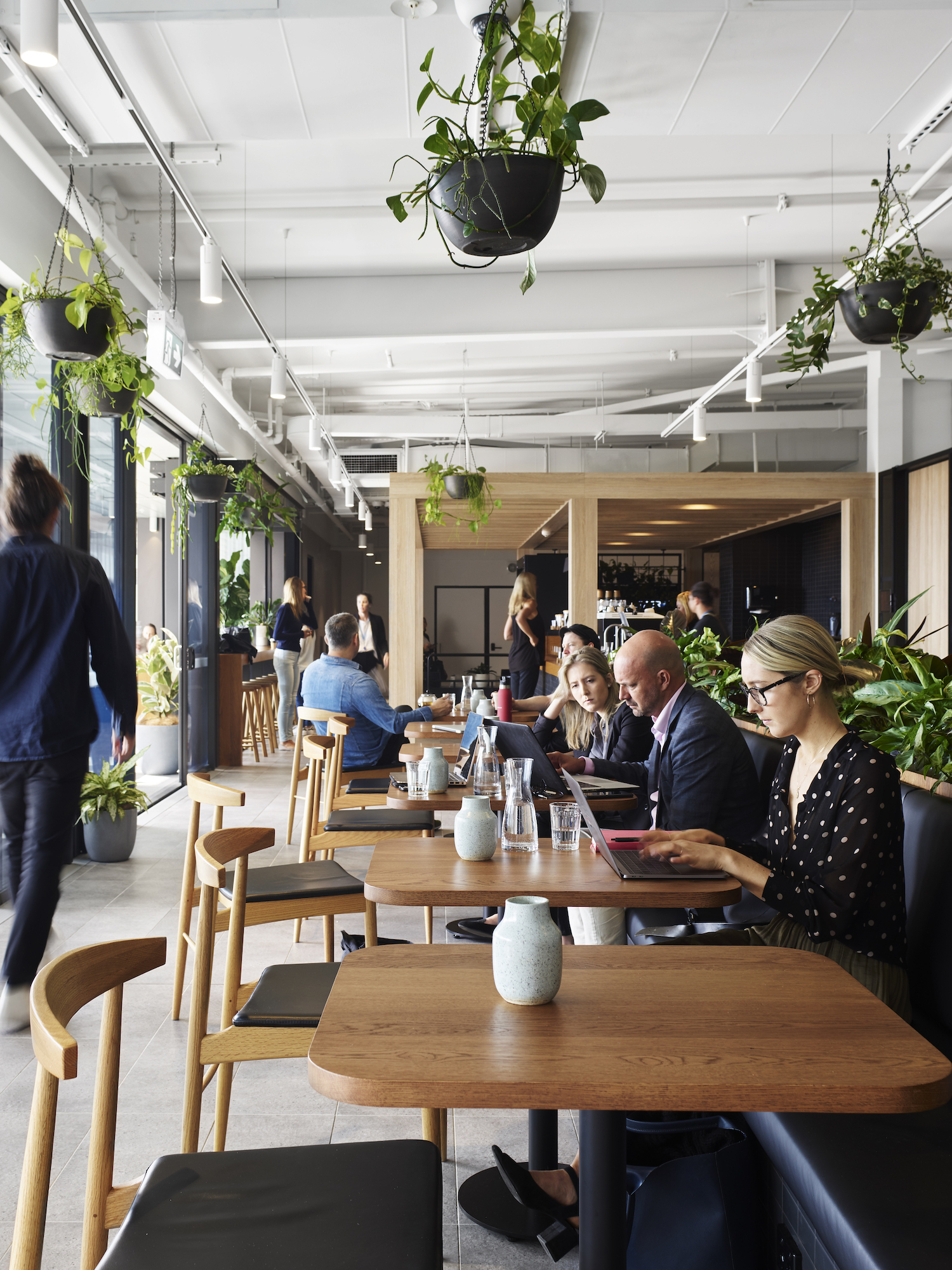 Christie Spaces (three locations)
For over 40 years, Christie Spaces has provided versatile coworking space, shared office spaces and conferencing facilities across six central locations in Sydney, Melbourne and Brisbane.
They offer private offices, project spaces, meeting rooms, coworking and conferencing. Choose from one of three Christie coworking spaces: Berry Street, Spring Street and Walker Street.
As a 100% Australian owned business, featuring on-site support staff in every property and personalised flexible terms Christie Spaces is an industry leader in providing an exceptional member experience and better work-life through genuine flexibility and authentic support.
Their Sydney coworking spaces feature an agile design, with modern facilities and accessible technology. Whether you need full-floor offices for a large team or a hot desk and meeting rooms to found your start-up, Christie Spaces can tailor make the ideal office space solution for you.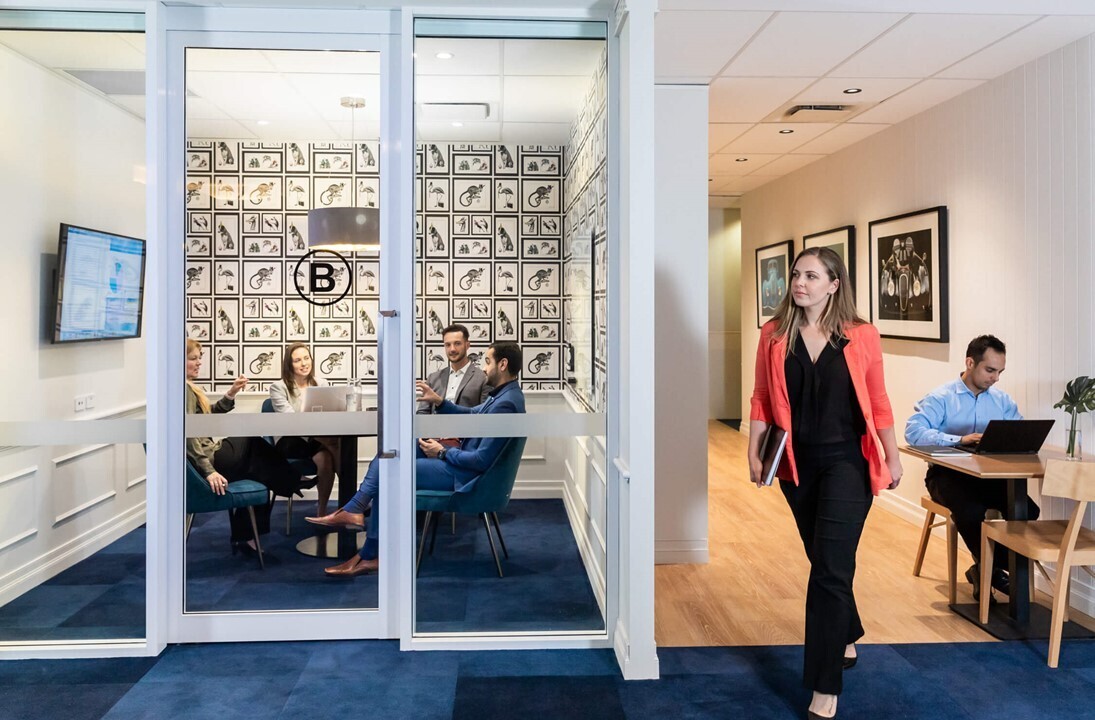 Here Coworking
With a panoramic view of the water, Here Coworking is unlike most other Sydney coworking spaces. Their boutique venue enjoys stunning harbour views, providing natural light and open coworking space that is designed for the creative professional who enjoys the company of like-minded talent.
They curate a community of consummate professionals who create a comfort and enjoyment to your working day, thus creating an office space that can be more productive and profitable.
Here Coworking offers a variety of hot desks to choose from in their open plan area, in addition to offices, meeting rooms and dedicated desks.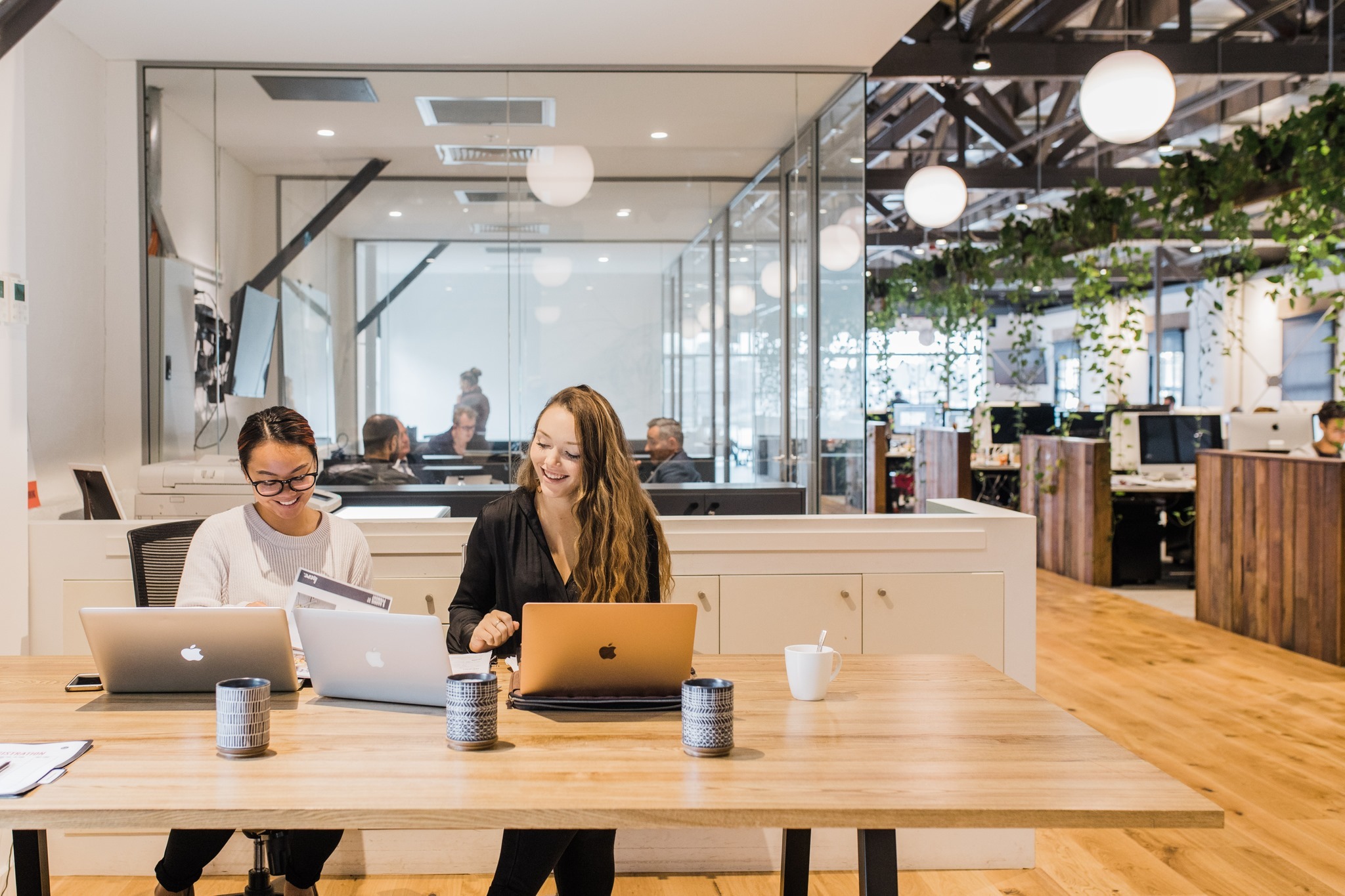 Bustle Studios
Bustle Studios is a hidden 5-star gem in bustling Surry Hills, just outside the city. This unique coworking space is housed in a heritage listed terrace house and the interiors are vintage and retro inspired.
One of their most exciting amenities is their outdoor terrace. It's a popular place for meetings, having lunch with your coworking mates or a cheeky sundowner after work on a Friday.
What really makes this office space unique is its people. One member described Bustle Studios as having "all the best bits of working in an office—the camaraderie, bouncing ideas off each other, a network of amazing talent to tap into—all without any office politics."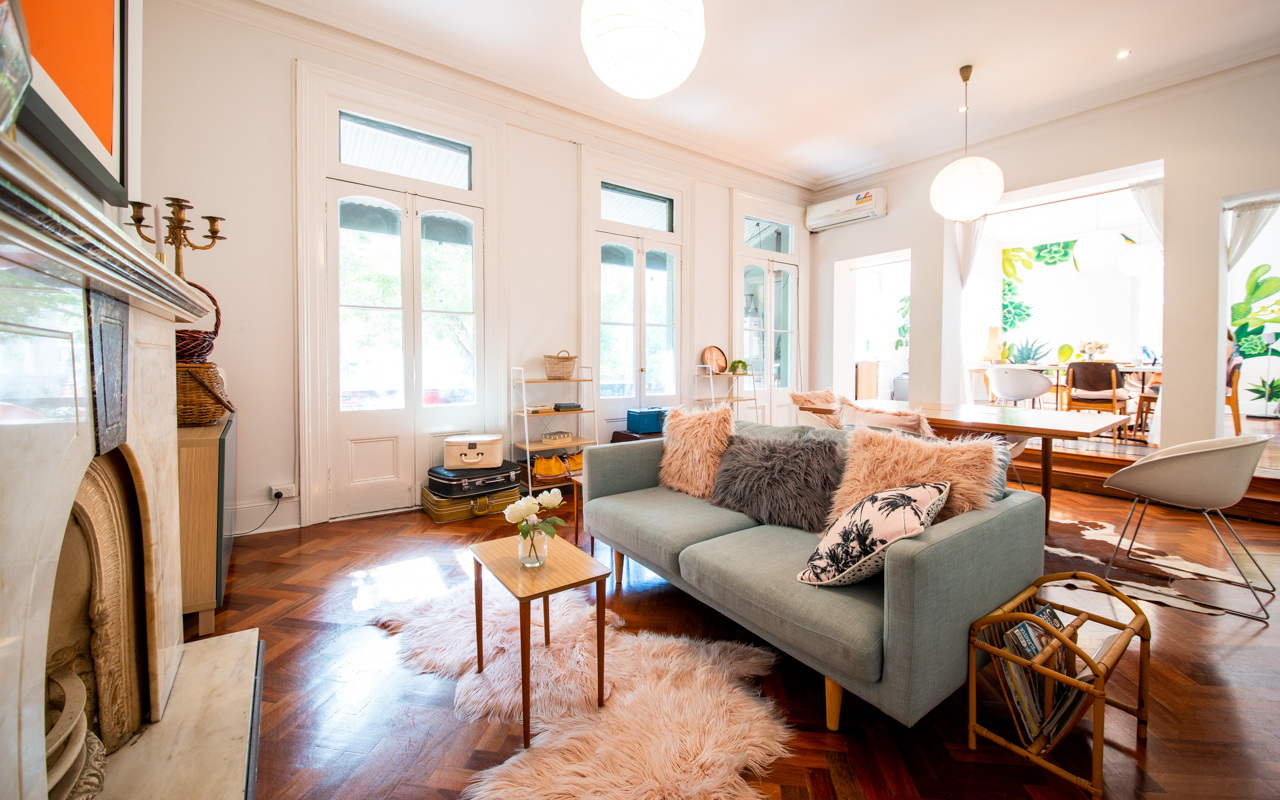 WorkBee
WorkBee is a buzzing shared office space in North Sydney, where work and success merge in a hive of innovation and inspiration. WorkBee provides a quiet, productive atmosphere, and the community takes care of itself.
You'll be surprised just how much you'll get done and what great business owners you'll meet in the hive. It's not just a shared office space, it's a community.
WorkBee meeting rooms are perfect for workshops, corporate conferences, annual meetings, funding pitches, monthly meetups, and so much more.
With the latest smartboard technology you'll have everything you need to wow your clients and present in a powerful way.
Their enormous sunny balcony is the perfect location to host clients, network with other members or simply soak up some rays.
With natural light throughout the space, there is never a dull day in their buzzing community. They're always always happy to welcome new members to the hive.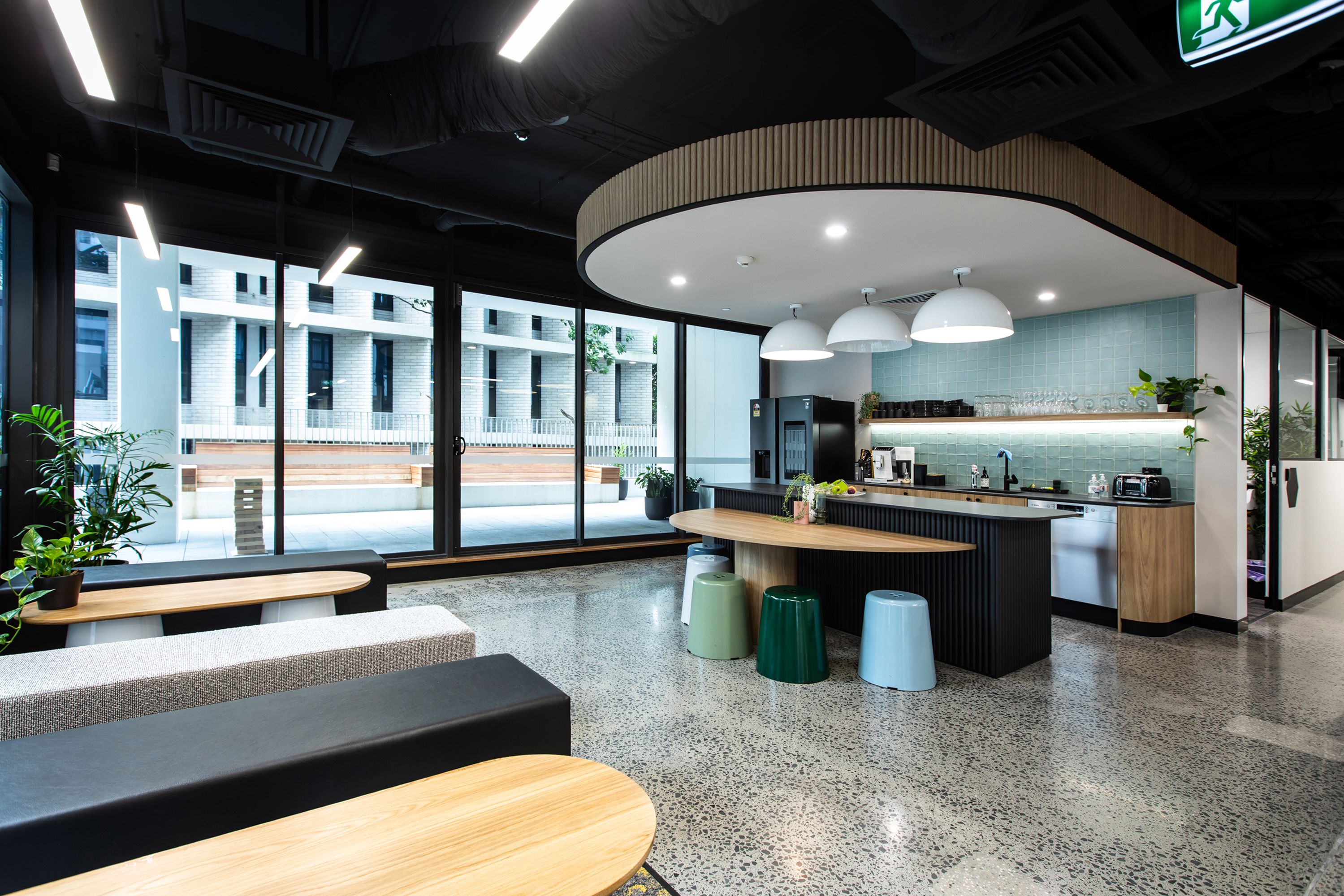 Your Desk
Your Desk is a family run coworking space in Sydney CBD, founded in 2011 the family team have designed and built a truly unique heritage office space with a tight community of small businesses.
All in all, Your Desk offers 11 meeting spaces across 6 floors and ample natural light. They provide a range of services that are designed to support businesses in the way they prefer to work, from beautiful meeting rooms, hot desks with included 27-in monitors, coworking desks or enclosed offices to suit teams of 4-40 people.
The space is carefully designed to encourage collaboration, enhance productivity and reflect positively on all members.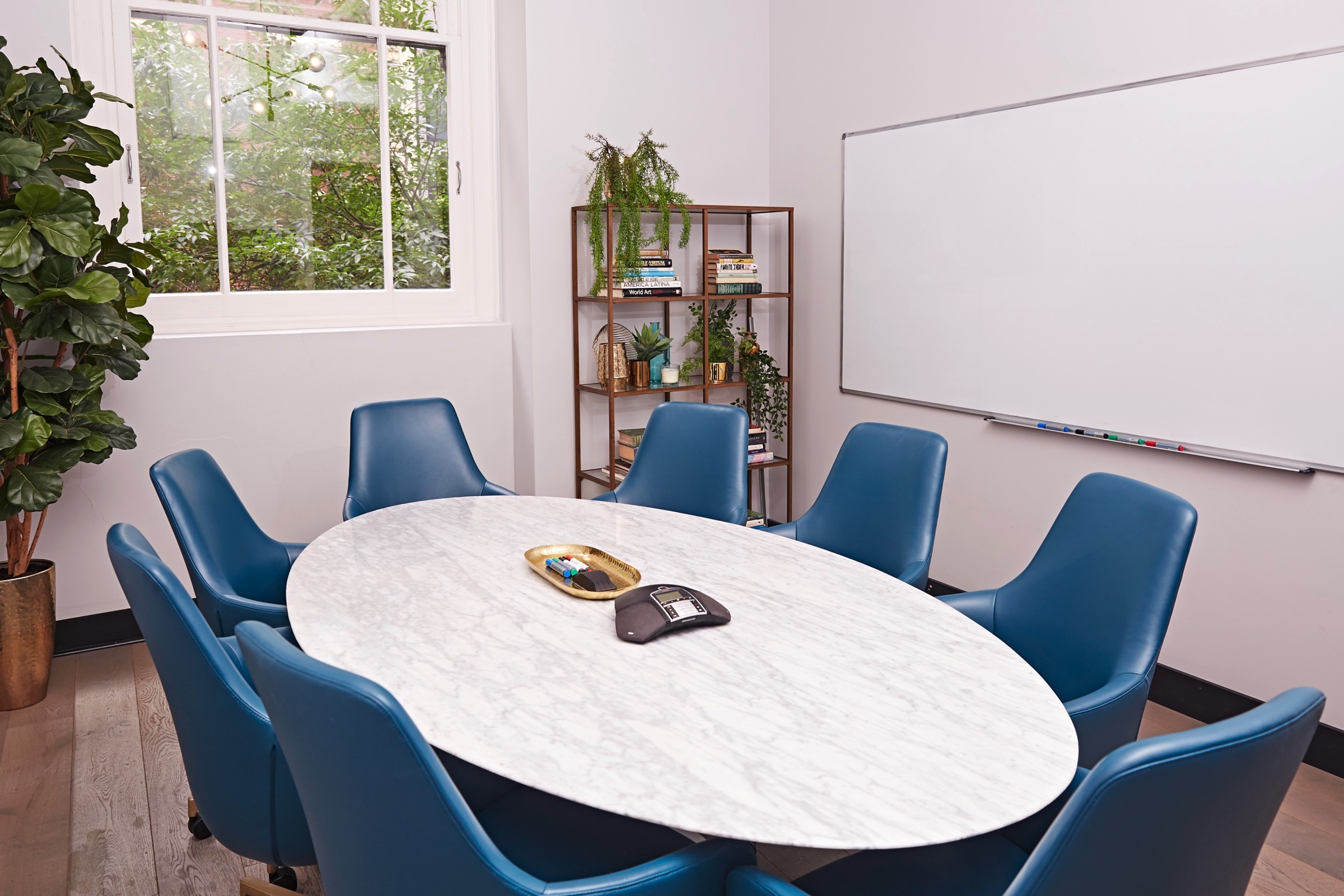 Beaches Coworking (two locations)
Beaches Coworking has two shared office spaces on Sydney's Northern Beaches: Frenchs Forest and Mona Vale. They offer a premium coworking experience for individuals, small businesses and corporates looking for a professional and relaxed work environment. Think of it as a place where businesses on the beaches work and play.
Offices, casual desks and meeting rooms—Beaches Coworking is a full service offering. They also offer breakout spaces, zoom rooms and provide everything you need to make your work day productive. Kitchens are stocked with free tea, coffee, fresh fruit, craft beer and wine.
Craft beer on draft courtesy of local small business success story beerlove.com.au. They're also pet-friendly. Make sure to say hello to their resident labradoodle, Rufus.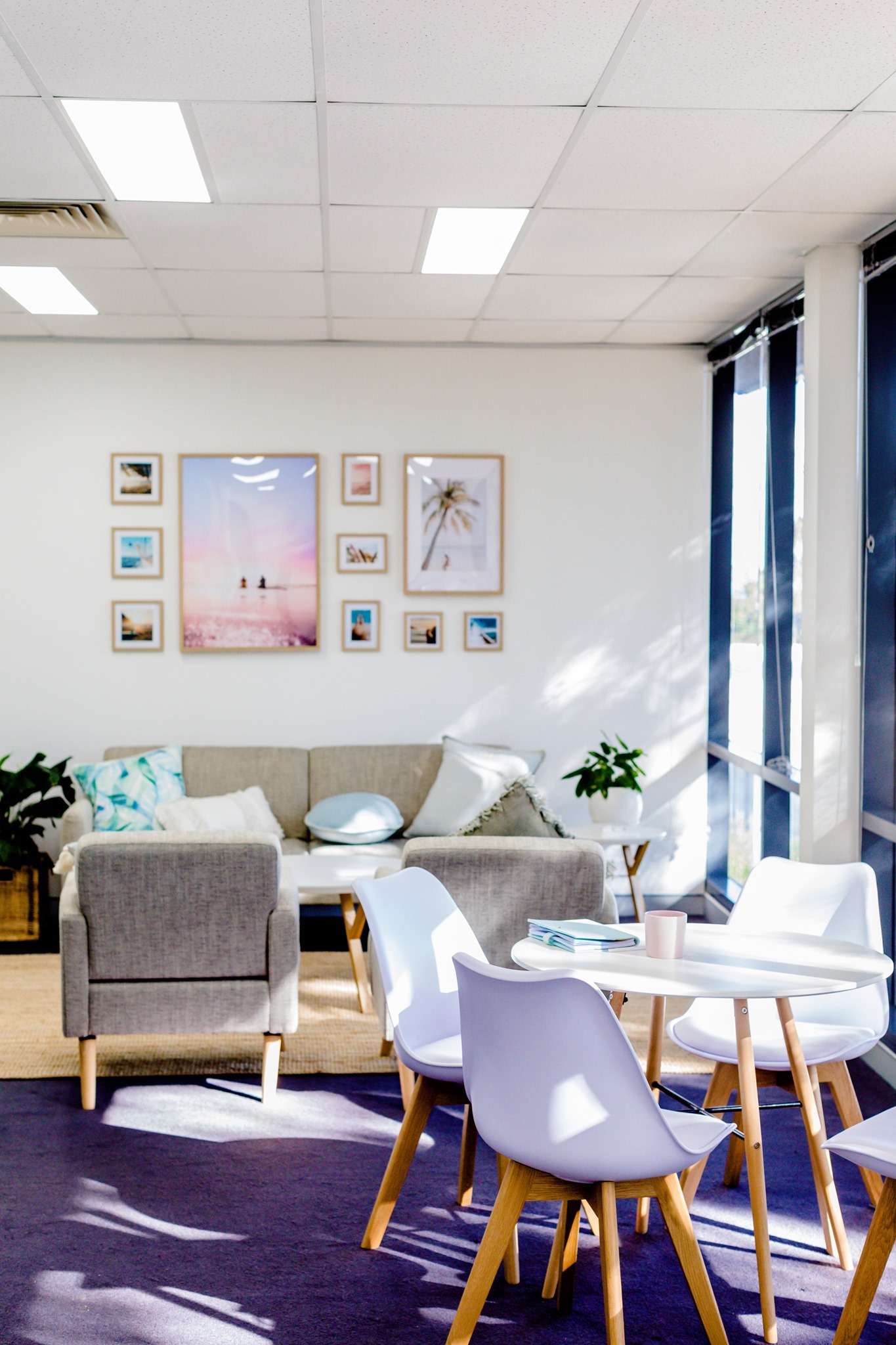 The Foundry
The Foundry Cowork in Erina is a boutique shared workspace for freelancers, professionals and entrepreneurs wanting to escape the commute and/or the isolation of working from home to become part of a small, collaborative and friendly business community.
Enjoy a coffee and a chat with others at any time during your work day or attend our social and networking events. It's a great space to work alongside other business owners and become potential partners, clients and mentors.
Choose from a variety of open-plan layout seating with plenty of natural light and optional 27" monitor.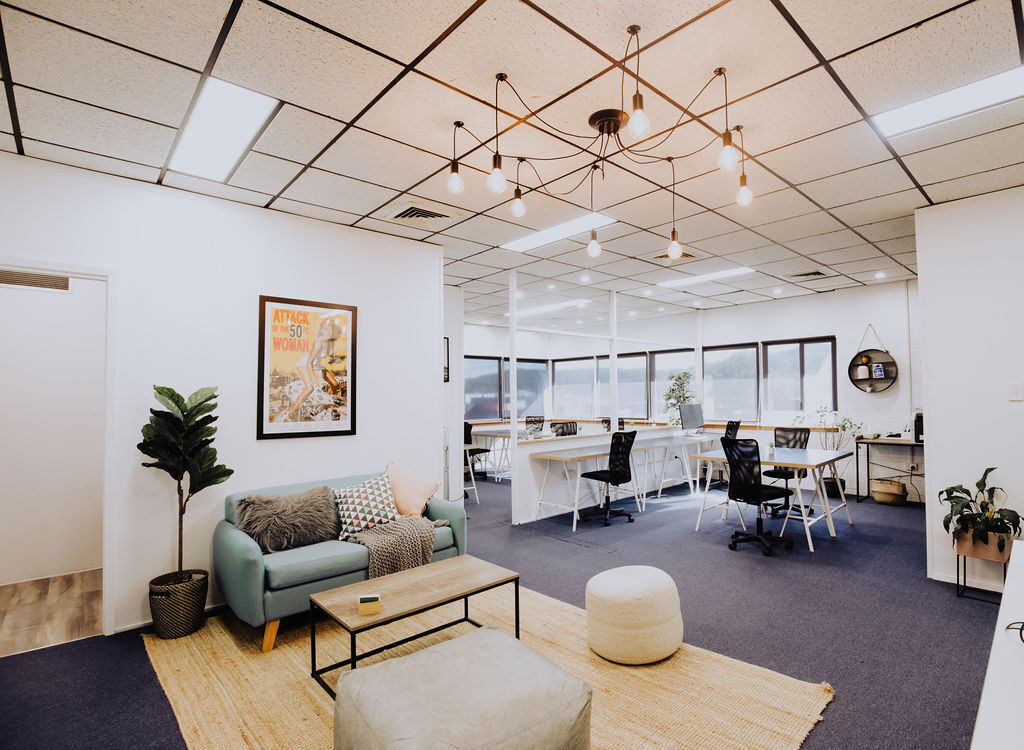 Haymarket HQ
Haymarket HQ provides first-class coworking space, mentorship and education to startups and companies wanting to tap into global markets.
HHQ was founded in late 2016 as a profit-for-purpose with funding from the State government. They started as a coworking space for startups wanting to expand into the Asia-Pacific. Soon after, they found a gap in the market for programs to support tech companies & traditional SMEs to expand into new markets.
As Australia's first startup hub supporting entrepreneurs to grow into new markets, members get access to mentors, investors and a community of like-minded entrepreneurs.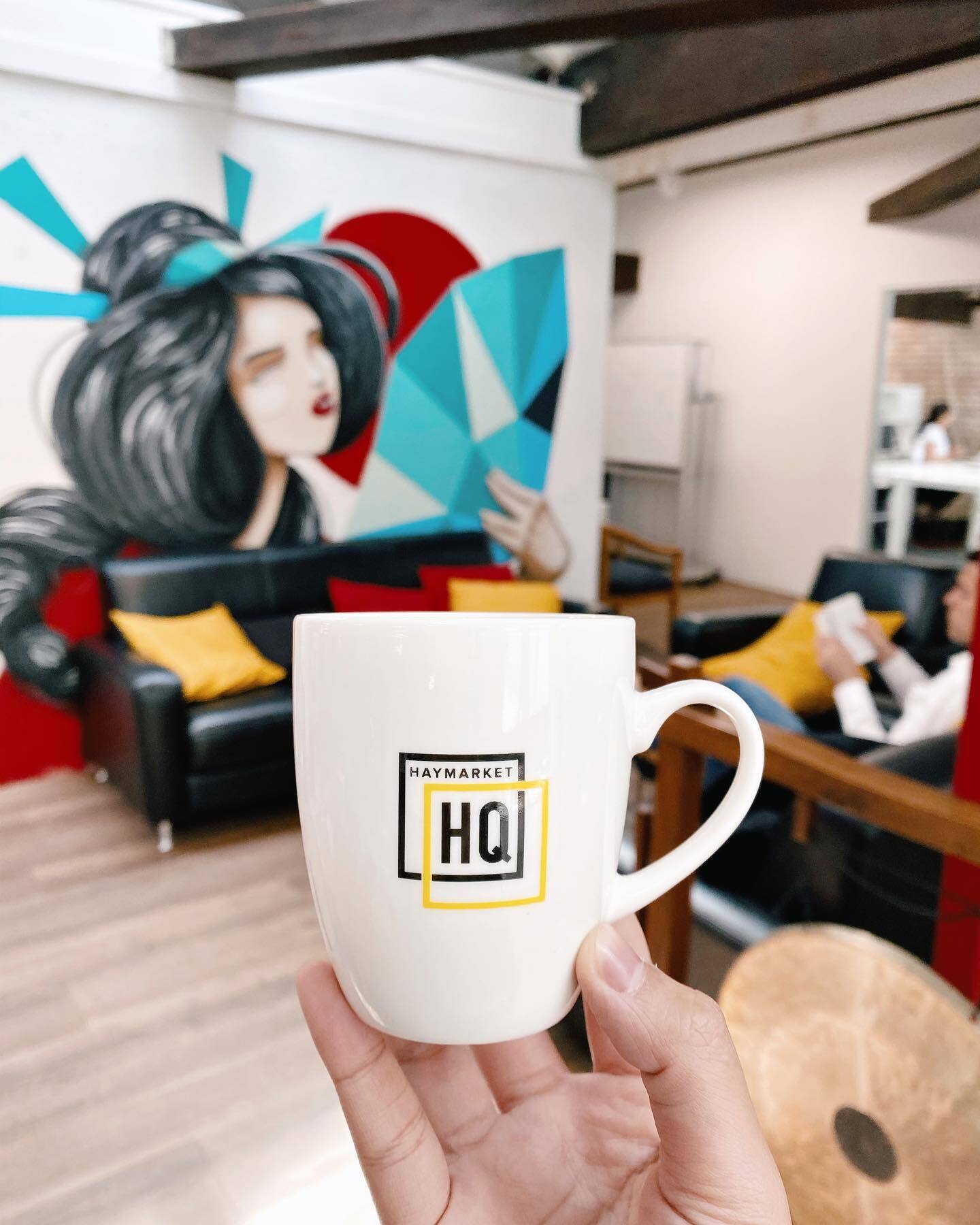 Get a complimentary $250 Deskpass credit when you sign up for a Teams account today.