Touting world-class galleries, luxury high-rise buildings and the celebrated High Line urban park, Chelsea has emerged as one of Manhattan's premier art centers. In addition to being the go-to spot for gallery hopping, Chelsea has no shortage of trendy restaurants, bars and boutiques.
With close to 300 galleries featuring a variety of creative mediums, there's always new artwork to discover. In fact, on most Thursdays, Chelsey transforms into an open-air museum of sorts, with many gallery owners opening their doors to visitors. There's a party-vibe in some galleries, especially when complimentary wine and cheese is served.
If you're working from Chelsea for the day, here are 10 of the best ways to experience the neighborhood's booming art scene.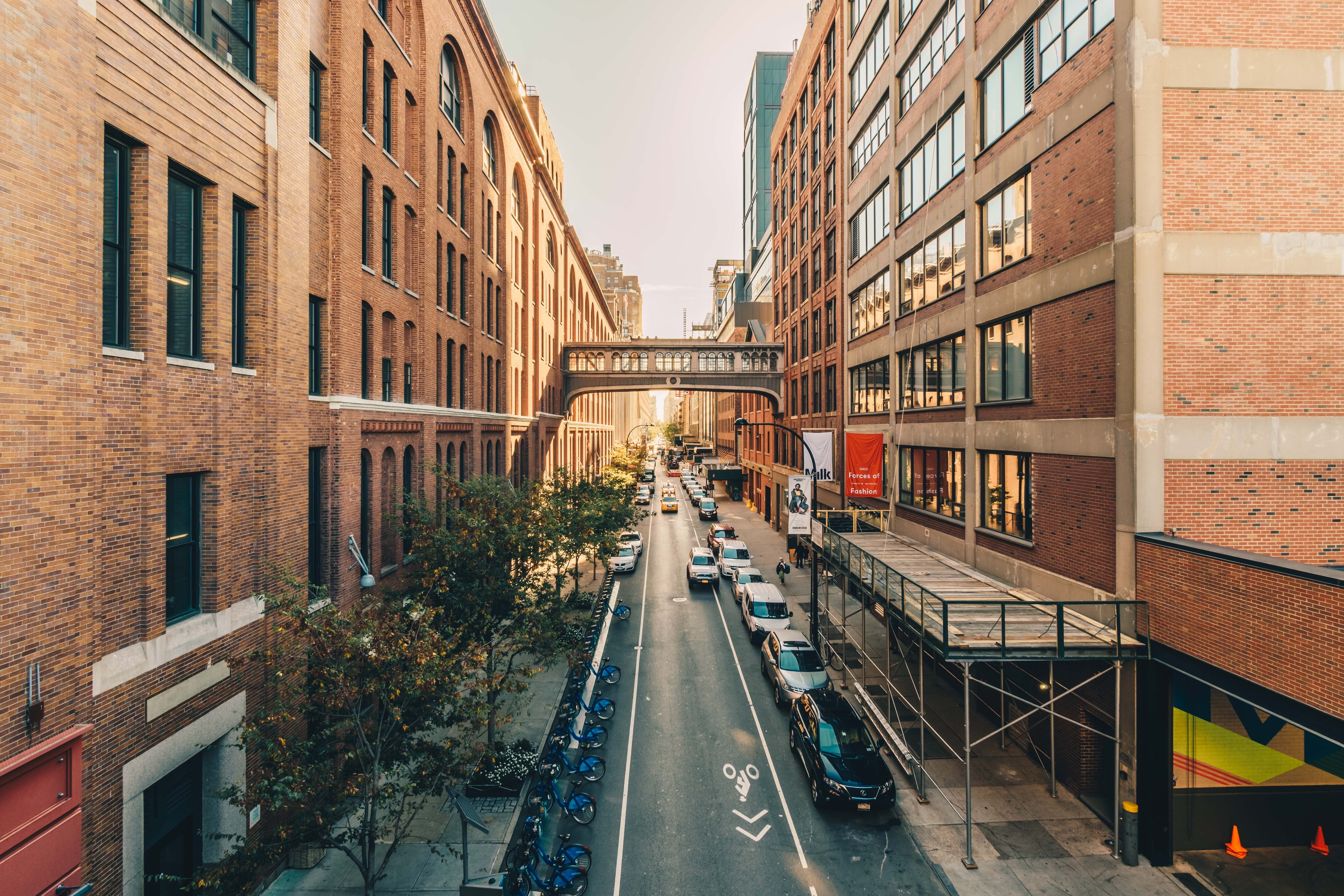 Walk The High Line
When it comes to urban parks offering stunning views, The High Line is easily Manhattan's best example. The elevated linear park, greenway and rail trail stretches or 1.45 miles on the west side of Manhattan. The design of the space, which was the former New York Central Railroad, is a collaboration between James Corner Field Operations, Diller Scofidio + Renfro, and Piet Oudolf. The High Line first opened in 2009 as a space where people can experience nature, art, and design. Today, that vision has come full circle.
The High Line includes gardens, artwork, restaurants and bars, plus plenty of unique outdoor urban seating structure. If art is your focus, you're in luck. The High Line continues to commission artists, such as Dorothy Iannone whose mural depicts three colorful Statues of Liberty. There's also Channel, an outdoor video art program that presents a rotating selection of exhibitions in video format.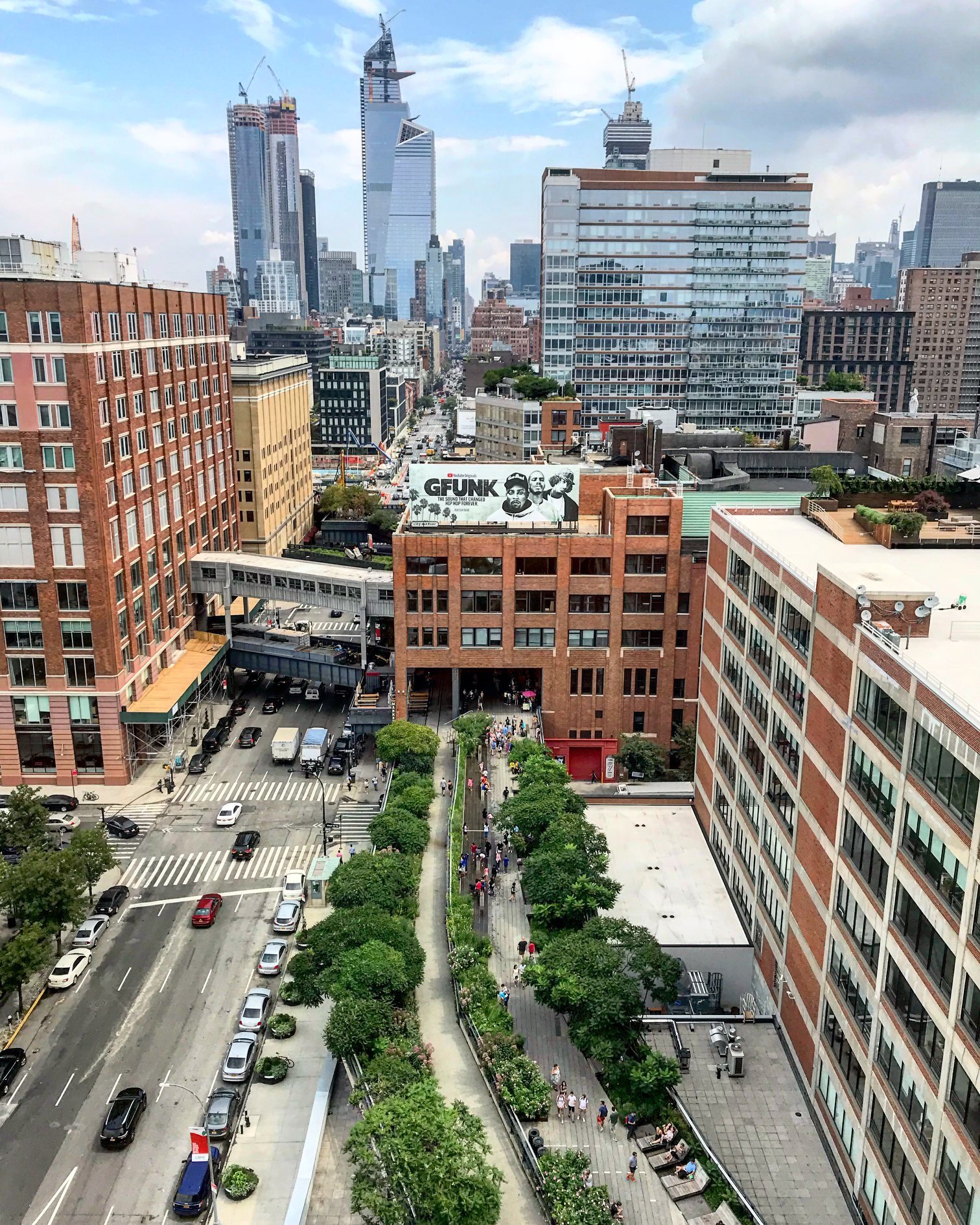 Have a coffee at Kava (or Cafe Grumpy)
Kava is relatively new on the Chelsea coffee scene but quickly became one of our go-to spots. For starters, they're the only outpost of Maryland's Caffe Pronto; that, plus not one but two La Marzocco Strada machines. That's one of the newest (and best) Italian hand-crafted espresso machines around.
Another great spot is Cafe Grumpy. They use the Clover brewing machine, which isn't as 'new and cool' but still super impressive. They rotate a menu of 4-5 single origin drop coffees as well as espresso and decaf for those non-caffeine drinkers among us.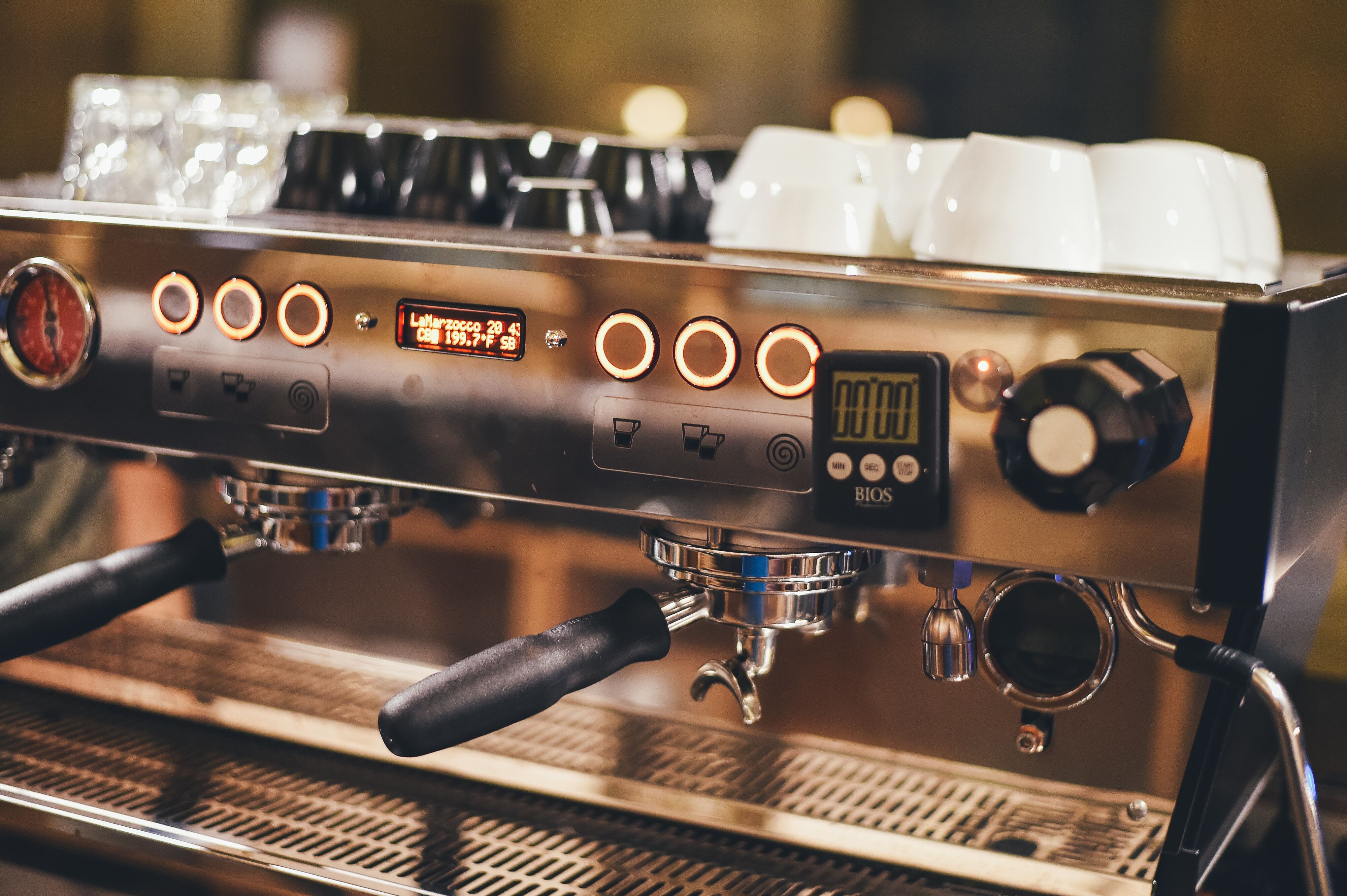 Pay a visit to the Rubin Museum of Art
One of the perks of living in New York is instant access to other cultures. An entrance ticket to the Rubin Museum of Art takes you straight to the Himalayas, India and neighboring regions including one very powerful exhibit on Tibetan art. Who knows, it might just spark your wanderlust and you could find yourself in Southeast Asia within the month. Just saying.
Each year, the museum has a theme that helps dictate their rotating exhibits. In 2019, that theme is power, so expect a year full of exhibitions, talks and interactive programs to help spark your own inner power. Museum entrance tickets aren't exactly cheap at $19 a pop—make sure to carve out at least two hours in your day to see the main exhibits—but totally worth it in our book.
If you're looking to fit a visit to the Rubin Museum of Art into your day, we recommend using Deskpass to work from Nomadworks. The massive space spans 30,000 square feet, featuring bright natural light, open seating, conference rooms, and private offices for small to large businesses spread​ over three floors. Ideal for growing entrepreneurs, established brands, and freelancers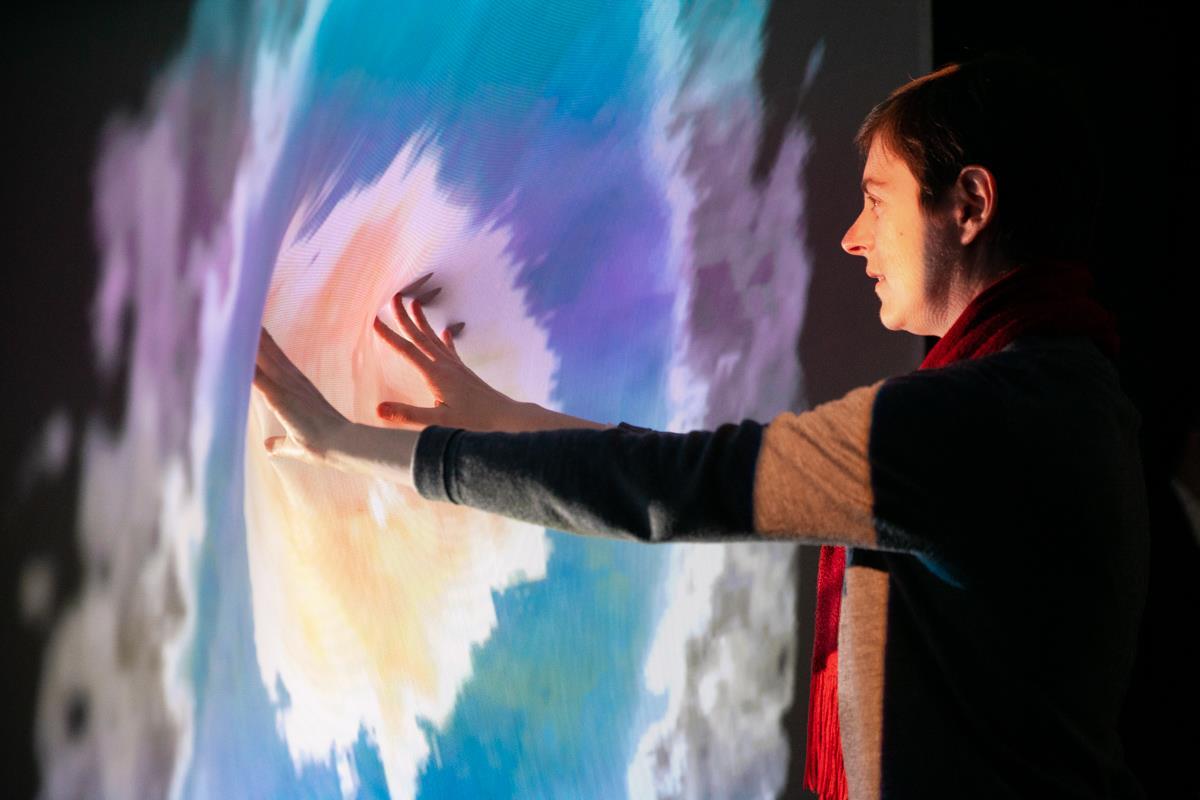 Immerse yourself in art at the Gagosian
There's no shortage of art galleries to peruse in Chelsea but the Gagosian is one of our personal favorites. In fact, the Gagosian is a global network of 16 art galleries, with a focus on modern and contemporary art.
There are other locations scattered across the world, including Los Angeles, London, Paris and Hong Kong. The first Gagosian opened in Los Angeles, with their New York brand launching five years later in 1985. Exhibits rotate every couple of months, so there's always new artwork (and artists) to discover.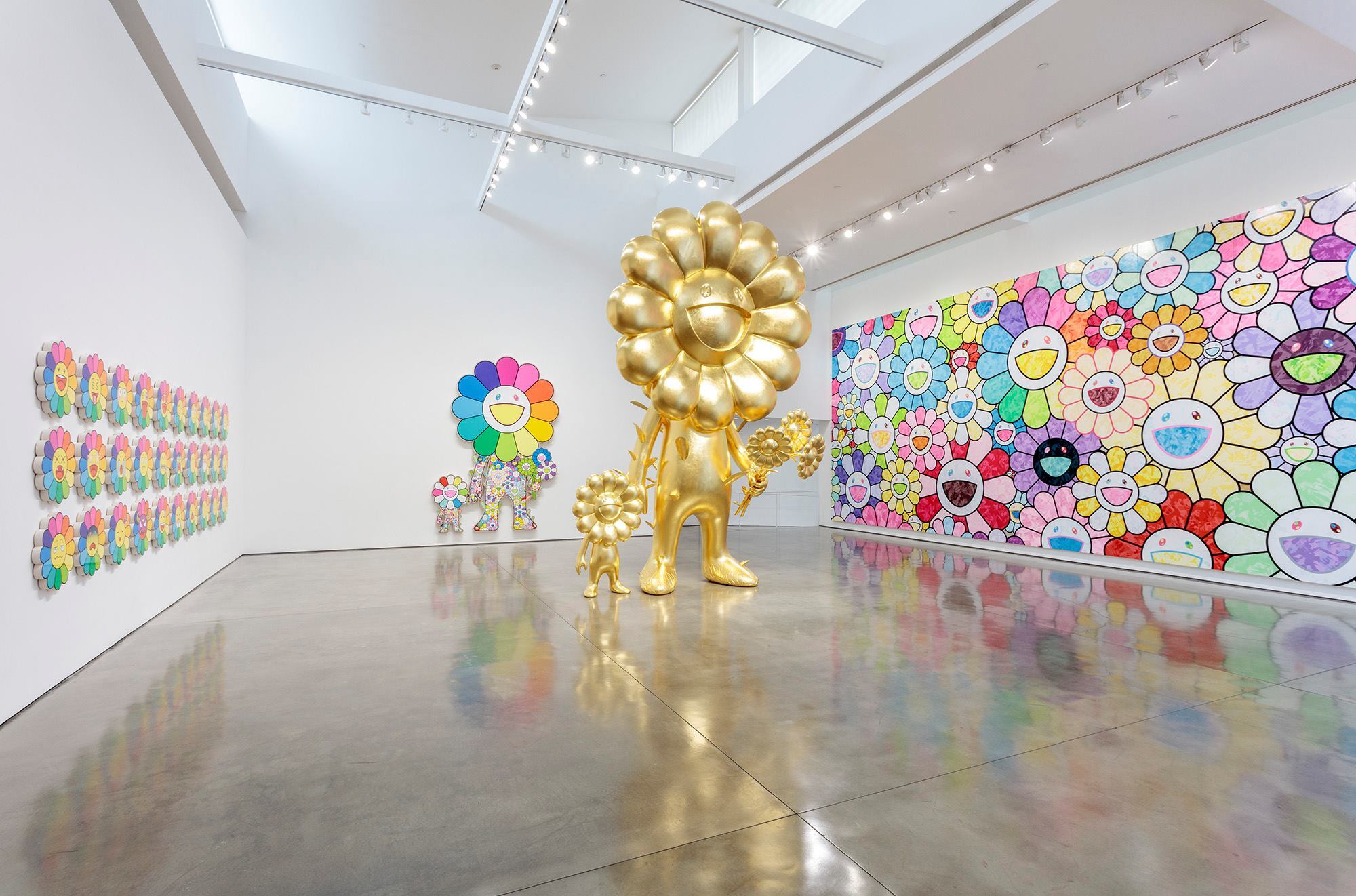 Play a role at Sleep No More
Located within The McKittrick Hotel on west 27th street, the Sleep No More live theatrical performance is interactive and even a little introspective. Sleep No More is an award-winning, immersive theatrical experience loosely inspired by Shakespeare's MacBeth and tells the tragedy through a film noir lens.
If you're lucky enough to snag a ticket, there are a couple things to keep in mind. First, you'll be given a mask to wear, so consider leaving your glasses at home. All audience members are required to wear one, as it enhances the experience. You'll also be required to check your belongings at the door, which means no smartphone for the duration of the show. It's also not uncommon to lose your friend of partner in the dark crowd.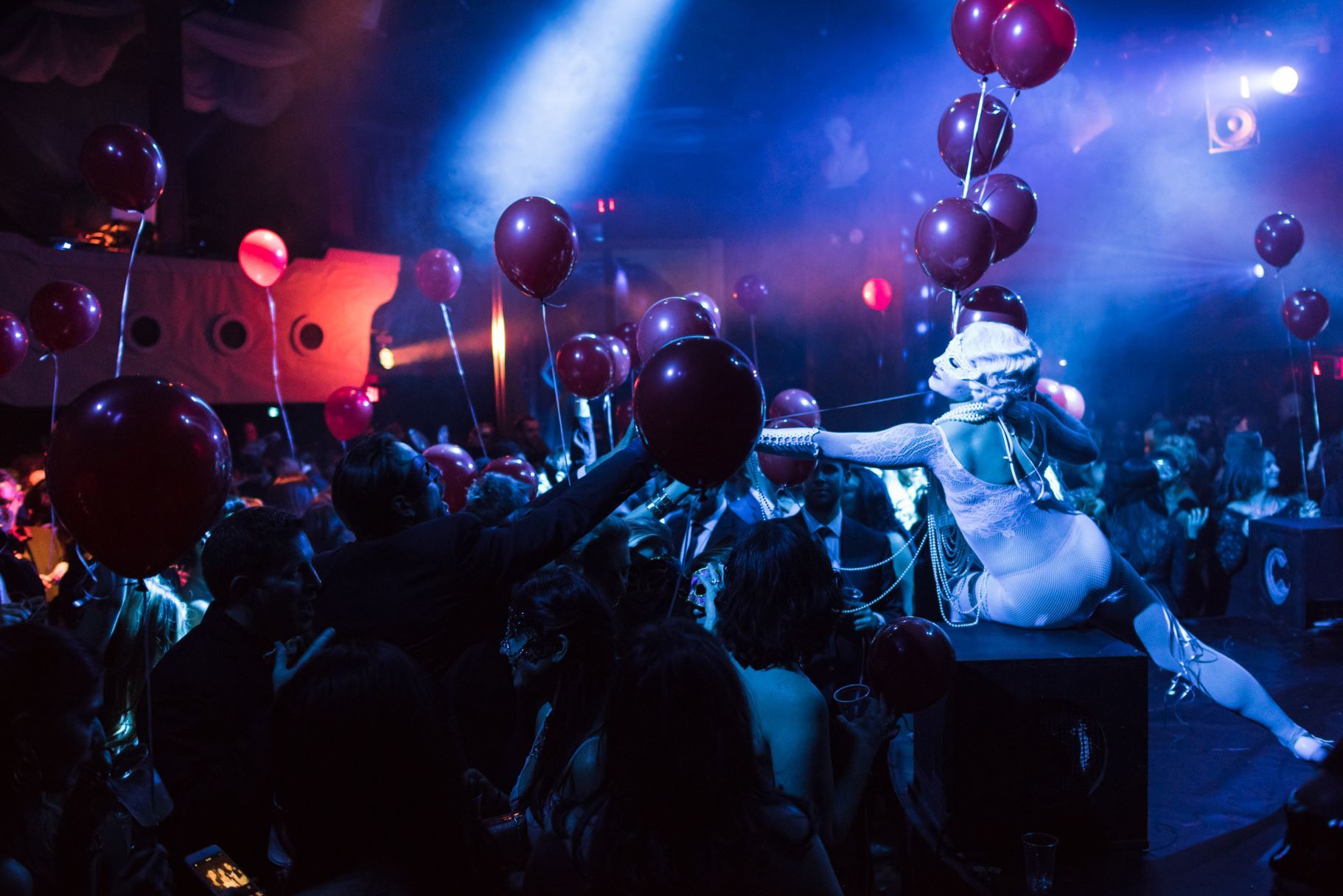 Unleash your inner foodie at Citizens of Chelsea
This modern Australian restaurant takes plating very seriously. That's probably why multiple outlets have ranked it among the top Instagrammable foodie spots in New York. Every detail is carefully chosen, from the live plants placed on tables to the green and white menus. If you scroll through Instagram, your sure to spot their colorful and delicious-looking Beetroot Hummus Toast; that, and their fun latte art.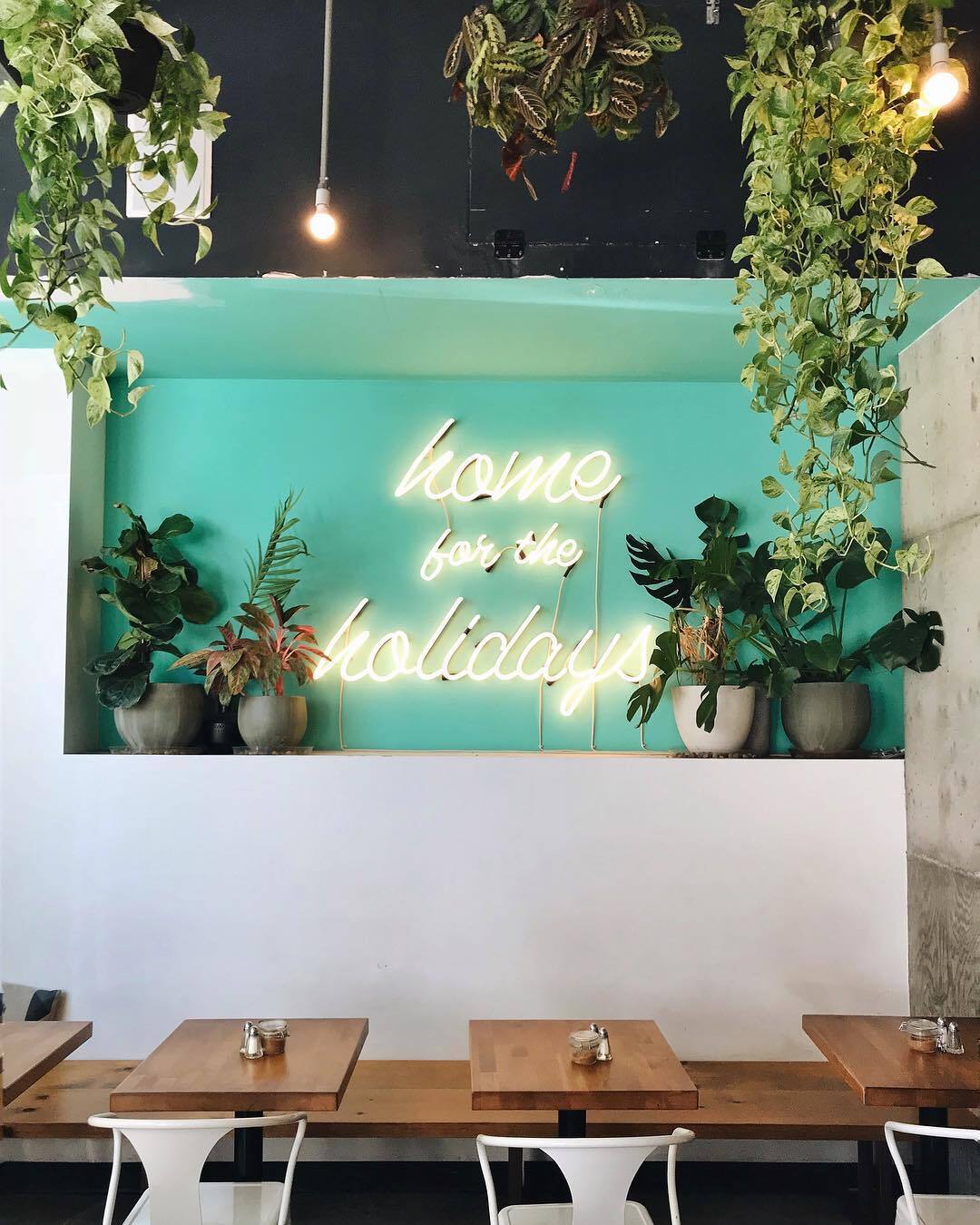 Get fashion-forward at The Museum at FIT
Fashion isn't just an art form for New Yorkers; it's a way of life. Some of the top designers around the world have studied at FIT (the Fashion Institute of Technology) at the start of their careers. While you have to be an actual student to tour the classrooms, the Museum at FIT is open to the public and features rotating exhibits along with permanent collections of garments and accessories. Admission is free. This year marks the museum's 50th anniversary, so there's sure to be lots of interesting exhibits showcased in the coming months.
On the southern tip of Chelsea (technically, the Meatpacking District) is CSTM HAUS, a loft and spacious coworking environment with open seating, great lighting, and friendly staff on-site to help you with all your needs to succeed. Choose from hot desks, counter seating or lounge areas. Team tables are designed for groups of up to 5 people in the open area of the coworking space. This is a great option if you would like to cowork with your colleagues but don't need the privacy of a private office. You can book this through our 'MEET' listing.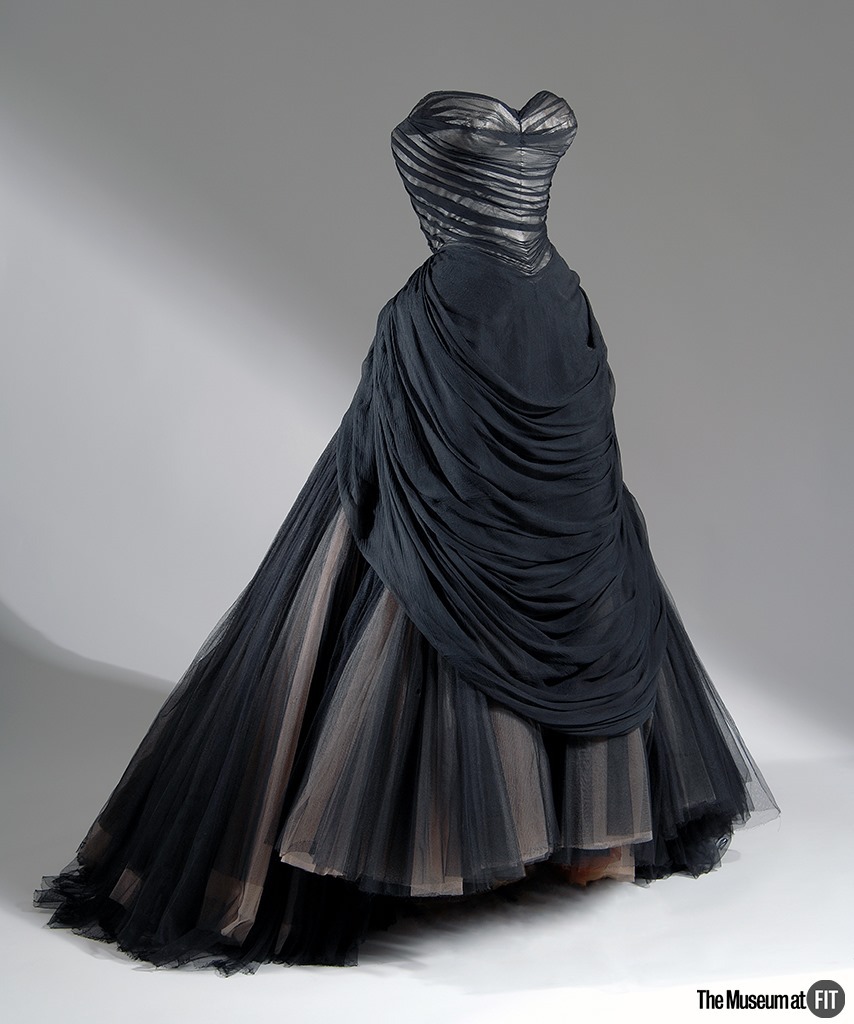 Appreciate the unique architecture of DVF
While we're on the topic of fashion icons, let's discuss the architectural feat that is Diane Von Furstenberg's Meatpacking store front. Considering how uncool the Meatpacking District was during the store's construction, Diane and her team took a big risk by even choosing the area as their flagship location.
Now, the six-story, 35,000-square-foot structure includes the DVF design studio, their flagship store and yes, her penthouse apartment. A shaft of light cuts through the building diagonally, and heliostat mirrors direct sunlight down the 80-foot staircase. To view the building from the top, there's an entrance to the High Line right near the store.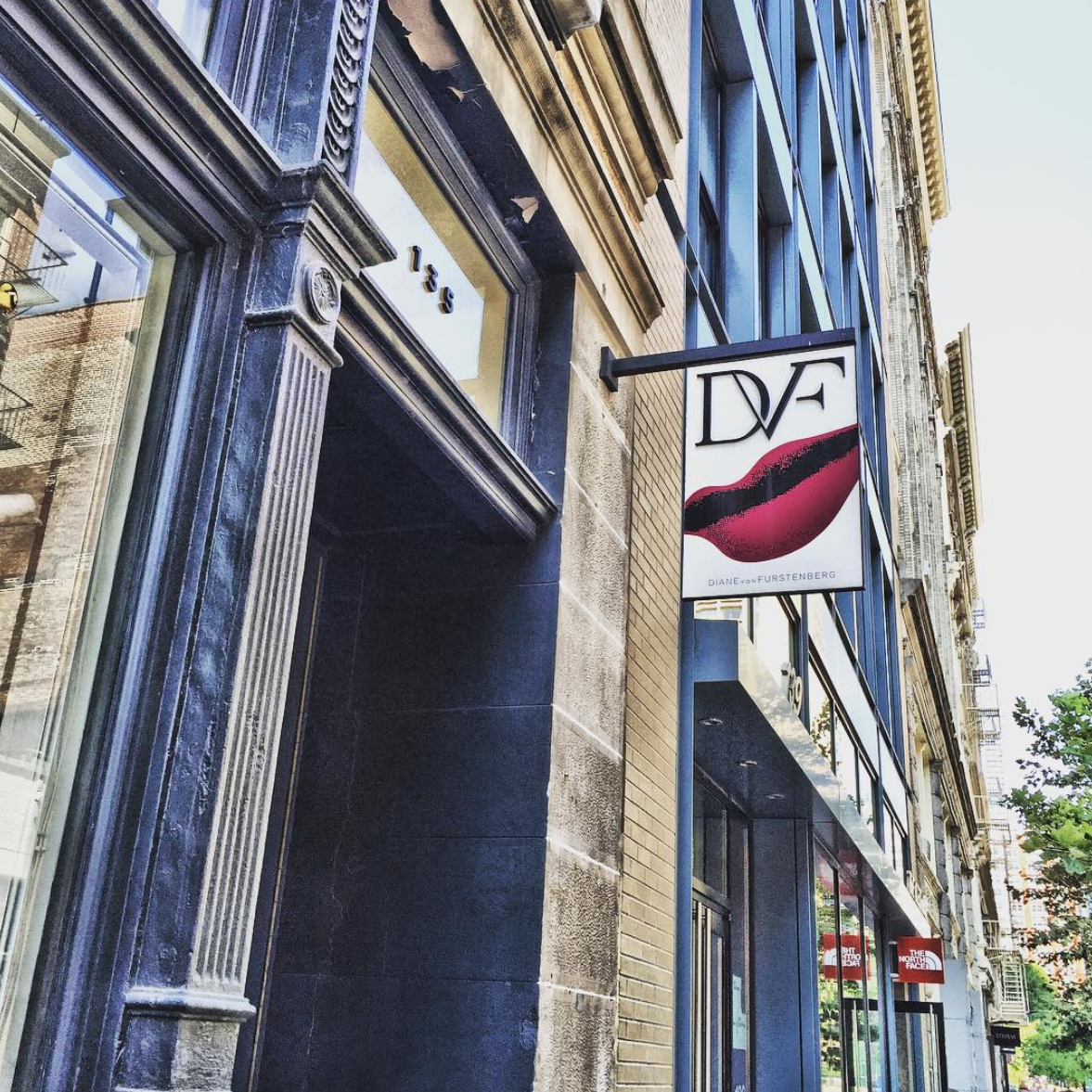 Sift through antiques at the Chelsea Flea Market
A day in Chelsea is not complete without a visit to the neighborhood's famed weekend flea market. The market first opened its doors so to speak in 1976—back then, it went by the name of Annex Antiques Fair & Flea Market.
Open every weekend year round, the market features wares from about 100 vendors. You'll find just about everything here, as long as it's old and unique—think antiques, collectibles, ephemera, decorative arts, jewelry and vintage clothing.
For the early birds among us, you can start your shopping as early as 6:30am on Saturday and Sunday. There's a $1 entrance fee that goes toward maintaining and improving the market. When you've worked up an appetite, head to nearby Eataly for a rooftop view or Madison Square Park for one of the best burgers in town.

Take your lunch break at Chelsea Market
This 13,000 square foot space (massive by New York standards) is a food hall, shopping mall, office building and television production facility. It used to be the former National Biscuit Company factory complex and, get ready for it, where the Oreo cookie was invented and produced. There's a lot happening here and it's almost always packed to the brim with locals and tourists alike, especially during lunch time.
Speaking of which, Los Tacos No. 1 is one of the best Mexican joints in town. Just ask the dozens of Google employees who frequent this place despite having unlimited, free food at their office next door. If you time your visit with your lunch break, you can choose from cuisines around the world, from Japanese to Jamaican to Italian. Come dessert, it's a toss up between the Fat Witch Bakery (try their yummy chocolate brownies) and Amy's Bread.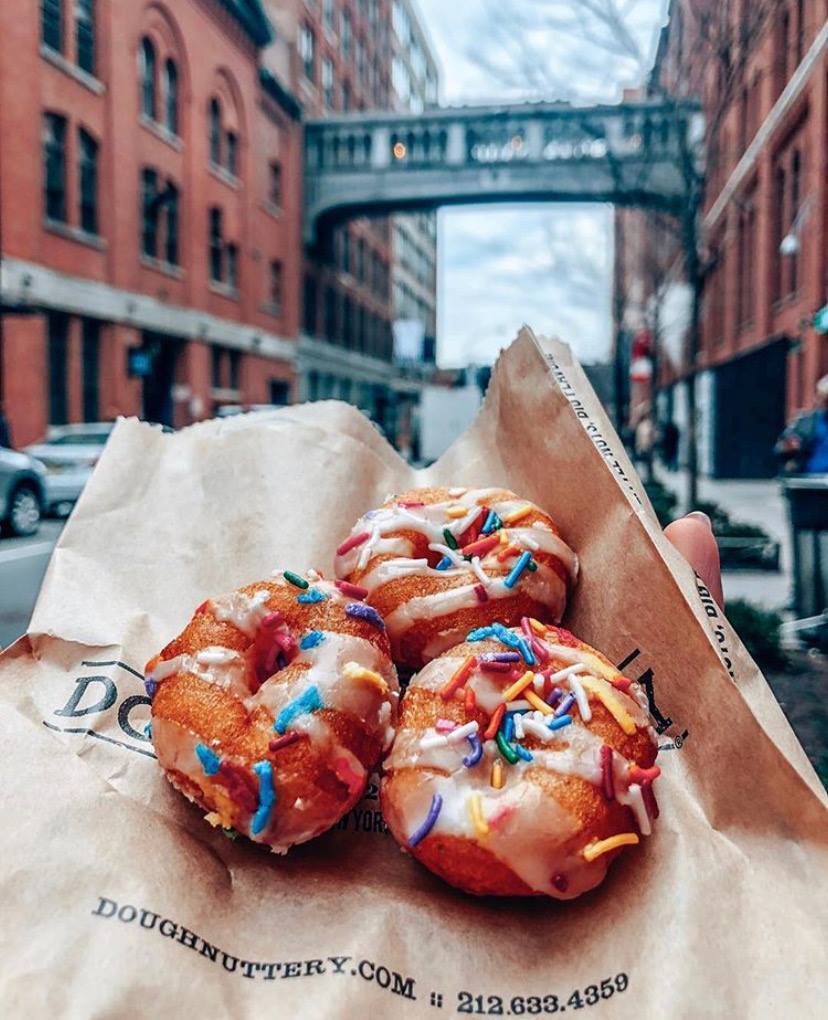 Get a complimentary $250 Deskpass credit when you sign up for a Teams account today.