While many people hear 'coworking' and think freelancers, digital nomads and scrappy startups, the truth is that many people use coworking spaces, including bigger companies. Scroll below for a few reasons why your team (or entire company) would benefit from coworking.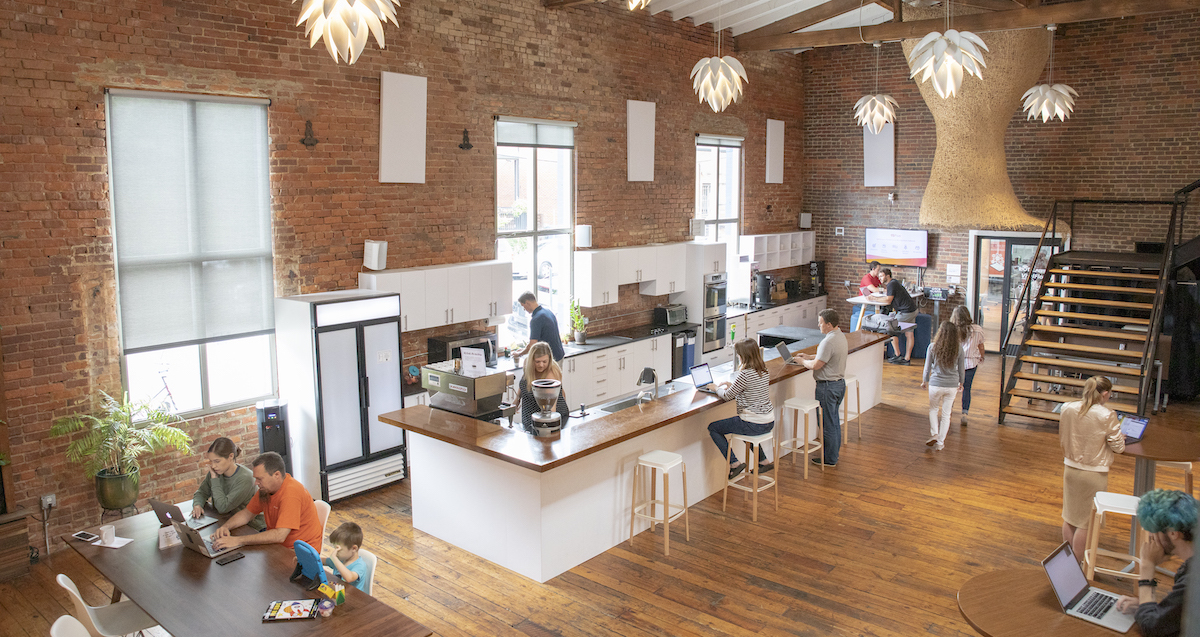 Increased productivity
Studies show that between 75-90% of coworkers deeply value the personal connections made possible through coworking.* They feel more engaged and motivated to do their work, as well as significantly less lonely. These are all key factors in increasing employee happiness (more on that below), and by consequence, productivity. We've rounded up a few other benefits linked to increased productivity.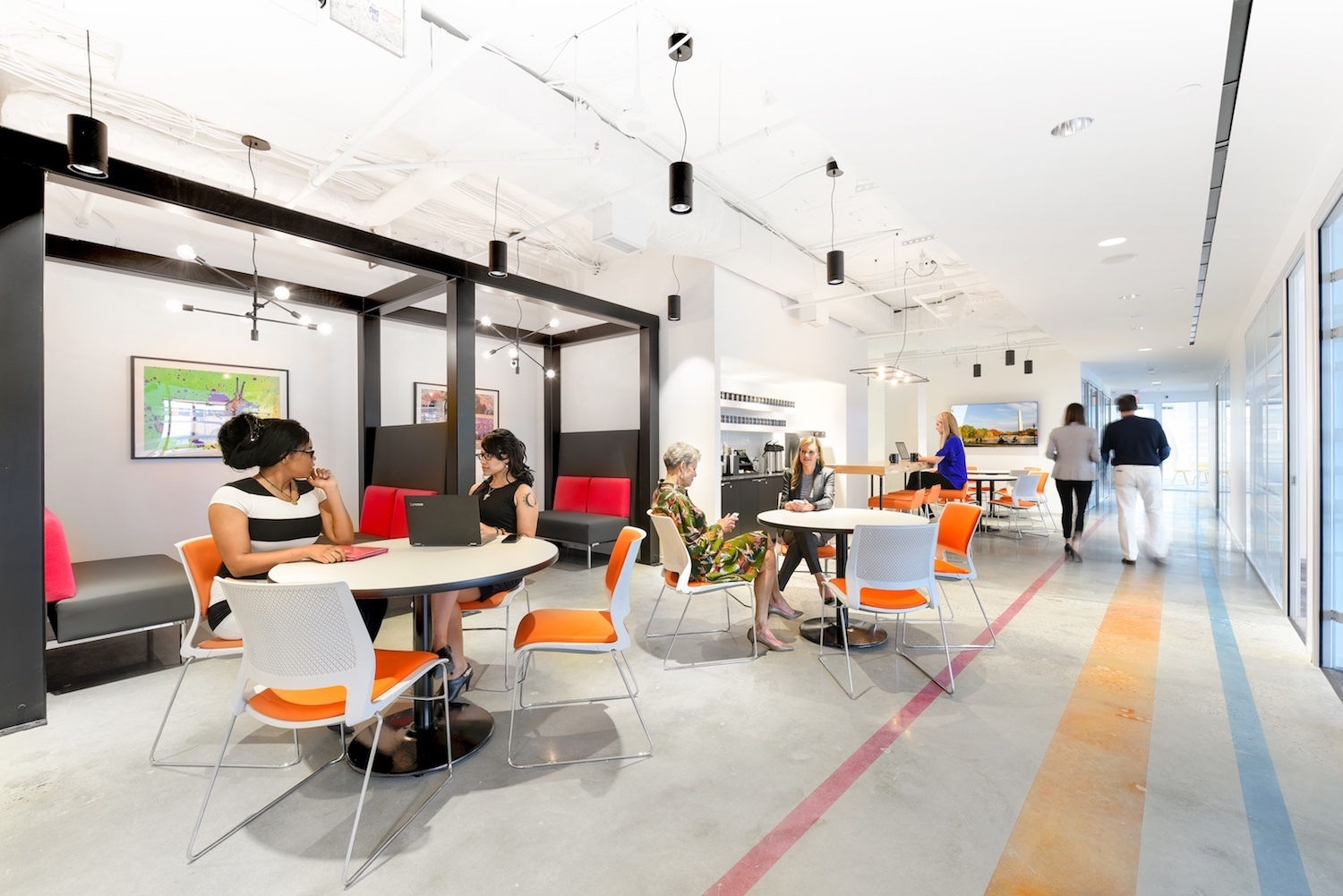 Cutting costs
This is probably a no-brainer, but coworking is much more cost effective than traditional offices. For many companies, they are required to commit to long-term leases for office space and this can pose challenging, especially if the company is just starting to scale and is unable to anticipate how many employees to account for during high-growth periods.
Coworking—whether they have an agreement with a specific space in a specific city and especially if they opt-in to a network of spaces across the country like Deskpass—is considerably more affordable than signing a lease on an office property.
As you can see in the graphic below, for one location, a company is looking at about $2500 a month give or take. A coworking space cuts that cost to around $400.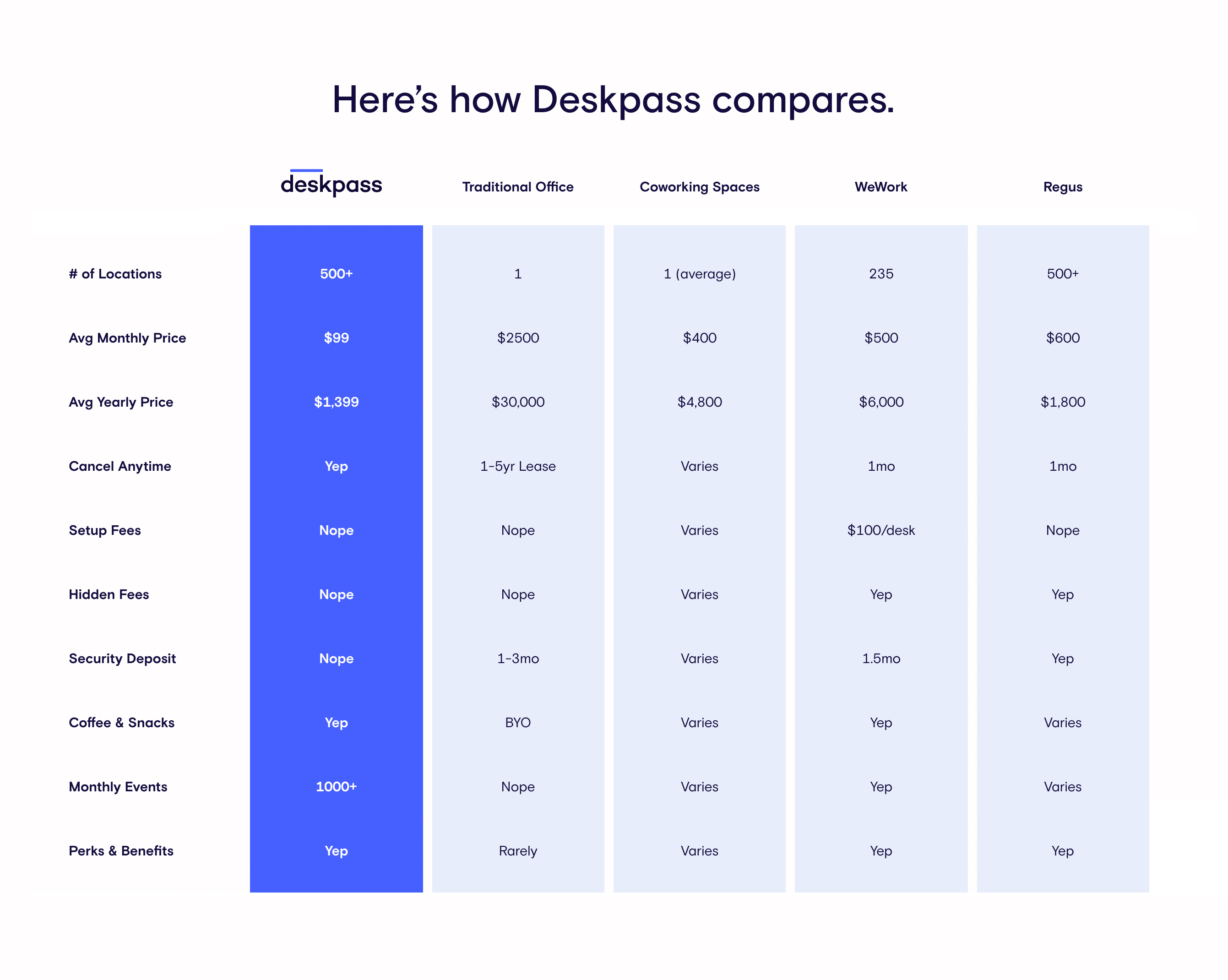 Improved happiness among employees
What starts happening when you are inspired by where you work and who you work with? You start feeling happier and with happiness comes better work. From an atmospheric perspective, coworking spaces feel much more modern, open and collaborative than traditional offices and this can really impact how forward-thinking your employees are in their daily work.
The flexibility to work from various coworking spaces is another happiness indicator. Employees feel empowered to do their best work in the environment that is most conducive. This also builds trust among employees and their employers; allowing team members to work from where they are most inspired is huge for employees in feeling appreciated and valued.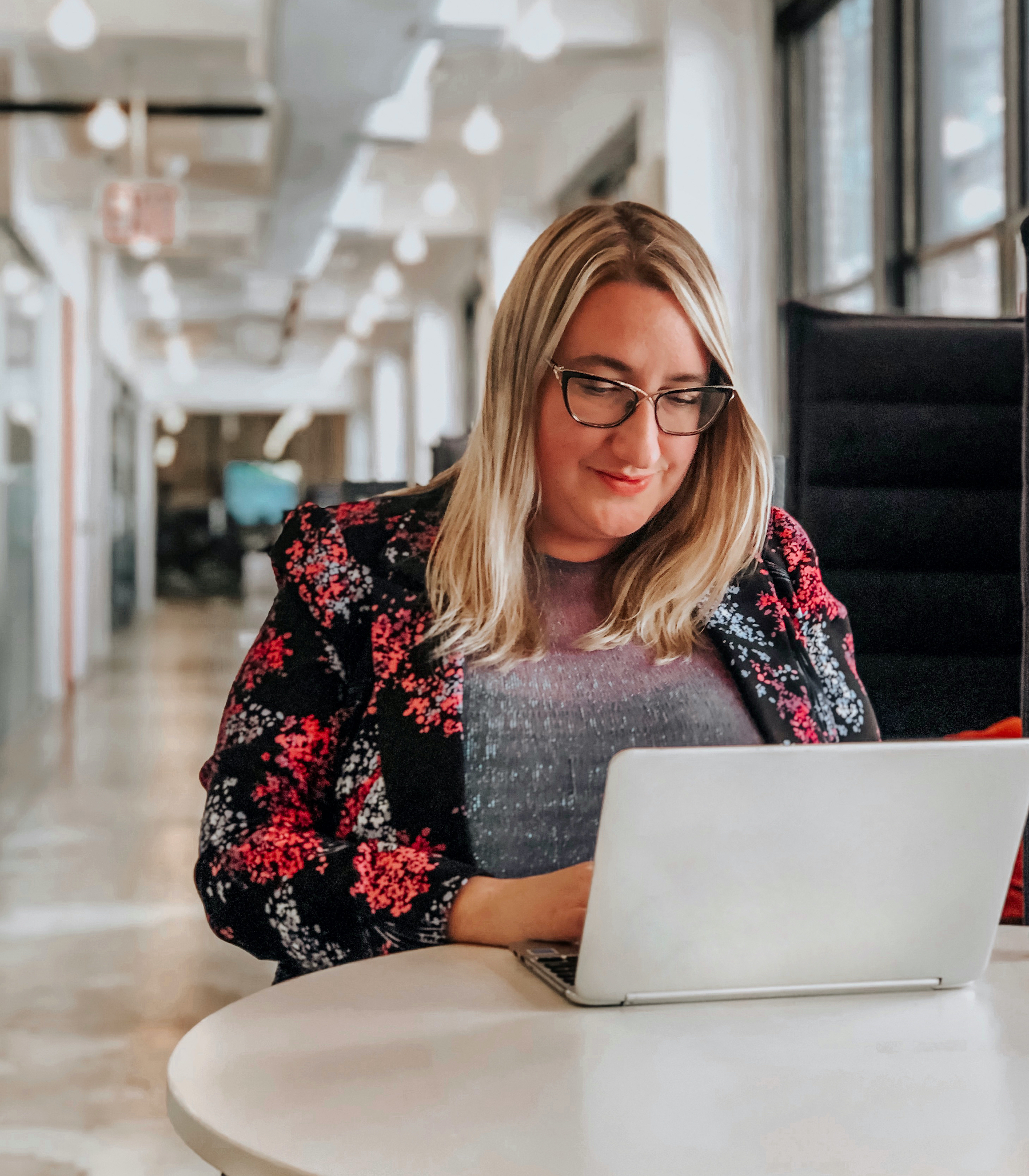 Access to top talent
For companies that require employees to work from a specific office and location, it limits how broadly they can recruit top talent. Of course, there is always the possibility that a potential employee will relocate in order to accept the position, but it's not always the case.
There are so many factors that could hinder a prospective employee from relocating: if they have a family and what that would mean for their children's education and mental health, whether they want to leave behind friends and a community they've spent years nurturing, and how far their new salary will get them (for example, New York is a lot more expensive to live in than say, Fort Worth, Texas).
By allowing employees to work remotely from coworking spaces in their own city, it really opens up the talent pool. Employers will feel confident knowing that their team members are in the city where they want to work, and therefore, will be more happy and ultimately, more inclined to stay on-board for the long-haul.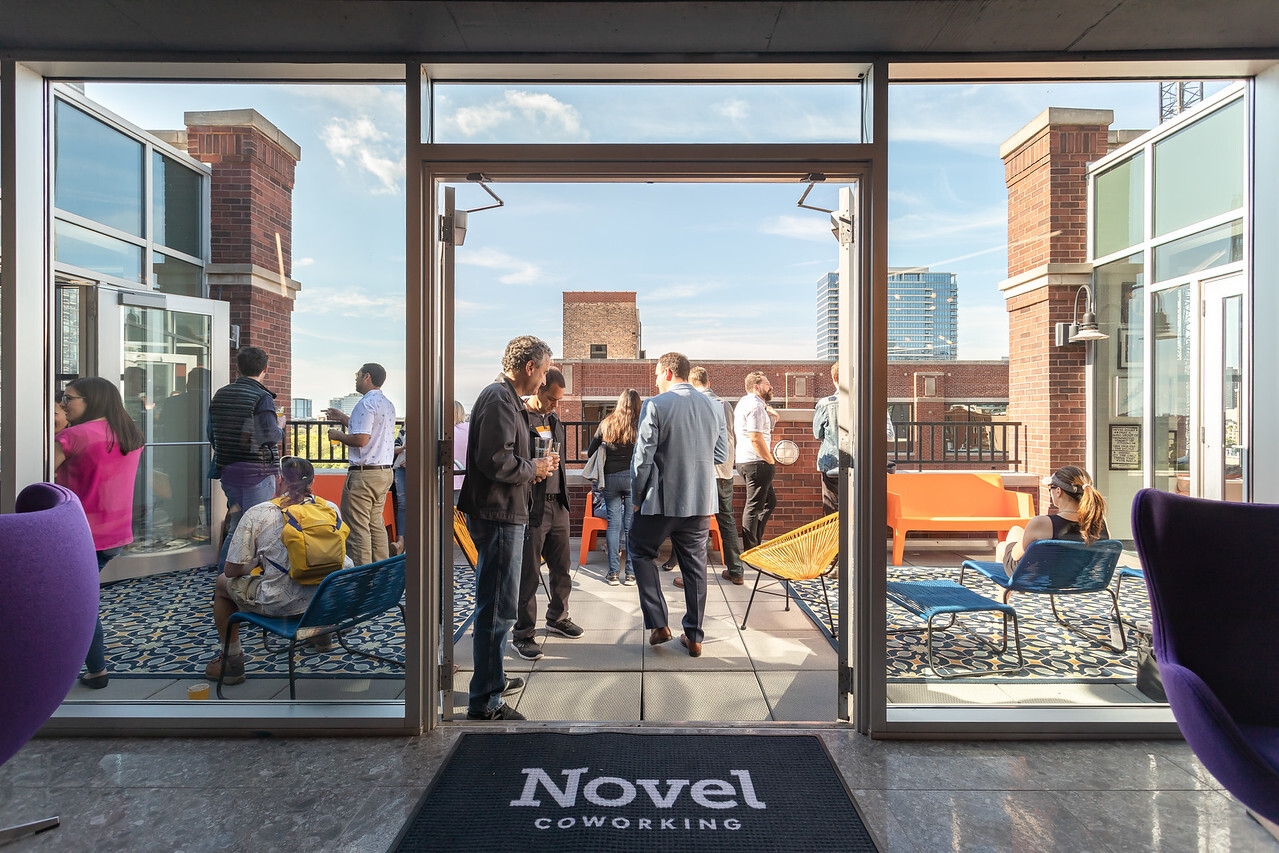 Creating a healthy company culture
This circles back to improving happiness among employees and gaining access to top talent. Whereas in traditional offices, you are only able to interact with those on your direct team or perhaps a few different departments, you might not find those interactions particularly stimulating.
Work is work, but with coworking, you're given the opportunity to literally cherry-pick your ideal work environment (check out our 'Moods' feature on how to do this). You can meet new people—not just people in your industry—and find new ways to collaborate.
Speaking of collaboration, in any given workspace, you'll find people working across all different industries. A company needing to redesign their website is likely more confident moving forward with a graphic designer they already know personally than searching for potential candidates through a traditional online application process.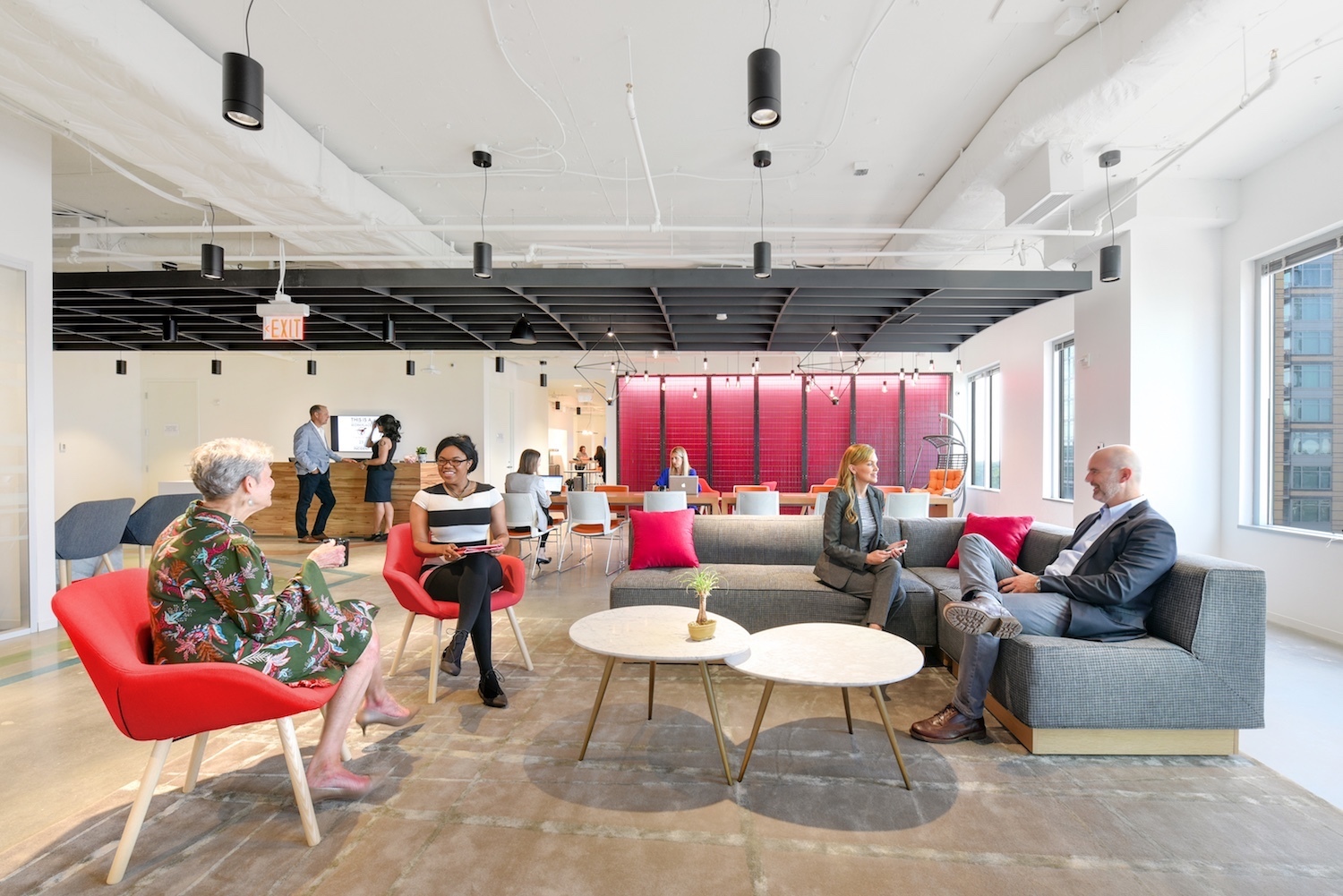 It's an investment in the future
All the trends are leaning toward virtual offices and while working from home so great, it's not always the best option. This is where coworking spaces come in as a viable solution. Unlike a home office, coworking spaces provide the professionalism that you would expect at an office. There are also added amenities like phone booths to take client calls, a kitchen with great coffee and regularly restocked by staff, access to a printer and, as needed, conference rooms.
Covid has dramatically increased work from home for companies large and small. In fact, many companies who were previously hesitant to allow employees this flexibility, are now on board. The worry was that productivity levels would drop, but this hasn't been the case. For many, their productivity has actually increased. Now that cities are beginning to re-open, many employees will start looking to coworking as a way to work, meet and collaborate.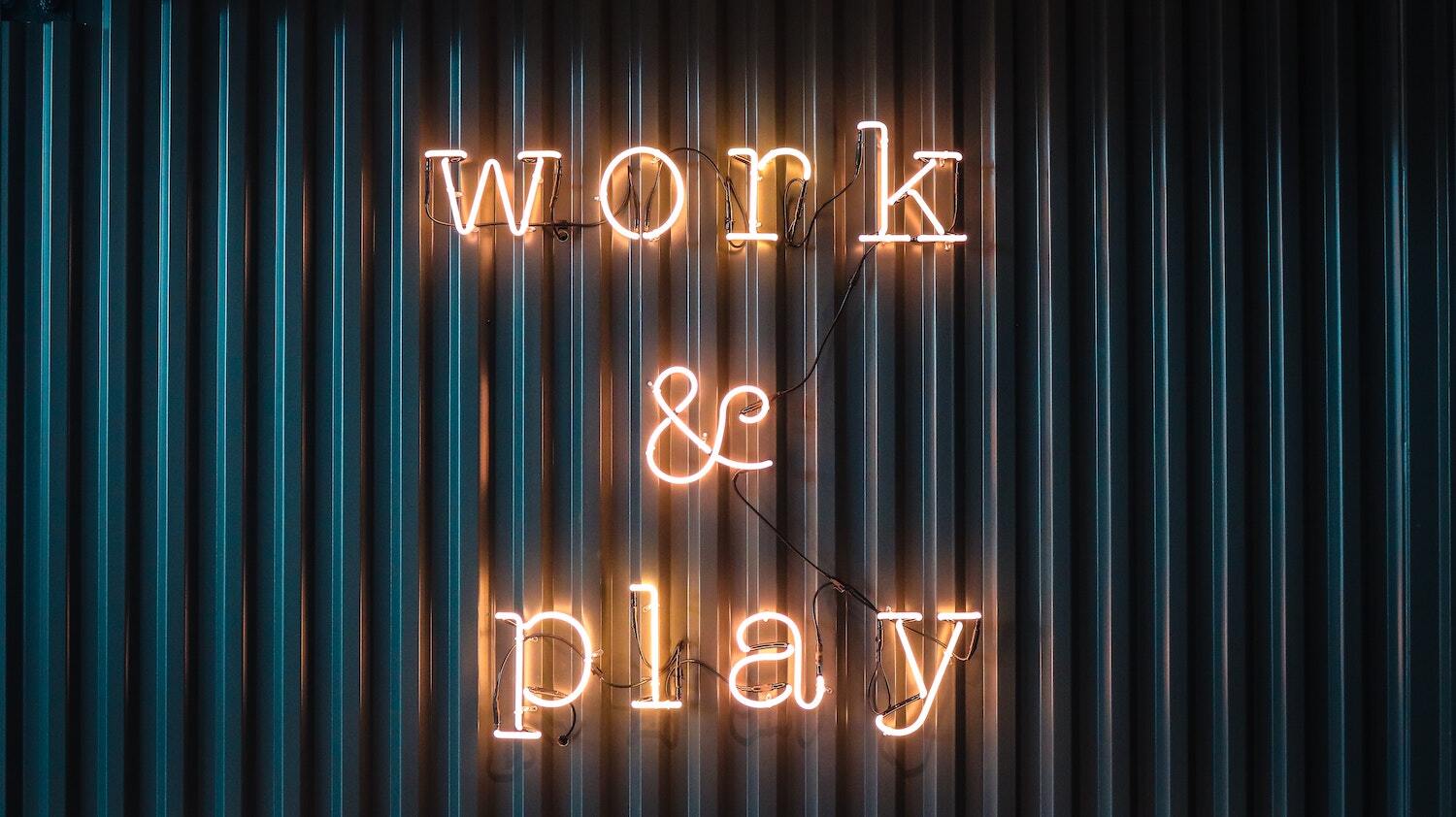 Get a complimentary $250 Deskpass credit when you sign up for a Teams account today.