A few weeks ago, The Deskpass Team went to Seattle and met so many of our partner spaces in person, learned from coworking experts around the world, and left feeling inspired with all of the information and ideas. The conference was packed with data, trends, and ways to improve your space. We decided to highlight three themes from speakers that stood out to us the most.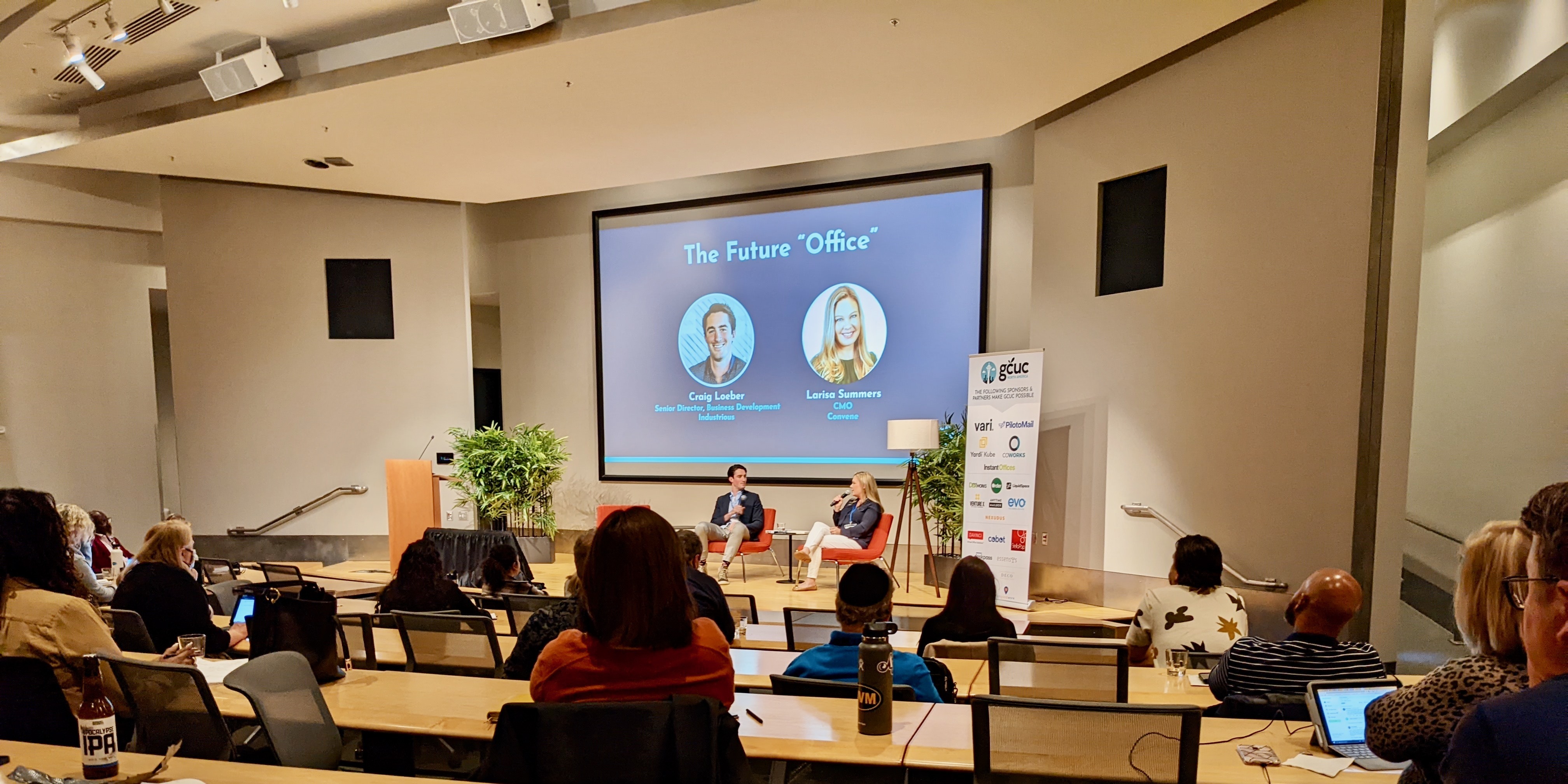 Amenities may be key to luring workers back to the office

Companies that are considering coworking spaces or hybrid work are almost always looking for something that they can't get from their home office. This could be community, hospitality, seamless technology, coffee and snack stations, outside space and natural light, quiet spaces to focus, or collaboration rooms.
During the presentation titled "Designing for the New World," Elide Rathborne and Thomas Gibbons mentioned that Bond Collective will be focused on new kinds of amenities like yoga and fitness classes, gym equipment, meditation space, eco-conscious products, healthy food options, filtered water, and educational programming. Bond also has an exciting food and beverage partnership on the way so that members and guests can order catering during their meetings.
Health and wellness amenities and food and beverage services that will make you leave your apartment may be an integral part of the design of future spaces. Nick Clark from Common Desk said "We need to be thinking more about services that people don't have to do on their own like creating a coffee shop instead of just having an espresso machine that people can use. People are looking for a hospitality approach and it's important to think about how you are going to serve your members."
Hybrid and flexible members are going to be coming in for the amenities and for serious meetings, meaning the experience needs to be elevated from what the home office provides. With this in mind, the space should provide a seamless way to meet and mingle, bring people together, be equipped with a high level of technology, options for mindfulness and meditation, elevated common areas, and something uniquely different like outdoor conference rooms or a champagne bar.
Demand for Flexible Space is here to stay
Occupancy rates in coworking versus traditional offices are almost back to pre pandemic levels while demand for traditional spaces continues to remain steady or go down. Flexible spaces seem to be recovering quicker because they are smaller, a better location for employees, feature modern designs and due to leadership looking for a more affordable option that is dependent on use as opposed to a fixed monthly rate.
James Rankin from The Instant Group shared that demand for flexible spaces is up 26% in Austin, 21% in Denver, and 71% in Phoenix. NYC demand is up 13% and lifestyle cities are up by an average of 49%. In several of these cities, there aren't enough spaces or enough quality spaces to meet the demand.
Many enterprise clients are letting their employees book space on demand as a way to measure demand and where they might need more permanent space down the road. On demand options like private offices for the day can be very helpful in providing data to both the company and the space about how teams are utilizing phone booths, conference rooms and daily private offices. As an example at Deskpass, bookings from January 2022 to May 2022 are up 416%.
During "The Future Office" presentation with Craig Loeber and Larisa Summers, the prediction was made that enterprise demand will eclipse demand from all other segments in the next 3-5 years. Craig also shared that Industrious recently raised 100 million from CRBE to focus on international growth in order to accommodate enterprise teams. They concluded by saying that we are in a workplace revolution that looks and feels different for every type of company but the common denominator is employee choice and how the real estate portfolio matches that.
Real Estate is a people business, it's all about community
To kick off Day 2 at GCUC, Liz Elam shared updates on her recent survey about why people choose coworking and the resounding answer was the opportunity to connect with other members and spaces that foster connection, deep work, and collaboration. Of the over 900 responses, 60% say their coworking network is their top source for work.
Craig Loeber and Larisa Summers agree that it is no longer just about the amenities, but that people also want quality experiences. Now more than ever, they want strategic solutions for acquiring and retaining talent that a coworking space can provide. They talked about how real estate is a people business and how operators need to be thinking about how they can create a space that people actually want to come to work.
For many teams, the last two years taught us that a combination of intentional meetings, solo working, coworking and community are more important than we realized. "Covid taught us to be more vulnerable and come together to build a stronger leadership team with weekly Zoom calls, a weird reminder on why we started Common Desk that connected us to our roots and who we are as a company," said Nick Clark during the final presentation at GCUC.

Get a complimentary $250 Deskpass credit when you sign up for a Teams account today.