Safety is something very personal and means different things to different people. That said, when it comes to COVID-19, there are certain precautions that are instrumental in ensuring everyone's safety in returning to the workplace.
We asked a few spaces on the Deskpass network to share specific examples of how they are keeping members safe.
As a reminder, we partnered with our spaces to develop our Safety Pledge Program, a voluntary pledge that our spaces take to ensure that their space meets our requirements for health and safety excellence. A Deskpass Safe Space badge appears next to spaces that have taken the Safety Pledge and meet the necessary requirements.
Careful cleaning
"Cleaning is a constant. Firmspace has gone above and beyond CDC and EPA guidelines with the addition of on-site porter services to ensure that high-touch areas remain clean throughout the day. And we don't just sanitize surfaces. We sanitize the air.
Our offices perform a multitude of air sanitization practices that range from a full fresh-air flush of the HVAC system, coil cleaning, and regularly scheduled filter replacement with ASHRAE-recommended MERV 13 filters. Our air quality standards are based on LEED sustainability protocols and ASHRAE recommendations." — Bethany Sheldon, Firmspace
Social distancing
"When it comes to social distancing, we have reduced our capacity to ensure proper social distancing between workstations and lounge areas. We ask that tables or chairs not be moved to alternate locations. If you have any questions, please see a staff member.
We've also installed Acrylic Partitions between Open Space workstations so we can ensure that you are protected from your neighbors. These Acrylic Partitions are part of a collaboration from Safe Acrylic. Masks are required at all times and if you don't have one, we will happily provide you with one." — David Adato, Downtown Works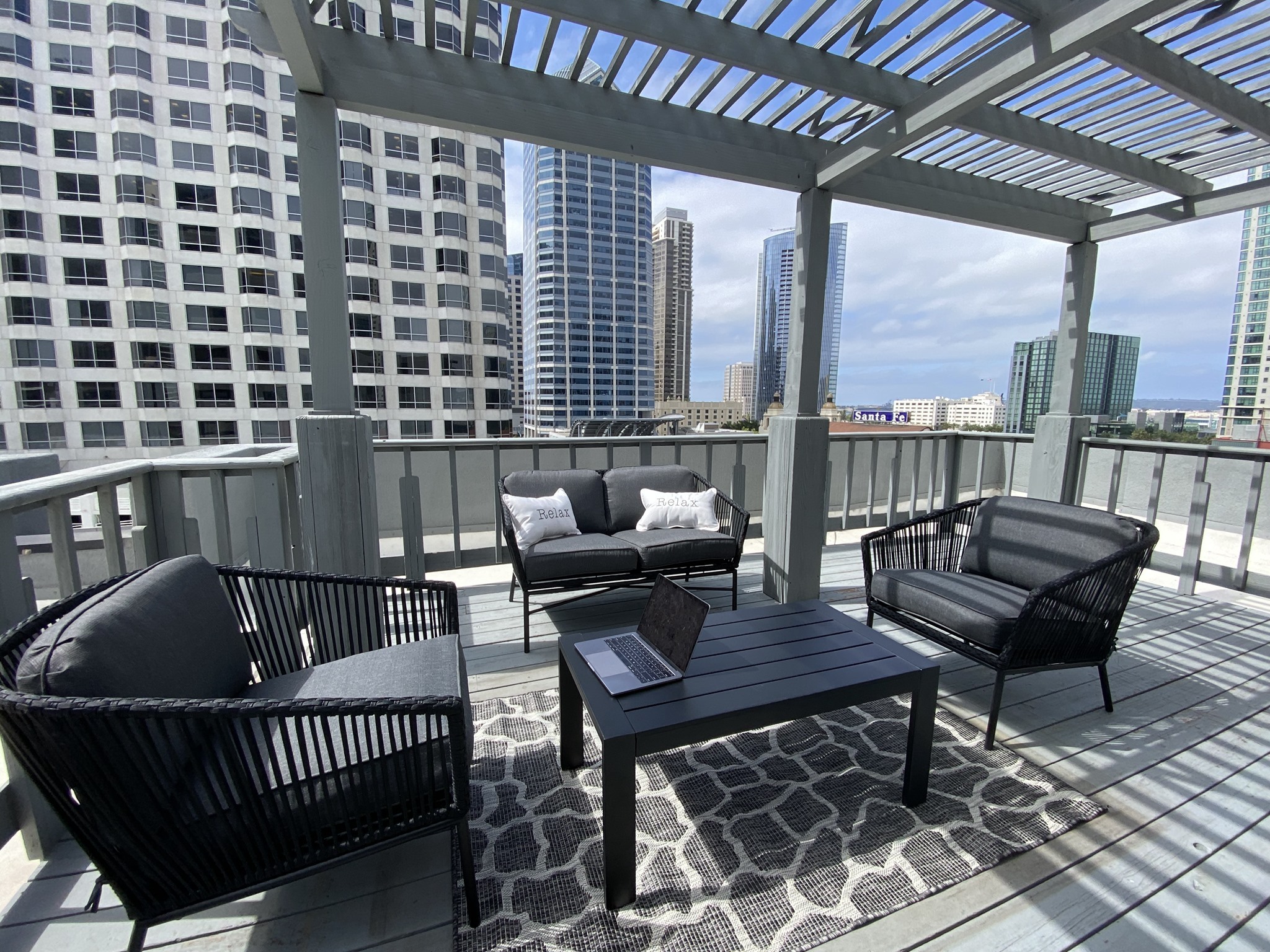 Reduced seating and increased signage
"In our common areas, we reduced seating, required that face masks are worn, implemented more frequent cleanings – especially in high traffic areas, and provided those using these spaces with hand sanitizer, anti-bacterial wipes, and touch-free alternatives.
We also took additional precautions such as replacing shared supplies with disposable options, installing countertop shields, and installing social distancing signage throughout our centers. But, it was our team members and their commitment to excellence in service that really made Carr Workplaces stand out in terms of our response to the pandemic." — Robyn Evans, Carr Workplaces
Contactless technology
"Touchless hand sanitation dispensers are places near bathrooms and in elevator lobbies where sanitation wipes are not as readily available. Bathroom, floor, and corridor entrance doors are equipped with motion sensor capabilities to minimize touch points throughout the office at all Amata locations.
All doors will also be programmed so that existing key cards will activate them to open for additional no-touch operation. A majority of locations have these capabilities already installed; the only exceptions being floors which require larger infrastructure edits whose motion sensor & keycard capabilities will be in effect by the end of the year.
Finally, touchless temperature guns will be available at each reception desk for clients, guests, and Amata staff to use. These are available as a courtesy and temperature gauging is not a requirement for Amata floor access." — Lori Ziesmer, Amata Law Office Suites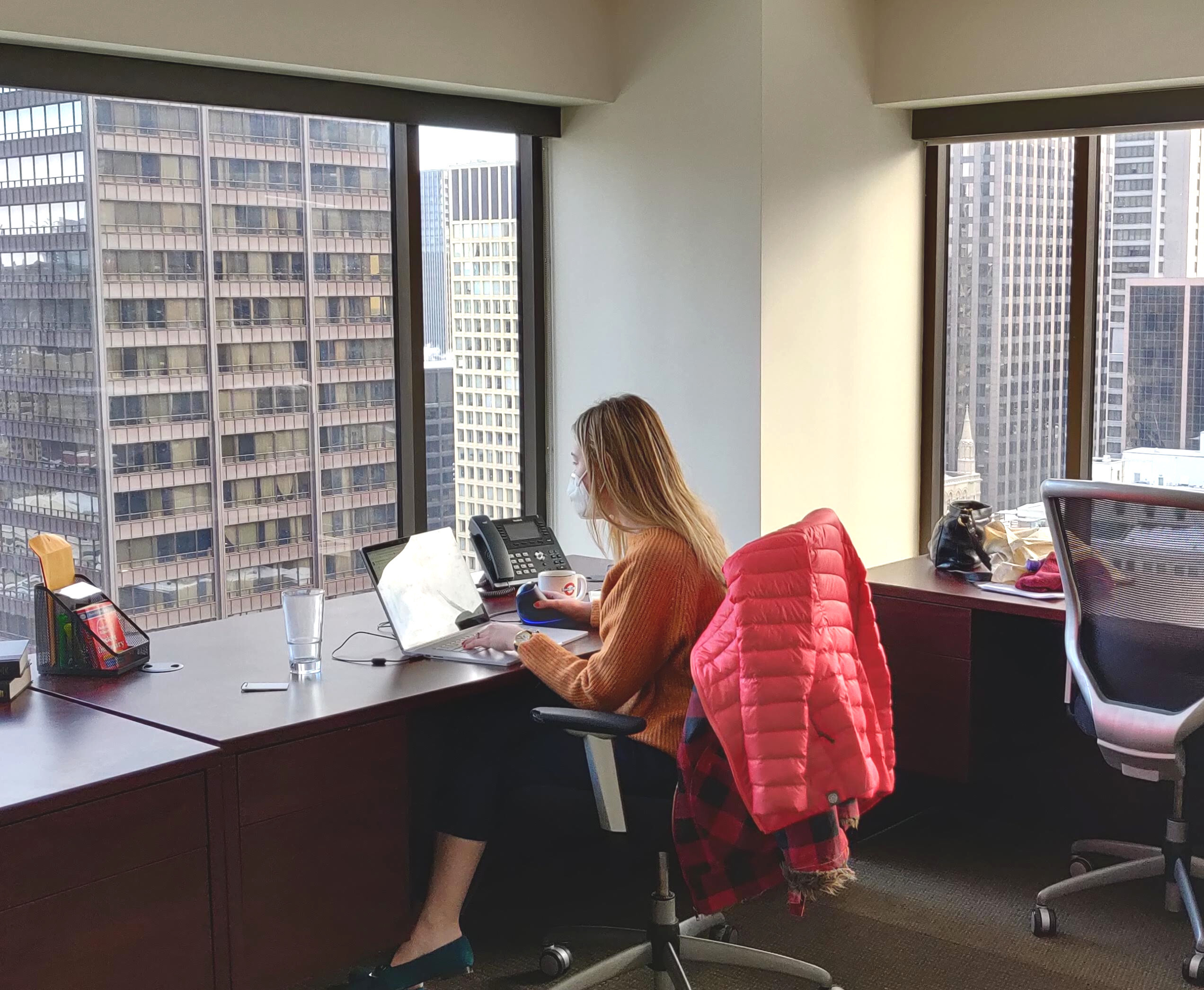 Community is key
Some of the most consistent feedback we received from spaces was just how important community is when making sure members and guests feel safe.
As Robyn Evans of Carr Workplaces explains, "clients have even felt comfortable enough to bring guests to our centers because they know that we are doing everything we can to keep our centers as clean as possible.
She also notes that guests have reacted positively and have appreciated the protocols and guidelines they've put in place to prioritize everyone's health and safety.
Our commitment to you
At Deskpass, we decided early on that the safety of our members was top priority. A Deskpass Safe Space badge appears next to spaces that have taken the Safety Pledge and meet the necessary requirements. If you navigate to a space's profile, you can see the details of that individual space's pledge. Members can also set a 'Safe Space' filter to their search.
There are two tiers to earning a Safe Space Badge on your Deskpass profile.
Tier 1 requires that spaces enforce the following:
Mask wearing
Safety signage posted on-site
Maintaining 6-feet of distance between workstations
Safe food and beverage service
Providing hand sanitizer
Having a contingency plan in place and action steps
Cleaning and disinfecting common surfaces at least 2x per day
Tier 2 recommendations include:
Cleaning and Disinfecting Schedule Posted On-Site
HVAC Filters and Fresh Air Circulation
Soft Furniture Disinfected (Daily)
Disposable Workstation Covers or Disinfecting Wipes
COVID Education Program
Dividers Between Workstations
We also decided to implement a Health & Safety Survey (shown below), where members can easily and quickly rate their experience at a particular space. This feedback will be shared with the space as part of our effort to continually support our spaces and provide helpful resources as a valued partner.
Get a complimentary $250 Deskpass credit when you sign up for a Teams account today.